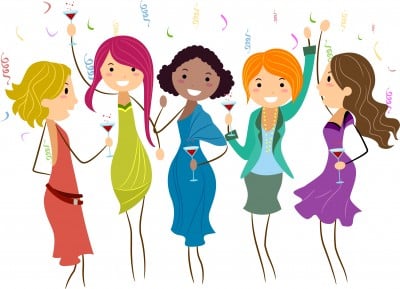 So your soon-to-be married friend has given you the honor of being her Maid of Honor, meaning that it falls on you to plan the bachelorette party, otherwise known as a hen do or a hen's night in some regions. This is the party that is going to send your friend off into the wild blue (or beige, depending on who you ask) yonder of marriage, so you've got to make it one to remember.
This doesn't have to be a night of debauchery, nor does it have to be demure – but a healthy mix won't hurt! We at the LELO offices would like to offer up some ideas on how you can enjoy it.
Dress code
No matter what, all involved with your bachelorette party should be wearing similar dress, with extra care taken to make your guest of honor stand out. And even though you just shelled out half a month's wages on a gown, you don't have to pay any extra for uniformity.
The classy option is for all partygoers to whip out their fave LBD and have the bride-to-be wear a white or bright-colored little number if hitting the town is on the agenda. Otherwise you can get outrageous with a trip to a thrift store and stock up on a few bridal gown of yesteryear and go out as a hot mess of crepe lace and puffy shoulder pads.
Activities
The easy
Search events listings for your city to find wine tastings that are going on, or schedule your own with a local sommelier. Otherwise, a fan favorite will always be a spa day followed by chats over mani/pedis at a nearby salon – champagne optional.
The outrageous
3 words (combined into 1) – Karaoke. Party supply stores, wedding DJs, even a local bar can accommodate you and your ladies for a night of cocktails and crooning. There is a guaranteed rendition of 'Girls Just Wanna Have Fun' in your future as you will quickly figure out that most any song can be made into a duet.
Another outrageous, and outrageously fun choice is hosting a backyard bachelorette fiesta, complete with sombreros, ponchos, margaritas, some nachos if you're extra adventurous, and to top it all off – an adult-themed piñata full of naughty goodies (yep, they exist; and yep, they're awesome).
The risqué
Wrap yourselves around a pole-dancing class – it's a fun full-body workout that many members of LELO swear by for bridal-party hijinks, and a great way to begin the festivities.
Finally, you can look into booking a consultant to come to your house for a sex toy demonstration. Imagine it; booze, buddies and vibrators – all in one place? Count us in.
No matter what you choose to do, we implore you to do it responsibly. By that we of course mean to take a TON of pictures to make the party slideshow to end all party slideshows, and plenty of blackmail material for the future.
Have fun, ladies.
Deciding on which bridal shower gift to give a dear friend? We've got you covered with our bridal shower gift guide.