***Sale has expired. Please visit LELO.com for current promotions.***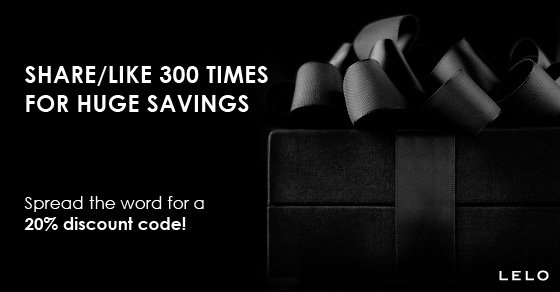 As our way of thanking our fabulous Facebook friends for another year of support, we're sharing an offer that's way too good to pass up.
You see, this very article you're reading has been posted to the LELO Facebook page, and once it hits 300 combined shares and likes, we'll unveil an exclusive Black Friday/Cyber Monday discount code. To like the article and get involved, simply use the 'Like' button below – every click helps!
*** Congratulations! 300 Shares/Likes have been reached, meaning you have unlocked our special Black Fridaycode! Code will be revealed Thursday, November 28th, at 11am PST. ***
You can use the code to save 20% on your LELO.com order until December 2nd at 11:59pm PST. Add this discount to the free holiday shipping currently being offered in the LELO web shop, and we're talking big savings for that pleasure item you've had your eye on all year long, or a pleasurable present for a valued friend or partner.
WIN A FREE LELO
And in case deep discounts and free shipping weren't enough to prove how much we care, we're offering you the chance at a free LELO of your choosing right here and now.
1) 'Like' LELO on Facebook by clicking the button below
2) Scroll down to the comments section and tell us which LELO you want and why.
Competition ends on Thursday, November 28th, at 11am PST, and the Winner will be announced on the LELO Facebook page along with the announcement of the 20% discount code, so leave us a message and start sharing!
**This competition is over**
While the giveaway may be finished, LELO's Black Friday Sale has just begun! Use promo code BLACKF during checkout on LELO.com for 20% off and free shipping. Offer ends 11:59pm PST Monday, 2 December, so browse LELO Bestsellers and start saving!