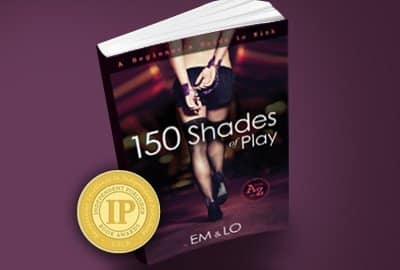 Since its release last year, Em & Lo's 150 Shades of Play: A Beginners' Guide to Kink has taken sex and relationship literature to soaring new heights, earning international acclaim from major sources, including Cosmo and Women's Health, award-winning journalists like Joel Stein and readers worldwide.
This week, however, it's been announced that Em & Lo's literary achievements will be officially recognized with an IPPY Medal at the Independent Publisher Book Awards, the prestigious organization honoring books released by independent publishers.
With over 2,500 independent authors and publishers vying for the coveted prize, 150 Shades of Play was chosen for its significant contribution to sex and relationship literature.
So what makes 150 Shades of Play so distinguished?
A Fifty Shades of Grey-inspired how-to for curious beginners, the book is an A to Z guide of all things sex—covering topics from anal play to zippers with tantalizing tips erotic information throughout. Covering sex toys, the duo highly recommends our Dare Me and Indulge Me Pleasure Sets as well as Lyla 2, the remote-controlled bullet vibe.
An ideal sizzling summer beach read, 150 Shades of Play is available in paperback on Amazon and is a must-read for anyone who's just curiously wrapped up Fifty Shades of Grey.
And oh yes, while you're checking out the book on Amazon, see how many LELO products you can find on the book's cover.
Good luck!