England Celebrates Pride with Inclusive Sex Toys
Pride month is upon us and the rainbow flag adorning everything from cakes to London buses is proud and prominent for all to see. But we need pride every day, not on just a dedicated month. For all of the steps forward that have been made, there are still so many more that need to be taken. Discrimination is alive and well and we have finally, more than thirty years after the introduction of Section 28, included teaching about LGBT people the norm in England's schools.
In my roles as a Psychosexual Therapist the other P word apart from Pride that I am most commonly using is Pleasure. A huge part of Psychosexual Therapy is about education, and breaking down taboos and stigmas and busting myths. 
Pleasure is for everyone, pleasure is a human right, irrespective of sexuality, identity or gender. The human body is designed to experience pleasure and the brain responds in a myriad of ways.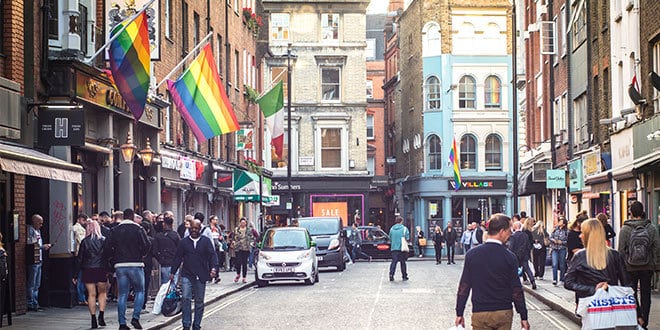 SURFER™ is the perfect vibrating anal plug for anyone. Controlled by an app on your phone you can either use it for solo play, or handover the control to your partner. The perfect toy for those who are pros or beginners.
For a more hands on approach couples can also try the Remoji: BLOWHOLE M-Cup 
A wearable masturbation cup, this one is for couples where there is at least one male partner, helping you to experience a range of different sensations coming in pleasurable waves. Breaking up routine is always a helpful tip for keeping an element of excitement in your sex life, and experimenting with textures, pressures and speeds like with this product is a great way to start.
Flickering Touch Massage Candle
The skin is the bodies largest erogenous zone, so including massage in any form of sexual and sensual contact can help to build anticipation, desire and arousal for partners really helping to set the mood.
Mimicking the act of oral sex with the pleasure nub which rotates and vibrates like a tongue, this toy is perfect for clitoral stimulation. Spend time building up to it though, use the toy on the inside of the thighs and moving towards the more sensitive areas. Remember that anticipation is our most natural aphrodisiac.
The alia is a simple and chic design, easily and comfortably held due to the rounded shape, it can be used to tease all over the body, not just on the areas of the body normally focused on during sex. Teasing and playing, taking your time can add to the sense of building excitement and anticipation
And finally, 
This set helps you to engage and indulge the senses in new ways.
Containing silk cuffs and a soft-tasseled Sensual Suede Whip, it's the perfect introduction to a little bit of kinky, helping you to explore something new together.
Pride & Pleasure – The Perfect Couple.
---
LELO UK Sex expert Kate Moyle is an Accredited Psychosexual & Relationship Therapist in Central London. She specialises in working with those that are struggling with difficulties with their sex lives and sexuality, including many in their twenties and thirties who are impacted by the stresses of modern life. She considers a client's problem or sexual dysfunction in terms of their personal context and meaning and the role it holds for them as an individual. Kate often works with people to recognise their personal understanding of their sexuality and sexual health; with the view that issues have roots in psychology, emotion, the physical body, and a person's history and culture. Ultimately her aim is to help people get to a place of sexual health, happiness and wellbeing. Alongside her work as a therapist she is also Co-Founded and is Partner at Pillow App for Couples which helps busy couples to fit intimacy into their lives in a convenient and connecting way, by providing audio-guided intimacy episodes that focus on sensual touch, communication, eye-contact and other basic forms of intimacy. Kate is passionate about having open, honest and realistic conversations about sex; that help people to feel educated and aware in order that they can make the informed decisions that are best for them and feel comfortable in their sexuality. Kate is a regular media contributor and has been quoted in publications such as The Guardian, Metro, Cosmopolitan, Elite Daily, Make Magazine, Refinery29, The Telegraph, Bustle, GQ, Women And Home, & Elle.