What is REMOJI?
REMOJI is a sex toy remote, technically – but it's actually so much more!  Rather than giving you an extra chunk of silicone to keep track of (and to try and find batteries for) it puts control of your sex toys into your pocket, wherever you go―in your cell phone.
REMOJI is a free app for Android and iOS that connects over Bluetooth for a reliable connection and a remote that you'll never be searching for when it's time to get busy.
One of the things we noticed when we set out to make a sex toy app, we saw that while there are a couple out there, they mostly uses squiggly lines or quadrants to control your toys, which aren't terribly interesting.
With REMOJI, we wanted to make something that's fun to interact with and looks pretty cool while doing so. Furthermore, we were inspired by the one thing we spend the most of our time thinking about (after sex, obviously), which is: music.
REMOJI is all about vibes―sexual vibes, musical vibes, YOUR vibes. Music is a well-known catalyst for pleasure and arousal, not only when it has sexy lyrics and a loud beat, but also because listening to your favorite melody triggers dopamine release in the brain. This is the same "feel good" neurochemical that makes sex feel so amazing, which is why we decided to take your musical experience to a totally new level!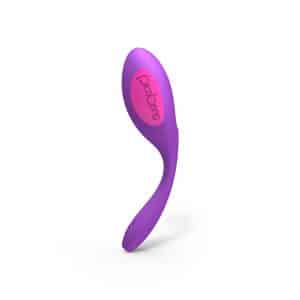 What is DIVER?
DIVER is a vibrating egg that's designed with discreet pleasure in mind and it has all the right curves to hit your G-spot. It can be worn vaginally while enjoying other sorts of sensations that you've been toying with at 'the back' of your mind, or you can control it yourself for a public pleasure that's discreet enough you can keep it all to yourself.
How We Love to Use DIVER
G-spot stimulation can be tricky, especially if you're trying to pair it with clitoral stimulation as well. Don't get us wrong – we love us some rabbit vibes, but sometimes you want two different kinds of stimulation at the same time.
Enter Diver. With it inserted, you can have focused G-spot stimulation that's the exact pattern and intensity you desire (thanks to REMOJI) while keeping your other hand free for all the external pleasure you crave!
Totally waterproof, we love taking DIVER on a literal dive in the bath – just use its rounded tip to warm yourself up clitorally and then discover totally new depths of pleasure!