Ina 2: Our Bestselling Rabbit Vibrator
We love INA™ 2, and if the rave reviews and positive feedback from customers is anything to go by, many other people do too. But just what is it about our doubly-pleasurable vibe that gets people so excited? While we can think of a few reasons ourselves, what we aim to do is provide a full-on profile to introduce even more people to what makes our version of the rabbit vibe so darned amazing.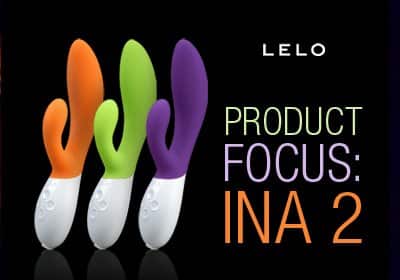 What is it?
INA™ 2 is the upgraded version of LELO's answer to the rabbit-style vibe that you might remember from a certain episode of Sex and the City. SatC introduced millions of women to the idea of a double-action vibrator, but LELO introduced even more to experiencing those multiple pleasures in style and total body-safety.

Who's it for?
Do you enjoy your G-spot massage with a healthy helping of external clitoral sensations? What about both at the same time? If your answer to both of those questions is an emphatic 'yes!' (and you find it tacky that a rabbit-style vibe would feature an actual rabbit on it), then you and INA™ 2 will be a perfect match.
Where can I use it?
One of the great upgrades LELO made to the second editions of classic items was a fully-waterproof frame, meaning you can use it just about anywhere you like – in bed, the bath and beyond! This is possible thanks to new vacuum-sealed charging sockets that, despite being exposed, keep water out to a depth of one meter (so keep INA™ 2 in the shallow end of the pool).
When?
Strange question, but okay; like every powered LELO vibrator, INA™ 2 features a rechargeable Lithium-ion battery that offers 2 hours of pleasure when enjoyed on its highest setting. Another noteworthy benefit of Li-ion batteries is that they hold their charge for 90 days between uses – but who in the world would wait that long?
Why?
[Please refer to answers What through When]
Any further questions? 'Where can I get my hands on one?' is probably foremost among them, in which case, look no further than the LELO webshop, where INA™ 2 and even more pleasures can be found.
---
Donna is a Volonté contributor and freelancer who lives in San Francisco with her understanding husband and not-so-understanding teenage sons. Her work has been published in The Journal of Sexology and she is currently writing a book on love languages.