Thursday is Halloween, and do you know what that means? HallowINA is back!
It's time to make sure that your jack-o-lanterns are lit and your flash is ON, so you can show us what you're wearing for this most haunted of holidays, and in return we're offering some awesome prizes.
Winning is easy; just share a picture of your costume on Instagram, and tag @LELO_official (that's us!), #HallowINA, #IdaForMe and #Halloween. It's a lot of tags, we know, but with prizes like these, it's totally worth it.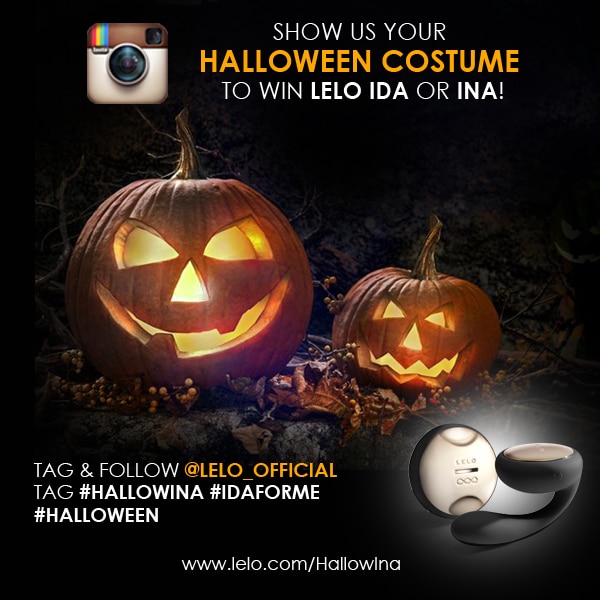 THE PRIZES
One lucky winner will be awarded Ida™, the latest of LELO's couples' massagers that rotates against the G-spot while it vibrates against the clitoris when worn during lovemaking. Meanwhile, another winner will receive INA 2, our rabbit-style vibe that thousands of women everywhere swear by as their go-to toy for multiplying their pleasures.
The contest is closed for entries on November 4th, and winners are being announced on the 5th, so what are you waiting for? Just say cheese and show us your costume already!
So just to recap, here are the DO's and DON'Ts;
DO direct your Instagram post to @LELO_official with the tags #HallowINA, #IdaForMe, #Halloween
DON'T depict nudity or anything that can be deemed indecent – let's keep this PG, or at least PG-13, people.
DO enter before the last day of the contest on November 4th, and the LELO team will choose their favorite pics and contact you directly.
DO or DON'T – your choice; show your face in the picture you submit, and don't worry – we'd never dream of using it without your express consent!
DO be 18 years or older — this goes not only for entrants, but for the person depicted in your picture.
Is your Instagram profile set to private posts? You can still enter and win the HallowINA giveaway by following these steps;
Follow LELO on Instagram (LELO_official), and tweet your images to @LELO_Sweden with the tags #HallowINA, #IdaForMe, #Halloween
Happy HallowINA, everyone!