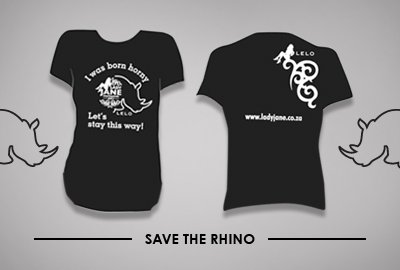 September 22nd was World Rhino Day, and around the globe events were being held to raise awareness about the quickly-disappearing species. One such happening was thrown by Lady Jane, an adult shop in Durban, South Africa who we got involved with to raise money for rhinoceros conservation efforts.
We donated a number of products to be given away, and Lady Jane made specially-designed t-shirts, pictured here, that were also sold with all proceeds going to the rhinos.
Conservation efforts in South Africa have been wildly successful in protecting the rhinoceros, and according to the World Wildlife Fund, 3 of every 4 living rhinos on the planet live in the country. While this is good news, it demands consideration that the amount of rhinos living today make up only 10% of the number alive worldwide in 1970 – making these conservation efforts absolutely vital to ensure their continued survival.
LELO Oceania General Manager Jo Radnidge, who was involved in the event said: "LELO is always ready to take part in initiatives such as this, and we would like to thank Lady Jane for approaching us and asking us to contribute to a more than worthy cause. South Africa is a dynamic and thriving marketplace where LELO has experienced a very positive reception, and this is our way of saying thank you and giving back to this stunningly gorgeous country."
We are also currently taking part in Breast Cancer Awareness month, and are donating half of all proceeds from sales of our LILY personal massager to BreastCancer.org, the internet's largest and most trusted source of expert information for people affected by breast cancer.