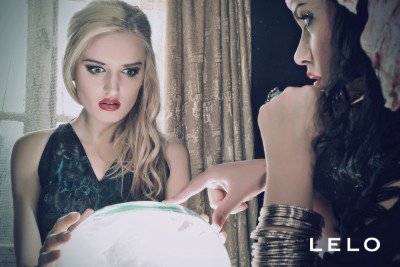 After a decade as the world's best purveyors of pleasure and having recently spent countless hours reviewing data from our recent Global Sex Survey, who better than us to take on the role of sex's Nostradamus and predict the top trends in sex for 2013.
Doubling Down on Pleasure
In 2012, sex toys became as common a household appliance as the coffee maker (which is great, considering the health benefits associated with regular orgasms), so it's safe to say that sex toys are here to stay.
The toys that saw the biggest surges in popularity last year were couples' vibrators that can be worn during lovemaking, leading to greater pleasures for both partners. We see this increase in popularity continuing into 2013, as it's clear to us that the future is full of pleasure that'll leave you seeing double.
Bondage's Growing Irresistibility
Thanks to the huge success of E L James's Fifty Shades of Grey, previously closeted fantasies have been transformed into mind-blowing realities for women worldwide. Expect to be hearing words like 'Dom' and 'Sub' used more frequently in popular culture – and if those terms are unfamiliar to you, get the A to Z of more risqué bedroom play with a helpful guide like 150 Shades of Play: A Beginner's Guide to Kink by bestselling authors Em & Lo.
More-is-Less Lingerie
If that clichéd nurse outfit is no longer what the doctor ordered for a frisky night of role-playing, fear not: the vintage, curve-complimenting lingerie hitting runways and bedrooms alike this year will revive the passion. In 2013, expect to see a trend in ultra-sexy deep violet and scarlet colored burlesque-style lingerie that enhances your curves, intentionally leaving much to your partner's imagination.
The Birth of the "Double Feature"
Half of all women in our global survey have let their partners tape them in a sexual act. And due to the prevalence of video recording devices (read; your cell phone, which more than likely has a camera), this number is only set to grow. Alongside this trend, the number of couples watching erotica together is also steadily on the rise. As these parallel trends grow and merge, expect 2013 to see more and more couples creating "double features," home movies acting out their favorite erotic film scenes.
Getting Moreplay out of Foreplay
While the good old fashioned quickie will never go out of style, couples are realizing that good sex is can be a marathon rather than a sprint. So how are they heating things up by slowing it down? They're learning sensual massage techniques and exploring foreplay enhancing techniques like tantric sex, which combines sex with meditation. This coming year, expect to see an increase in sexual workshops and seminars teaching tantalizing techniques.
So there you have it; we've seen the future – for the next 12 months – and now it's up to you, dear reader, to make these predictions come true in the most enjoyable ways possible!