This Contest is Over: Thanks Everyone!
Congratulations to Marina Reid Hale, Maria Casillas, Christine McCall and Heather Scott. You've got some great LELO prizes coming your way!
——————-
It's certainly no secret that LELO loves women. In fact, we'd be nothing without you. That's why March 8th, International Women's Day, we celebrate all females, and reflect on the remarkable impact women have had on humanity, and also acknowledge how far there is still to go to a time when 'the fairer sex' can count on universal fairness.
However your incredible gains, triumphs and advances in empowerment have made LELO possible, and for this we thank you – and if giving away premium pleasure items for free isn't a great way of saying 'thank you', we don't know what is!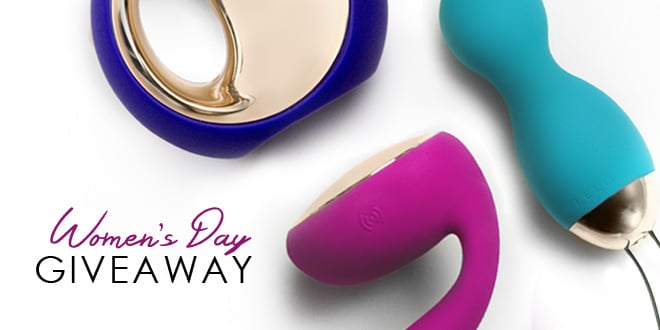 If you're a user of Pinterest, Twitter or Facebook (or all three), then you've got a great chance of winning an amazing new LELO for yourself, or just take advantage of great savings at LELO.com with discount code WD2014, good for 20% off until March 10th.
Each social media platform gives you a chance to win a different LELO, with every 100 entries seeing us giving away another prize – take part in all three and increase your chances of winning!
PIN TO WIN HULA Beads™

Pin one – or all three – of the images below, and for every one hundred pins we'll give away one set of HULA Beads™, our rotating and vibrating pleasure beads. Simply place your cursor over the image you want and click 'Pin it', and keep it hashtagged #LELOVEWOMEN so we can find your Pin!
RETWEET TO WIN ORA™

Win the amazing new ORA™ personal massager by retweeting the tweet you see below. Again, for every 100 retweets, we add another ORA™ to the prize pool, so tell all the members of your TwitFam!
COMMENT BELOW TO WIN IDA™
Entries on Facebook are eligible to win our revolutionary couples' massager IDA™, which rotates and vibrates to make lovemaking even more fantastic for both him and her.
Tell us in the Facebook comments section you see below; who is the most inspiring woman that you look up to? Make sure that you're currently logged in to Facebook, and only use the Facebook comments section directly below to have your entry be eligible to win.
Every 100 replies means another winner – feel free to tell your friends.
WOMEN'S DAY DISCOUNT – ALL WEEK LONG
If you don't want to take your chances and just need a new LELO in your life right now, just head to LELO.com and use the discount code WD2014 to take 20% off your whole order until March 10th.