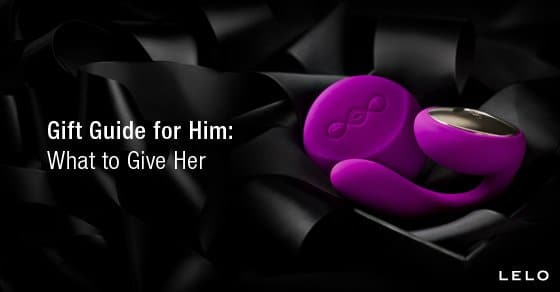 Hey you there, the guy scratching his head – trying to figure out what to get your lady friend for the holidays?
Well stop scratching your way to early onset male pattern baldness, and get to reading this year's LELO Guide to Gifts that Guys Have Got to Get Their Girls, suggested by some of the fellas right here in the LELO office – so you know they're field-tested and expert approved!
**Scroll down to see a new giveaway offer for a LELO gift pack worth over 600USD!**
Give Her: A Massage – from Oscar, Graphic Designer
'An all-over body massage has been my go-to move for special occasions for the longest time – it's a sweet gesture for you to show you care, but also self-serving in that you get to touch her all over and it can only lead to sex! 
As an added bonus, it's a great thing to give her especially because it buys you some extra time to buy a gift if you've forgotten to do so!'
Write Her: A Sappy Love Note – from Vincent, Engineer
'A really cheesy note on its own can be a mistake, but if it's delivered when she least expects it, you've scored serious points. It's not a love letter, but just a really, really sweet compliment or a bit of how you feel on a piece of paper. 
I put them in places where she's bound to come across them during her day, like the change pocket of her purse. Once she sees you after she's found that note, it's nothing short of fireworks.'
Sweep Her: Off Her Feet (Subtly) – William, Intern
'I'm a believer in the importance of the small stuff, so I like to surprise my girlfriend with a bunch of little gestures that add up to a hugely enjoyable evening. Find a day when she's out of the house, and tidy it up, pop some flowers in a vase, whatever makes your shared space a little better or more attractive, and order in some take-out from her favorite place – even better if you set the table and make it into a nice sit-down kind of meal. 
If even that seems like too much work, or if you're like me and rarely home before your wife or girlfriend is, just pick up a stack of her favorite magazine on your way home from work along with a bunch of whatever sweets they sell at the newsstand, then run her a bath when you're home and presto; instant spa day for your girl.'
Take Her: For a Spin – Melker, Product Designer
'The best gift I can suggest to get for the woman in your life? A couples' vibrator, for the obvious reason that it's fun for her, and you get to join in on that fun. 
As for which one, I'd strongly suggest Ida™, because with its functions as the only wearable vibrator that rotates and vibrates at the same time, it nearly guarantees a great climax for both partners – my wife loves it, and I do too – partly because I helped design it!