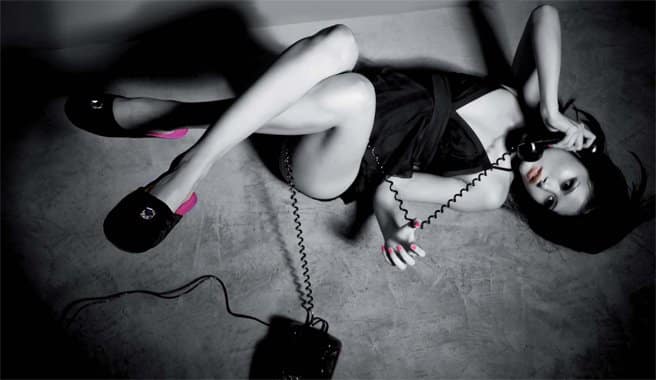 With so many of fashion's movers and shakers lining up to collaborate with us, sometimes it's a wonder we manage to keep our feet on the ground. But airborne or not, at least those feet will be elegantly attired – thanks to our latest partnership with luxury footwear designer Mary Ching. We agree that the sensual potential of the humble slipper is all too often overlooked, and were thrilled when she suggested featuring Sussurra lingerie in her new catalogue as the perfect complement to her boudoir footwear collection, Forbidden Pleasures.
Counting famous fans in the likes of Carla Bruni and Jude Law*, Mary Ching has taken the world by storm with her signature cocktail of Asian glamour and classic British refinement. The Forbidden Pleasures collection features buttery-soft leather and cashmere accented with fun, quirky adornments – proving that some slippers, at least, are not just for your granny.
As Sussurra continues to turn style-loving heads on every continent, this international collaboration couldn't be timelier. With the Sussurra Whispers collection recently launching to widespread acclaim and the forthcoming Sussurra Pearls range already making waves across all five oceans, it seems that Sussurra is well on its way to making a legendary mark in the world of luxury lingerie.
*no word yet on his personal pick, but we're assuming it wasn't the same mink pom-pom booties that Bruni opted for.
See more of Mary Ching's celeb-approved designs