For those of us who are well-versed with the original SONA, it's difficult to describe to a newbie the intensity of pleasure this little thing can do. If you've ever felt like a climax could be bigger, bolder, and filled with more impulsive toe-curling, we've got a new treat for you. We've gathered your feedback and created some new pleasure-peakers. Meet the second generation to the SONA family: the SONA 2 & SONA 2 Cruise. We're serious when we say they're even more clitorally mindblowing.
What's the big deal about the SONA anyway?
Well, besides the best orgasm you've ever had, let's go through some specifics. This powerful little massager delivers sonic waves that stimulate the entire clitoris (not just the tip, like traditional vibrators). It redefines the climax to satisfy every woman, one clitoris at a time. And why not take a great product, and make it greater? Great news. We did.
What's the difference between the SONA/SONA Cruise and SONA 2/SONA 2 Cruise?
First off, we want to thank you for all of your amazing feedback from the first generation. We love having you part of the pleasure process and we consider it a gift that keeps on giving (orgasms that is). Taking everything into consideration, here are the major updates in the second gen: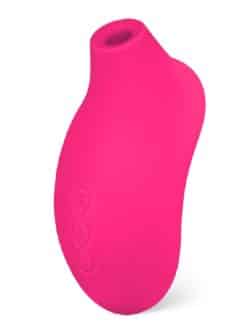 Softer sonic waves

: Power queens are living for the intensity of the original SONA, but for those who prefer to get off to a slower pace (because, why rush it?!), the SONA 2 includes a gentler sonic wave. But don't worry, it still has the more intense ones that hit all the high notes if that's what your body is asking for. Start off gentle and work your way up.

Deeper & larger mouth head

: To fit all the lady bits out there. ¡Viva la vulva!

2x battery life

: We know that charging your sex toys can be more annoying than charging your phone, which is why we're including 200 more orgasms per charge. You're welcome.
What's the Cruise technology all about?
You'll want to get into our lane once you hear what Cruise Control is all about. Once the SONA 2 Cruise is pressed harder against your body, aka when you're reaching your highest climax, it intensifies the sonic waves to maintain power. Basically, it's there for you when you need it most. Game changer.
Oh, so you're interested?
Trust me, all the girls in the office were giddy about it too. It's pretty much the most exciting news since… well, the original SONA. 
Customer Reviews
Check out more Bazaarvoice authenticated LELO reviews, supported by anti-fraud technology and human analysis.
AMAZING ★★★★★
I mean it's freaking amazingggg. Does the trick within a couple minutes. I like all the different settings that you can go from and the fact that you can change the intensity of it. No need for a man with Lelo lol.
Makes a great gift ★★★★★
I bought this as a gift for a friend. My Lelo has been a real game changer and I want to share the good news with all my lady friends. She liked it as much as I do. Great gift for a gal pal!
Powerful orgasms ★★★★★
Thank you so much Lelo! I love my vibrator, it has revolutionized me and my husbands sex life. Orgasms are more powerful, longer, and I feel more relaxed in my day to day life.