The year of pleasure is upon us and the count starts at 171 billion.
It's 2003 and Apple just launched iTunes. Basketball legend Michael Jordan retired. The Concorde made its last commercial flight. Myspace is dominating the Internet. The movie Lord of the Rings: The Return of the King is the highest-grossing film of the year and 50 Cent rules the charts.
All in all, it wouldn't have been the most eventful year had it not been for two big companies and innovations. It was the year Tesla founders started a company launching car models that became hot commodities everyone wanted to ride. Coincidentally, another product launched that year and caused the same effect – the LELO personal massager.
So, how many orgasms can you fit in 20 years?
Looking back at the invention of the first vibrator which was steam-powered and designed to cure mental issues in the 1880s, we can only be grateful that society's attitude towards orgasms did a 180° and finally accepted that orgasms make us feel good and we want to have them as often as possible. Without that, LELO would have never seen the light of day. This would be a shame since the thing that LELO understands best is that pleasure isn't just about reaching an orgasm. It's an entire journey that should make you feel like a million bucks even when you're in your sweats. 
And that's not just an empty claim by LELO. In its 20 years, LELO has sold over 11 million products. The number of products sold almost equals the population of Sweden, the country of LELO's origin. 
Each LELO toy in its lifetime will facilitate a minimum average of 15,600 orgasms, meaning that in 20 years, LELO has made people curl their toes about 171.6 billion times. Let us sit and think about that number again – 171,600,000,000 times.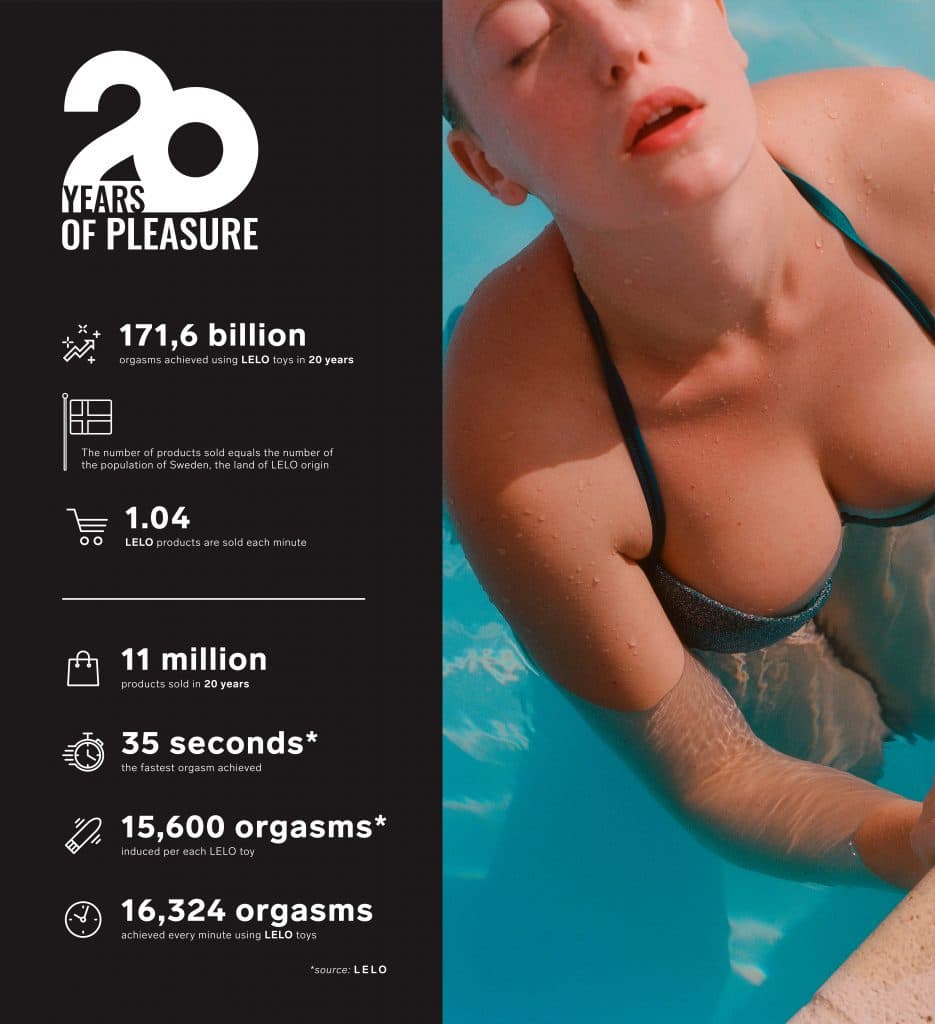 Let's break that down further. That means that LELO products have been responsible for 16,000 orgasms each minute. Yes, sixteen thousand. 
What's even more staggering is the fact that during LELO in-house tests, the fastest orgasm was achieved in only 35 seconds. That's how long it took you to read the previous sentence.
As if the 20 years in numbers is not already impressive for LELO, the magnitude of the change ushered in by LELO is even more awe-inspiring when we know that every minute one LELO product is sold somewhere in the world. 
Here's to the next 20 years of LELO!