Thank you all for your submissions! We knew we had people on the Naughty List this year, but you took it to a whole new level. It was our pleasure to get hot and bothered in the minds of your kinkiest holiday stories, and we're proud to say the competition made things extremely hard for us to decide, but there were a few we'd consider panty-dropping.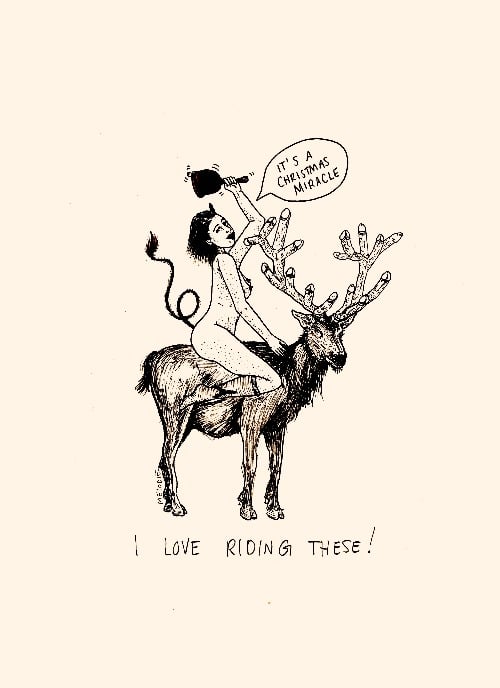 Without further ado… our winners.
1st Place – "Making a List" by Mr. Saratoga 
You should have seen the smirks that formed across the judges panel while reading this bit. It's clever, climactic, and just the right pinch of naughty. Bonus points for subtly incorporating LELO products into the poem, because it's exactly what we're hoping to find under our trees this year. 
2nd Place – "Santa Cums Early" by Conner Hunt
Working at a sexual wellness company, we can appreciate a steamy office fantasy. This one happens to involve an office Santa, his candy cane, and bright red lips that are sure to make your cheeks blush. It leaves little to the imagination with it's vivid imagery and certainly has us wanting to sit on Santa's lap.
3rd Place – "Christmas Wrapping" by Vivienne Brooks
This contest was completed by some epic girl-on-girl action. A true gift to unwrap, we couldn't help but get hot imagining the inner-thigh kisses and earthy octaves. Ride out your own climaxes while indulging in this holiday treat.
We received so many wonderful entries that we will be reaching out to our participants to see if anyone would be interested in contributing to our erotica category. Thanks again for entering. We hope you had as much fun channeling your inner erotica artist.
Stay tuned and see you next contest!
Congrats again to our winners!