Available in two sizes, Classic and Mini, LELO Beads are quite a unique set of Ben Wa balls. Each set comes with 4 balls of different weights so you can wear one at a time, or mix and match for the ultimate sensation. Within each ball, a small weighted sphere will swirl around as you move for a subtle sensation that acts as the ultimate discreet foreplay!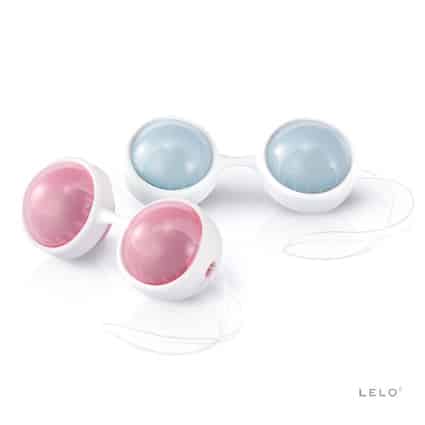 Review: LELO Beads
"When I move around, I'm definitely conscious of a subtle movement inside of me. This is due to the small inner weight knocking the sides of the shell. I originally expected to feel a vigorous tapping, but in reality I get a subtle, light tapping. It's noticeable, but not distracting. When this happens, I don't feel my body massively clench or anything, but I'm content that my PC muscles are doing little micro-clenches on a regular basis. I know this because, when I take these balls out, my PC muscles are ready for a break."
"The LELO LELO Beads are pretty awesome. They're pretty, they're customizable, they're body-safe, and they're functional. If you're guilty of peeing when you sneeze, or if you have trouble having orgasms, or if you want better/easier orgasms, or if you're just plain curious about Kegel balls, this set is a very solid choice."
Read more of MISSRUBY's review!
Lelo Beads
"The sensation is very pleasurable but not overly strong. I have not experienced an orgasm through Kegel balls, but they have helped in assisting orgasms after they are removed. The LELO balls are very comfortable compared to others I have tried. I've even managed to run for short periods with them in and they haven't put me off my daily activities."
Read more of NYMPHOMANIACNESS's review!
LELO Beads Original – Pleasure Panel Review
"You'll want to wear these beads when you have errands to run, stuff to do around the house, or even during a workout. The more you move, the more you'll feel!
The LELO Beads Original is an excellent kit for anyone looking to get into progressive kegel training. They're pretty and functional and everything you'd want from your first set."
Read more of CARASUTRA's review!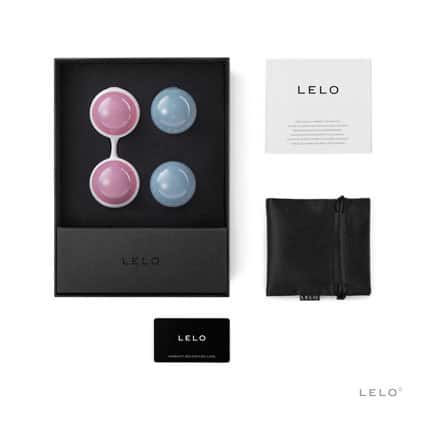 Review: LELO Beads by LELO
"Once I stood up I could feel the weights moving inside of me. I was pleasantly surprised how they moved and didn't make any noise. It was amazing how quickly my muscles grabbed to them and held the beads in. I didn't have to do any of the work, my muscles were doing it for me. They felt really comfortable and natural inside me. After walking around with them in I knew I was hooked. After having the beads in for a few hours I was feeling very happy and noticed I was making little small expressions of pleasure every time I got up, moved, or walked.
On the second day of use I was still amazed at how awesome the beads felt inside me. They moved with every step I took around the office. Even just getting up and down out of my chair felt so good."
Read more of LIFEONTHESWINGSET's review!
An Updated Review of the Lelo Beads
"Believe me, these work, and you don't even have to do anything. I know because once, after being away from the LELO Beads for too long, I thought I'd just go ahead and step right on up to 2 blue balls at once… I can never remember to do active Kegel exercises, so these things are great for me."
Read more of DANGEROUSLILLY's review!
REVIEW: LELO BEADS BY LELO
"The first time I tried my LELO Beads, I only inserted the 28 gram foundation bead. Me being me, I was of course not in the comfort of my own home. I was at a dinner party. While everyone was distracted outside smoking a cigar, I snuck back inside to put in my LELO Bead.
So far, I think I've been having success with this product. My husband says that I feel tighter down there, and I seem to have more luck gripping onto his penis, or any toy with my pelvic muscles. This in turn has made the orgasms that I do have much more fulfilling (there is nothing worse than a weak, barely noticeable orgasm)."
Read more of OTHESWEETESTTHING's review!
Customer Reviews
Check out more Bazaarvoice authenticated LELO reviews, supported by anti-fraud technology and human analysis.
Life changing ★★★★★
Wonderful product, very easy to use and it really does change your sex life. I absolutly love using it even just to go to the store.
Posted by: KatieV
Strengthens PC muscle ★★★★★
Bought these for my wife to use after her pregnancy of our 2 beautiful boys to strengthen her PC muscle. Comfortable to use and effective. Started off with one pink ball and gradually move up. She feels that this over time she is able to activate those muscles quicker. Hopefully we'll see a stronger orgasm for her soon!
Posted by: Make Love not war
LELO Beads ★★★★★
These are the best. Discreet little pouch to carry them in, easy enough to slip them in at work and concentrate on your pelvic floor while you walk the physical floor. I'm still working on the lightest weight but I can already feel the difference!
Posted by: Phoxy Loxy
How To Use LELO Beads