LELO Book Club: 150 Shades of Play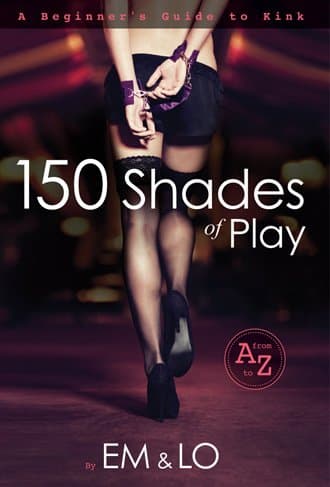 Continuing our suggestions for racier reading material, we'd like to tell you about a new book that's sure to become required reading for pleasure-seekers everywhere. 150 Shades of Play: a Beginners' Guide to Kink is an A to Z guide for a spicier sex life, and is as hilarious as it is helpful to those increasing numbers of couples looking for all-new pleasures.
Written by our favorite blogging duo and bestselling authors Em & Lo, 150 Shades of Play will get you learned up on a number of tantalizing topics ranging from dirty talk and sexy role-playing, to spanking and how to choose the best sex toys and intimate accessories.
In the latter part of Em & Lo's erotic expertise, they suggest LELO products like our new Dare Me & Indulge Me Pleasure Sets and the remote-controlled bullet-vibe Lyla™ 2 to turn up the heat between partners.
In praise of the book, CNN columnist and GoodInBed.com founder Ian Kerner, PhD says 'For readers looking to tap their erotic potential, Fifty Shades of Grey is only the tip of the iceberg. With their signature sense of humor and commitment to educate, Em & Lo take readers on a guided journey into titillating, and often taboo territories and expertly navigate a diverse landscape of thrilling possibility.'
When not fronting their popular blog at EmandLo.com, Emma Taylor and Lorelei Sharkey are out spreading the gospel of better and more fantastic sex. Together they have penned six books, appeared on a number of talk shows and contributed to most every reputable publication one would care to mention – and we're quite pleased to count them among our friends.
150 Shades of Play is currently available in paperback on Amazon, and makes a great holiday gift for a partner or friend who couldn't put down Fifty Shades of Grey, and wants to pick up some brand new tricks in the bedroom.
---
Katy Thorn is a post-grad writer with a passion for writing about sex, sexuality, and all things rated R. She received her degree in Women's Studies with a focus in Intersectionality at the University of California, Berkeley (Go Bears!). She has a cat named Yoko, drinks too much black coffee, and hates writing bios.