The following erotic story is inspired by the work of Thais Duthie, whose work you can read in Spanish here. This adaptation features a lesbian couple exploring BDSM and role play, and contains themes of rough sex with pre-agreed consent.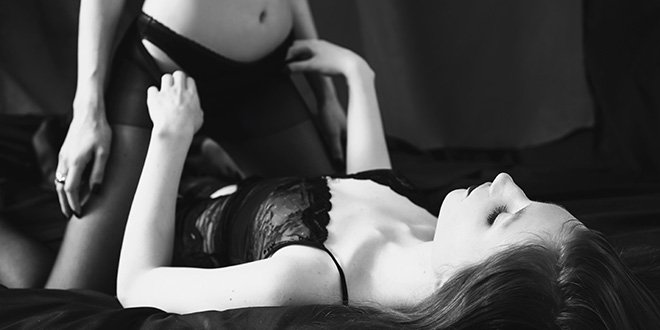 "Don't move."
I nearly jump out of skin, but then stand still, obeying the voice that has appeared behind me. I feel the pounding of my frantic heart and I fear she can hear it too. I realize that I've dropped my grocery bags, and they've spilled their contents onto the floor. My whole body is alert and my senses more receptive than ever, and I know I heard something break. Perhaps the bottle of white wine I'd bought for dinner, or the jar of sundried tomatoes. Whatever it was, it's not important.
The female voice ceases to be just a voice: I feel her hands coming down my waist. It stops at my bottom, squeezing it. A slight tremor sets in my body and that's when I begin to feel fear.
Ocean; the letters come in a strong swell in my mind.
"Open the door. And hurry up," she says, with a tranquility that would puzzle me if I weren't so nervous.
I put a hand in my purse and rummaged through cell phone, charger, lipstick, pens and old tickets, trying to find the keys. Het hands continue to traverse my body in a none-too-gentle way, causing me to shiver. I find my keys and fumble, making several attempts to put it in the lock, until she rips them out of my hands and opens the door in just a few seconds. She pushes me inside and slammed the door.
I want to scream, very strong, but I feel a knot in the throat that prevents me. Ocean, I hear in my head. I can only think of the fucking "ocean."
She pushes me against the wall, pulling down my thin dress.
I close my eyes tightly and when I open them again, my dress is on the floor, ripped. It was one of my favorites. She's in black and I can't see her face. It is covered by a leather mask. What I do see clearly are her penetrating gray eyes.
Ocean.
She steps backward to look closely at my naked body. I feel shame. My panties are on the other end of the hall, almost in the living room. I try to cover my most intimate areas with my hands, but steps forward to push them away. She grabs my neck, causing me to turn my head to one side, and begins to bite it hard. I gasp, I do not know whether by shame, by anguish, by fear or…by an almost imperceptible excitement that I begin to feel.
Ocean.
I try to shake her off as soon as I have the chance, but she grabs my wrists and grabs them firmly. She puts them over my head and then begins to lick and nibble on my breasts.
Shortly after, she fixes my wrists with one hand and, with her free hand, enters me with two fingers at once. A tide seems to flood my brain, and then oscillates and spreads through my nerves, under my skin. Two fingers, strong, only two, many, form a tsunami of pleasure. I close my eyes at the shock and the hardness of her movements. I hear a low giggle.
"You don't like it, but you're soaked," she murmurs in my ear and laughs again.

I can feel my cheeks staining red and I arched my back in protest.
Ocean.
"I'm going to release you and you're not going to move. If you do," she pauses and stares into my eyes, "you will receive and extraordinary punishment and I assure you that you'll regret it.
Ocean. Ocean, ocean.
I swallow and try to stay as still as possible. With no need to hold my limbs, she crouches, separates my legs and opens her mouth to reveal her tongue. A moan escapes me and I don't realize until I hear it.
Her tongue traverses my vulva with an unexpected ability, exploring the folds I did not know I had. It makes me twist and spread my legs almost inadvertently.
She'll think I like it, I repeat, letting my voice ring in my head. Ocean.
But the truth is that yes, I love it, although I can't express it aloud. I loved letting myself be subjected to the orders of my stranger, I loved lowering my guard.
I let her a few seconds later, take me by the arm and take me to the kitchen. Let her seat me up on the counter and put her fingers back, this time three…Her tongue renews its onslaught.
I now can't help but let my body release the gasps and groans that are born deep in my being with each charge. I let her expert hands move faster and penetrate deeper. I let her tongue make more daring movements, twisting and unscrewing, making its way. I let it, with another hand, clench my nails into my ass and tighten it tightly closer to me.
Slowly, I let my hands come down slowly, with some fear. I grasp the hair on the back of her head and push with eager force, fusing her tongue with body in an almost impossible proximity.
I am no longer aware of where my body begins and where her body ends, so I let it go completely to the licks, the scratches, the thrusts.
My body runs. I have allowed it.
The orgasm is so intense that when I reach it, I am barely conscious of what's happening. I think she's taking me to bed, I do not know… She keeps touching me under the sheets and I'm back to the ridge of another wave of wet passion. I am ecstatic and calm, exhausted and fearful, excited and pleased. Dizzy, I do not find myself, but I enjoy this pinch of peace that I feel for the first time in minutes, hours, eons, what do I know!
I think it's raining outside.
***
I open my eyelids little by little, as if the light of the room would blind me. Before I can see anything, I remember everything. I remember her. I start and see her standing, staring at me with her ash-colored eyes, which seem to interrogate me. She is wrapped in a white towel, just out of the shower.
It was not rain.
"There was a moment when I was about to use our safeword," she murmurs before pausing, in a voice different from before. Now it conveys calmness and warmth to me, and love. I've notice you've already brought in the paper for me.
My beautiful wife.
I shiver with the delight at the memory. I, too, was about to say it. It was as easy as saying "ocean," but neither my mind nor my body wanted to.