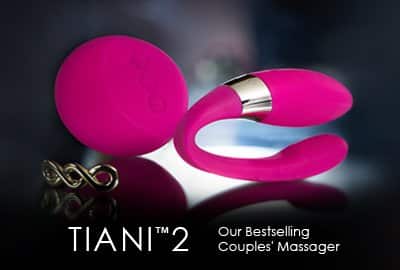 How was your Valentine's Day? If it was anything like ours, it was one for the books. After offering to Save Your Valentine's Day with our new Adore Me Pleasure Set, we expected a V-Day bump in Adore Me sales.
And while our newest romance kit for BDSM beginners fared very well, it was our couples' massager Tiani™ 2 that blasted out of the stratosphere to become the undisputed bestselling sex toy this Valentine's Day.
Our wearable remote-controlled vibe blew past all of our expectations, not only outselling every LELO item during the busy Valentine's period, but also taking the top spot as bestselling couples' toy so far in 2013.
As much as we'd love to take all the credit, we've got to thank our 23,000-strong network of social media followers.
They shared the LELO love all year long, and got involved in our Global Survey that's yielded some pretty eye-opening revelations, ranging from women's changing bedroom behavior, but also the diminishing popularity of Valentine's Day. This spawned our Save Your Valentine's Day campaign, offering couples everywhere the chance to skip the clichéd gifts to rekindle romance and keep cupid alive and kickin'.
Also preaching the joys of LELO was high-end fashion boutique Fred Segal, running in-store displays and demonstrations in their flagship outlet on Melrose Avenue in Los Angeles.
Now our second partnership with Fred Segal, Tinseltown A-listers have the opportunity to see and feel LELO for themselves right in the heart of Hollywood. This balanced with a very happy Valentine's Day for Adore Me and Tiani™ 2 have us all very excited for what else is in store for 2013!