We know we can't be the only ones who look forward to Black Friday Sales; the thrill of nabbing an amazing deal is all too exciting!
And for some extra excitement from your Black Friday wish-list, look no further than these deals on LELO vibrators! Below, we've shared just some of the very best discounts and deals – you can see all the savings on LELO.com!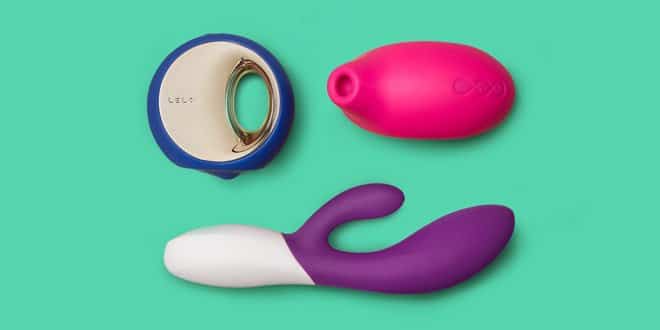 Clitoral Vibes
SONA & SONA Cruise
We'd be remiss if we didn't point out that the hottest new products of the  year, SONA and SONA Cruise, are both currently discounted as part of a special introductory offer – but only for a limited time. If you're curious about what a sonic massager really feels like, just check out the enthusiastic product reviews of SONA that have been written in its first month alone!
ALIA – 50% Off
Definitely one of our most gorgeous external toys, it's also one you can enjoy our biggest discounts on! Think of ALIA like a Fabergé egg, but one that's as lovely to be held as it is to behold. With beautiful shape and ergonomic handle accented with gold  ABS plastic, it makes for a comfortable addition to solo or partnered play with broad external stimulation perfect for luxuriating.
NEA – 30% Off
One of the original LELO designs and still one of the most popular, NEA 2 has long been a mainstay for those new to LELO vibes. It's designed to perfectly suit your body, applying deep, rumbling vibrations exactly where you want them to go with no fuss or complication. Its beauty is in its simplicity, and it's simply beautiful.
ORA 2 – 25% Off
If you're obsessed with oral sex, then you can have it on demand with our award-winning ORA 2, which creates a sensation of better-than-real oral sex as it rotates and vibrates – and increases strength as your push it against your body.
Rabbits & G-Spot Massagers
ELISE 2  – 30% Off
Our largest and most powerful G-spot vibe – thanks to its dual motor design – makes ELISE 2 perfect for those who crave a little more (just check out these rave ELISE 2 product reviews)!
GIGI 2 – 25% Off
GIGI2 is not shaped like your average pleasure product. It has a gentle bend and shorter neck that fits within your anatomy to hug the upper wall of your vagina where the G-spot is located. It also has a flattened 'head' with a soft curve that makes it perfect for firmer pressure on your G-spot!
ISLA – 50% Off
A long, slender shaft promises users of ISLA deeper sensations with comfort and ease, while its cut-out handle offers complete control over the pleasures it has to offer. These pleasures can be enjoyed not only in style, but underwater as well for a luxurious soak in the tub or an extra-long shower that you can share with a partner or keep all to yourself.
INA Wave – 25% Off
This little bunny is uses one of our most popular dual-motored designs with an utterly unique technology. Its flowing form and flexible external stimulator mean INA Wave matches women's curves and contours for a uniquely satisfying fit, yet it also uses the revolutionary WaveMotion™ to mimic the gentle up and down G-spot of a lover's fingers.
Prostate Massagers & M-Cups
BLOWHOLE  – 30% Off
If you're ready for a different kind of sex toy – prepare yourself for BLOWHOLE. This M-Cup uses vibrations rather than suction for sensations that don't require wrist movement for a completely new experience. Oh, and you (or a partner) can control it with your phone, so the only limit is your own imagination.
BRUNO – 50% Off
BRUNO is  less expensive  than the remote-controlled HUGO and has a single button control on its body, which allows you to change patterns but rests on high intensity, meaning that if you're into big power and don't want to fuss with control, BRUNO is the perfect prostate massager for you.
LOKI  – 30% Off
LOKI features a fuller curve on its 'front' and a more noticeable angle, which  makes it one of the best options for someone who has never tried any prostate stimulation before, as it takes a lot of the guesswork out of locating the prostate.
Couples' Toys
TIANI 24k – 50% Off
Besides looking gorgeous – we're suckers for 24k gold – TIANI 24k features two motors – one that vibrates externally for clitoral stimulation, and one worn inside for internal, G-spot pleasure – both of which can greatly contribute to both partners reaching orgasm together at the same time.
IDA – 25% Off
Definitely one of our most remote contolled unique couples' toys,  IDA vibrates AND rotates internally to stimulate the G-spot – as well as the penis – with totally unique sensations.
LIFEGUARD – 30% Off
One of our funkier couples' rings, LIFEGUARD allows you – or your partner – to control vibrations via the REMOJI app on your smart phone. Not only is it fun and interactive, it means you'll never misplace your remote again!
Our Favorite 'Just Because' Products
LUNA Beads  – 25% Off
The benefit of LUNA Beads is two-fold: when inserted, your body will naturally squeeze around them to keep them in place. This serves as a mini intimate work out which has been shown to help women who want stronger, more consistent orgasms. For some women, the sensation of the inner weight swirling with your movements as you go about your daily tasks also causes a very pleasurable sensation!
HEX Condoms – 25% Off
What can we say about HEX that hasn't already been said – or shown – in our banner first year? HEX has changed how many people think about safer sex, and with 25% off the re-engineered condom, so can you!
Transformer  – 30% Off
Not sure what to make of this unique-looking sex toy? That's fine, you can make it anything you want – a double ended dildo, a rabbit vibe, a cock ring…Transformer is truly as twisted as your imagination!
SMART WAND Large – 25% Off
The wand–style massager has a long and storied history among pleasure-seekers, with one of the most iconic and recognizable silhouettes when it comes to the modern sex toy. We simply made it better in this sleek powerhouse – waterproof and cordless so you can use SMART WAND Large anyway and anywhere you please. And hey, it's happens to be a pretty good back massager too!