We recently reviewed Lelo's Sona 2 Cruise against Womanizer Premium, so we thought it was only fitting to bring in another commonly mentioned clit sucker, Satisfyer Pro 2! These toys use air pulsation technology to stimulate much more of the clitoris without directly touching it. Discover the defining features, pros, and cons of each below.
Satisfyer Pro 2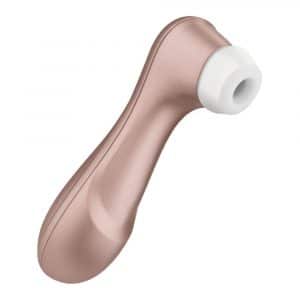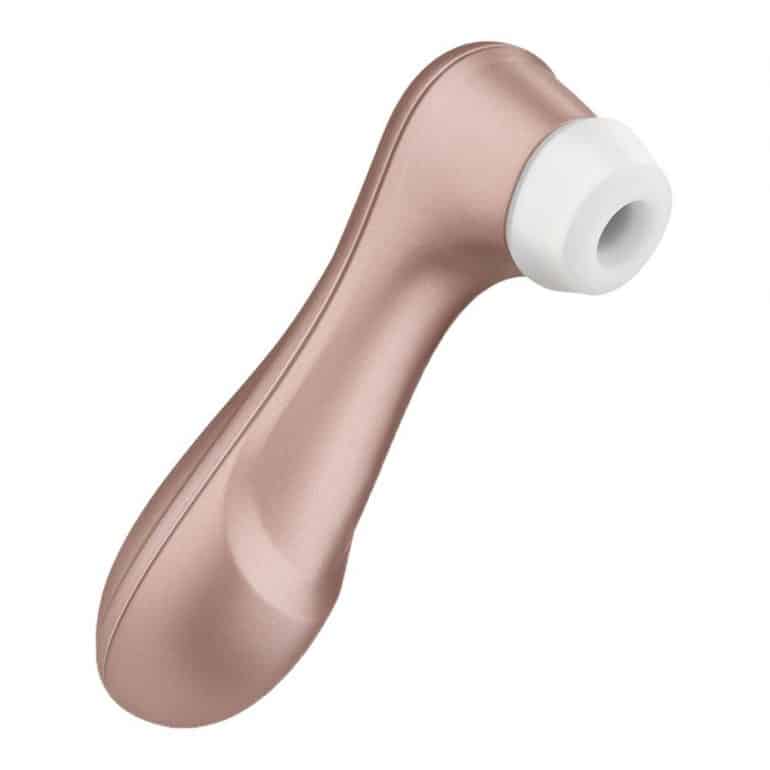 Full Price ~$61.75
★★★★☆
At first glance, Satifyer Pro 2 seemed sleek and incredibly lightweight. After reviewing Sona, I have to say its weightlessness almost felt cheap, but the orgasms did not. The toy has 11 different vibration strengths along with 10 different patterns. I tend to stick to the constant vibration but there are options for everyone. To turn the Satisfyer Pro 2 off, you hold the top button down as opposed to lowering until off on the Sona 2 Cruise.
Like previously reviewed clit suckers, Satisfyer Pro 2 has removable heads. While this makes cleaning the heads easy, I found that the mouth on the toy itself was harder to clean. Regardless, put in a little elbow grease and this thing is a decent sex toy for a relatively low price. It's also waterproof which means you can get wet with it whichever way you'd like.
Like the majority of clit suckers and toys that use air pulsation technology, they aren't exactly silent. On the highest setting, Satisfyer Pro 2 sounds like a little airplane about to take off. It's fine with music on, but maybe not something you want to test out if someone can hear you (unless you don't care, which you shouldn't). Another thing I noticed was that this toy was rumblier than Sona, most likely because it's cheaper in general. Not a total deal breaker, but it lead to a less intense orgasm.
Some additional concerns to note that I found through research and not personal experience are problems with charging, issues with fit, product dying over time, problems after submerging toy in water, and product failure.
Defining Features
Removable heads

Squishy heads

Vibrates along with air pulsation
Pros
11 pressure wave intensities

10 pulsation patterns

Whisper mode

Waterproof

15-year warranty

USB magnetic charging cable
Cons
Loud

Difficult to clean

More rumbly than steady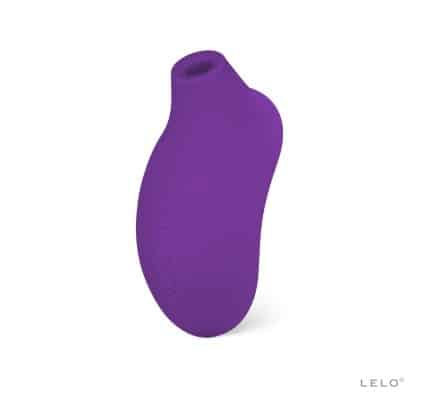 Full Price $139
★★★★★
Lelo does a great job of ensuring you can feel the quality of their toys. I don't mean just by the soft silicone or weight of the toy, but also in the intensity of the orgasm. Sona 2 Cruise is plastered on the internet for giving clitorises near and far many "first", but with all sex toys, one size does not fit all. I must say, however, after reviewing Sona 2 Cruise, I also experienced a first – squirt. The orgasm was so quick and deep that I didn't know what was going on.
The specifications of the toy are similar to Satisfyer Pro 2, besides the differentiating Cruise Control technology. It stores 20% of the toy's battery to increase the vibration level when you have it pressed firmly against the skin. If you're someone who wants to edge, this probably isn't the toy for you. It's meant to make you cum, and cum hard.
Sona 2 Cruise also isn't quiet, especially when lube is incorporated. Again, it's not loud enough to travel through the walls but take precautionary measures if you're worried about someone listening. You can bring it into the shower or tub since it's fully waterproof. Neither of these toys are really designed to be nestled between two bodies, but both can be great if your clitoris is free to stimulate.
Defining Features
Better quality

Cruise Control technology

Deeper sensation
Pros
Smaller mouth for precise stimulation

Ergonomic design fits well against body

100% waterproof

12 pleasure settings

1-year warranty, 10-year quality guarantee
Cons
Not quiet

Hard to nestle between bodies

Could cause too quick of an orgasm
Overall Winner
Boiling it down to quality of toy and quality of orgasm, our winner is the Lelo Sona 2 Cruise. The Cruise Control technology is a crowd favorite for a reason and leads to really intense pleasure. If you have a clitoris or love someone who does, make sure to keep this fella in clitoral-reach at all times.