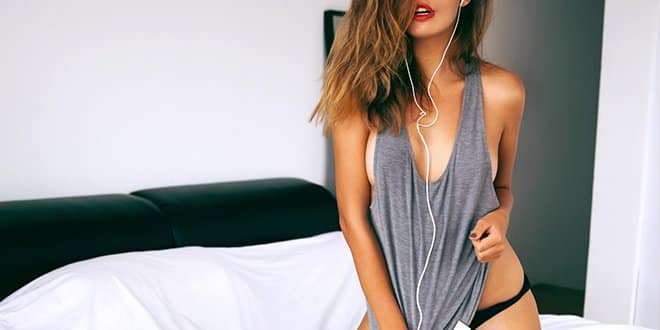 Music heightens emotions. The right tune played at the right time could make us do everything from run faster to dance harder. An ill-timed tune, however, could take the wind out of the sails of an otherwise positive, emotionally-charged experience.
And while sex in silence is always a safe bet, reaching for that play button could quickly tip the scales of sensuality toward either lust or bust, especially if you're with a new partner. So to ensure you play it safe and sound, LELO offers up its top tunes for getting in a lovemaking mood.
Fast, Fun Sex:
Janelle Monae – Make Me Feel
We can't be the only ones whose heart started thumping right along with the beat when we first watched the video for Janelle Monae's latest – an homage to her mentor, none other than the late-and-great-at-making-sexy-music, Prince.
Goes great with the ultra-powerful SIRI external massager for some amped-up intimacy.
Gentle, Sensual Lovemaking:
Sabrina Claudio – Unravel Me
Once Unravel Me starts up, we get completely undone. It takes the standard slow jam to a deliciously and excruciating pace, hence it's excellent pairing with the shared pleasures of couples' ring TOR 2. Think about it – intense vibrations for her and a more (ahem!) pronounced presence for him; what's not to like?
Sexy Foreplay Massage:
Childish Gambino – Redbone
You may have first heard this song in the terrifying Get Out, but this slow jam from the endlessly-talented Donald Glover will make you seriously want to get down.  It also keeps the beat for your hands to follow along to with a romantic rubdown with using a Flickering Touch Massage Oil.
Kinky, Medium-Paced Sex:
Rihanna – Pour it Up
From the woman who gave us the song S&M, there's no way Rihanna wasn't making our list. This song (and video) is all about putting on a performance just for you partner, and at LELO, we think this calls for a little bondage and role play.
Goes great with playing prisoner to the passion with the SUTRA Chainlink Cuffs.
The S&M Experience:
Nine Inch Nails – Closer
Featuring lyrics that leave nothing to the imagination, this Nine Inch Nails favorite's gritty, semi-funky number will encourage you to give and take discipline without feeling intimidated or sadistic. If it's a little too hard-core for you, we also love Foo Fighter's take on Prince's Darling Nikki –  the song that famously brought about content warnings on music.
Goes great with some risqué romancing with the Dare Me Pleasure Set.
While unfortunately, music can't dance for you (if you know what we're sayin'), it's the universal mood-setting medium that could tip the scales of sensuality in your frisky favor. Just remember to play safe.