For those who crave a full-body orgasm experience, SORAYA Wave was engineered to combine the strong vibrations of the original SORAYA with the wave technology that pinpoints your internal pleasure. The versatility of rabbit vibrators will keep you exploring your best sexual wellness. If you're someone who knows you like stimulation on the place commonly referred to as the G-spot, look no further…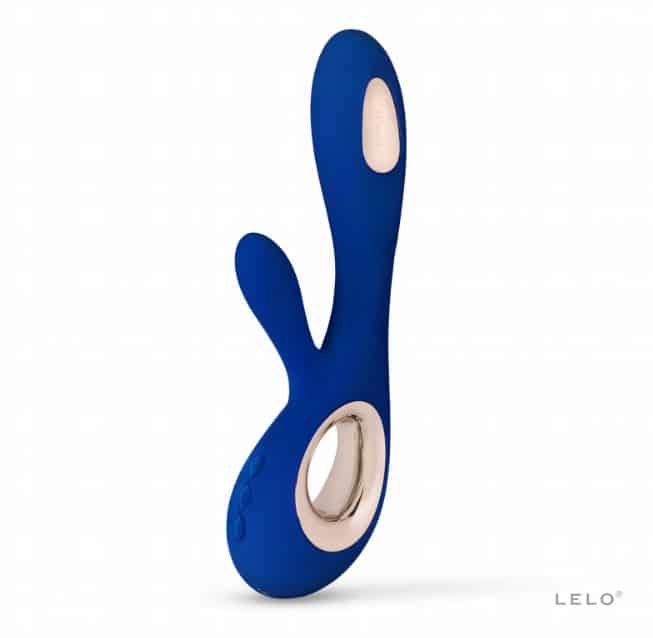 New Toy to Know: LELO SORAYA Wave
"The SORAYA Wave's shaft was specifically designed for movement – and to make that very-specific movement once inserted into the body. The shaft moves back and forth to provide that rigid sensation right up against the g-spot.
The physical movement isn't all that the SORAYA Wave is bringing to the table. The SORAYA Wave is also equipped with a pulsating tip. While the shaft moves back and forth over the g-spot with its WaveMotion technology, the tip also offers powerful pulsations for a sensation that's completely unique – and overwhelmingly pleasurable."
Read more of KINKLY's review!
LELO Soraya Wave vs Soraya 2: Which One is Better?
"The G-spot tip on Soraya Wave is slightly bigger than the Soraya 2, probably it is designed this way so that more area can be pressured during the 'come-hither' motion. The idea behind Soraya Wave is to mimic a finger rises and falls inside of the vagina. The stimulation is very targeted.
It's made of body-safe silky silicone, with some golden touch on the handle and on the tip, giving an unbeatable luxurious feeling."
Read more of HERTOYSREVIEW's review!
Lelo Soraya Wave is a third-gen dual-stim rabbit for blended orgasms
"The Soraya Wave uses "Wavemotion" technology, inspired by the caress of a lover's fingers. The sculpted tip uses a 'come hither' motion, designed to get to the G-spot every time.
As well as the internal motion for the G-spot, the clitoris is well catered for using the fully-flexible external arm, which, like the rest of the device, is made of 100 percent waterproof and bodysafe silicone."
Read more of SEXTECH's review!
Is the Lelo Soraya Wave Really Worth It?
"I discovered that one of my favorite ways to use it, though, wasn't to move it at all. If I pushed the toy inside me and just held it in place, the toy does a lot of work on its own. The internal motions kept rubbing my G-spot, but they also made the whole toy move in a kind of see-saw pattern. When that happened, the clit vibrator didn't just sit against my pussy — it rubbed up against it.
To say that it was a pleasant surprise is an understatement. It recreated that amazing feeling I get when my husband is fucking me slowly and I feel his cock tapping against my G-spot while he slowly rubs his thumb against my clit."
Read more of MEDIUM's review!
Lelo Soraya Wave Review: Wave Motion Technology And Epic Double Orgasms!
"From the moment I turned on the WaveMotion option, I instantly knew that it was a great match for all beginner and intermediate fans of G-spot stimulation. Sometimes, G-spot stimulation can be a little tricky to figure out, but I think the Soraya Wave will take you there quickly if you've never had a strong, full-body orgasm from inside. Add the external clitoral arm to the mix and you'll end up cumming so hard that you'll see rainbows and unicorns!
One thing to note here is that the clit arm is super-flexible, which is just awesome. It lets you choose all kinds of angles and positions with ease. The added bonus here is that you can also twist the entire toy around. Then, you can use the clit arm to stimulate your butthole. This gave me some surprisingly good rimming sensations! Of course, when it comes to the main attraction, the shaft felt insanely pleasant when I pushed it inside."
Read more of PLEASUREMENOW's review!
LELO SORAYA WAVE REVIEW
"The [Wave Motion technology] principle is to offer, in addition to vibration stimulation, movement. Indeed, the vaginal branch is not mobile! This part allows the head of the Soraya Wave to move in order to reproduce wave movements to stimulate the G-spot."
Read more of 69DESIRS's review!
Lelo Soraya Wave Review: How Good Is This Lelo G-Spot Rabbit Vibrator?
"Lelo has done it again – they've improved upon Soraya 2 and are delivering a toy that does the most work for you (especially if you love G-spot stimulation).
I (& my girlfriend) would definitely recommend this toy as the whole experience felt effortless – just grab it and use it. Soraya Wave does most of the work for you."
Read more of SEXUALALPHA's review!
Customer Reviews
Check out more Bazaarvoice authenticated LELO reviews, supported by anti-fraud technology and human analysis.
Sooooo… ★★★★★
Amazing! Surprising, exciting, delicious, & different. Impressive.
Posted by: ace maravolo

Must Have ★★★★★
I had been meaning to buy a new vibrator for a while now, and it was definitely worth the wait! I couldn't ask for a better massager and I could not recommend it more to anyone who has a vagina and/or clitoris!! Buy it, you will not regret it!
Posted by: Keirstin
A must have! ★★★★
I don't typically write reviews, but felt compelled to post one for this little miracle. This toy is pure perfection: the aesthetic, the premium feel, and OMG does it give you an orgasm…
Posted by: Martiina
How To Use SORAYA Wave