If you've been reading about how awesome it feels to use sex toys with your partner, but aren't quite sure what type you're looking for, let us humbly suggest a wearable couples' massager like TIANI 2! This little device is worn vaginally during penetrative partnered sex to offer intense sensations that can be felt by both!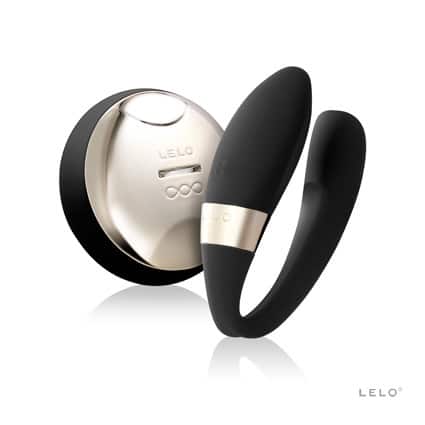 LELO TIANI 2 Vibrator Review
"I prefer to use the LELO Tiani 2 Vibrator during sex with the flatter tail, which I find feels much better with his penis also inside, than the oval/rounded tip. The wider surface of the edge just feels more comfortable. As for the vibrations, I can feel them fantastically against my clitoris[.]"
Read more of CARASUTRA's review!
Sex Toy Review: LELO TIANI 2
"Unlike standard clitoral vibrators, which tend to feel good right away, couples' vibes tend to require a little more experimentation. You have to find the right fit, the right sex position, the right toy. But if you enjoy penetrative sex – and I do – they can be a total game-changer. You get all the closeness and sexiness (and thrusting!), but with the biggest, best orgasms you can imagine."
Read more of KINKLY's review!
Review: Tiani 2 by LELO
"The most interesting thing about the Tiani 2 has got to be its wireless controller disc. Um. Yep. So, the C can be used all by itself with a steady vibration, that is actually really strong. I wouldn't expect anything less from LELO, after all they consistently produce great vibration with VERY little noise. But if you want to have some more fun, you can fire up this wireless controller disc. See, it ALSO vibrates, so can be used in other areas."
Read more of LIFEONTHESWINGSET's review!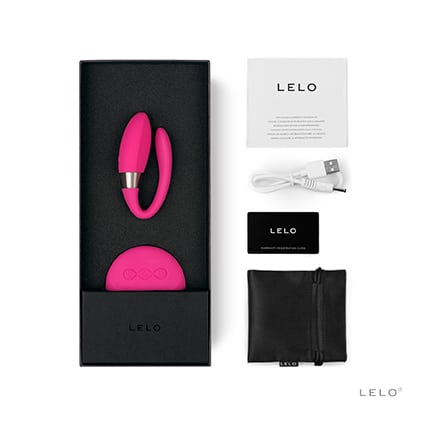 It Takes Two For TIANI 2
"To cut the long TIANI 2 review short: does it work? Yes, it does. Strangely enough, we ended up using it without the remote more often, simply because we were able to forget all about it. I found LELO TIANI 2 exciting and challenging; sharing it meant letting go, losing control, having him dictate the rhythm, change it, try to find my favourite position and feel my favourite vibration mode, listening only to my moans, watching my body twisting with pleasure."
Read more of KILLINGKITTENS' review!
Review: Lelo ~ Design Edition Tiani 2
"If you've been on the hunt for a remote controlled vibe designed for use during intercourse, one that's body safe, whisper quiet, comfortable, and discreet, while also being rechargeable, waterproof and luxurious, the Tiani 2 may just be what you've been looking for. Sure there are other versions of wireless vibes available, but the SenseMotion technology is what sets it in a class of its own; not only does it blend high end intimate accessories with a functionality that's hard to beat, it puts you and your partner(s) in a state of control that may have previously been impossible to achieve."
Read more of KARASUTRA's review!
Customer Reviews
Check out more Bazaarvoice authenticated LELO reviews, supported by anti-fraud technology and human analysis.
Amazing ★★★★★
Hits the gspot perfectly! Recommend for a fun way to spice up your bedroom.
Posted by: EPaige

Don't use this while on the phone. ★★★★★
My wife and I were just about to use this for the first time when she received a phone call she couldn't ignore. We went ahead and used it anyway while she was on the phone, and it was definitely a bad idea. She had the strongest orgasm I've ever witnessed, not just from her but from anyone. I legitimately thought she was having a stroke. The phone call lasted 13 minutes. My wife did not. I would recommend this to anyone and everyone.
Posted by: D & K
Yaaaaaas! ★★★★
Beautiful design. Very smooth. Easy to use. Lots of fun using this solo and with your other half. When you've figured out which setting is best for you it will have you screaming yaaaaaaas!
Posted by: SBee
How To Use TIANI 2