Most of us own sex toys, but are we using them in partnered play? The TIANI 3 is a couples' massager that stimulates both partners simultaneously. It's also hands-free, which means you can take it out for a night on the town and let your partner control your vibrations at the dinner table. You'll be begging for dessert. Check out the reviews below!

LELO Tiani 3 Review: An Awesome Couple's Vibrator
"It's worth noting that in both of these SenseMotion modes, the controller and the massager vibrate. At first I thought this was odd, since it doesn't really help increase pleasure. After some time, I realized that this would allow two females to enjoy the vibrations delivered together as well as give sensory feedback to the person using the remote as to how hard the Tiani 3 is moving inside your partner, allowing for better control over the sensations felt by both parties involved."
Read more of DOCTORCLIMAX's review!
Tiani 3 Review: LELO's Small Couples' Vibrator Packs a Punch
"This was also great for my cam shows meaning that I didn't have to mess around with finding the button on the inserted toy in order to shake things up. My customers enjoyed my games of tipping me to shake the remote, providing me with an exciting new game to play with my audience, as well as a lot of pleasure for me!"
Read more of FUTUREOFSEX's review!
Lelo Tiani 3 Review: The Best Couples Vibrator
"This was also great for my cam shows meaning that I didn't have to mess around with finding the button on the inserted toy in order to shake "The Tiani 3 is great for positions that require your hands to be elsewhere!  It is also great if your body is too close to your hubby's to hold a vibrator between the two of you.
In addition to opening up many other sexual positions to clitoral stimulation during sex, but the Lelo Tiani 3 is very easy to use.  This is one of the easiest to use vibrators that Lelo makes, due to the simple remote control. No vibration modes – simply adjust the vibration intensity, which is what most of us ladies are interested in anyway."
Read more of WOMENANDSEXUALITY's review!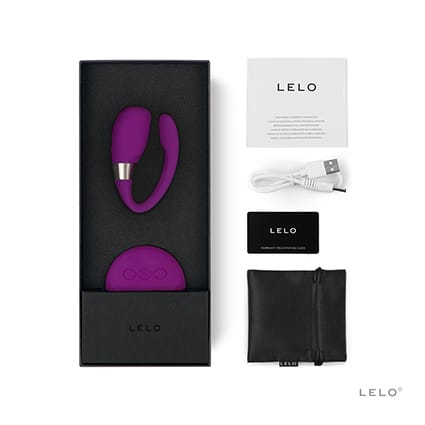 Lelo Tiani 3 Review (We Tested And Enjoyed It)
"I personally prefer clitoral vibrators but Tiani 3 offers way more than that. Simultaneous clit and G-spot pleasuring, plus more intense stimulation while my partner is penetrating my vagina.
For him, Tiani 3 made my vagina tighter. He was also able to experience each and every vibration and he appeared more excited than usual. And came faster."
Read more of THETOY's review!
My Partner and I Tried Lelo's Remote-Controlled Tiani 3 — Here's Our Honest Review
"I was excited to try out the toy with my partner, especially considering this would be the first time we would have the chance to explore a remote-controlled toy for more involved play. The variety of settings available got us in the mood to explore what kind of scene-play we could incorporate around the toy, both as foreplay and intercourse."
Read more of ALLURE's review!
Couples Review: Lelo Tiani 3
"In missionary position, it took some maneuvering to get the Tiani in place. With him on top, the smaller arm stayed put and I was able to feel the vibrations both internally and externally. I let him control the vibrations until we found one that we both enjoyed. It felt amazing on my clitoris and the orgasm was nothing short of exhilarating.
Like she said, this sex toy is ideal for missionary position. I could feel the vibrations running across the top of my penis with each thrust. Her eyes were rolling back pretty good at the same time so I assume she was enjoying it as well."
Read more of COUPLESTOYSTORE's review!
Customer Reviews
Check out more Bazaarvoice authenticated LELO reviews, supported by anti-fraud technology and human analysis.
So much fun ★★★★★
My wife and I have never experimented with anything so this was a fun learning experience. So much fun!
Posted by: Farmhand

Great toy! ★★★★★
I bought this about a month ago, shipping was very fast! My husband and I have been together for 8 years so I wanted to spice things up and this was a great investment! We can both have fun with it, he feels part of it and it helps us both get what we want 😉 definitely recommend!
Posted by: Jm2012
Have more fun on date night… ★★★★
I was looking for surprise to spice up her birthday and from the way the night went she enjoyed the gift. Pretty simple to use and gives room for a few different ways to play around during fun times.
Posted by: 31inthe313
How To Use TIANI 3