Hi everyone, this is Dr. Zhana. I'm a professor of human sexuality at New York University and Happy National Masturbation Day! May is both Masturbation Month and mental health awareness month and I don't think that's a coincidence! Because self-pleasure is one of my, at least, favourite forms of self-care. So, I'm really excited to talk to you about masturbation and answer your questions. Let's go.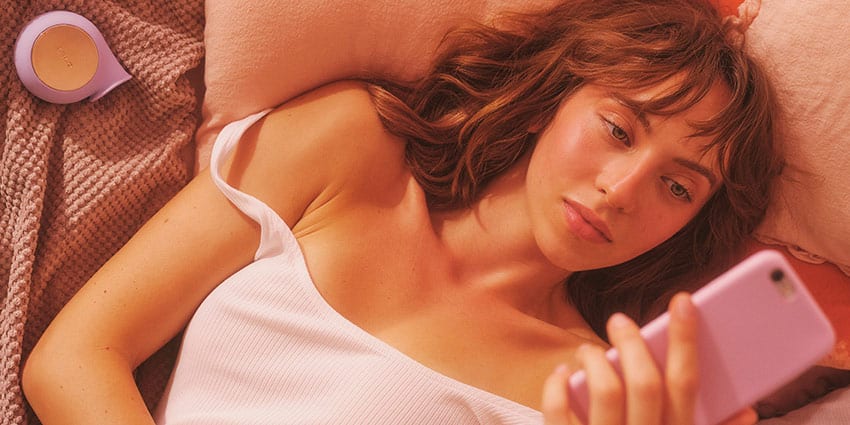 Is masturbating every day healthy? Or is it too much?
This is one of the most common questions I get about masturbation and the answer is absolute yes! Masturbating every day is perfectly normal and healthy, there are a lot of people who do it. So, if you feel the need to, please do.
Is it ok for health to have one orgasm every day from masturbation with toys?
Now, of course, that's not to say you have to masturbate every day. We all have different levels of sex drive, and time to do it. There is no one amount of masturbating that's right for everyone. It's going to differ quite a bit for all of us.
In my mind, masturbating becomes too much only if you are spending multiple hours a day, every day for extended periods of time, neglecting other areas of your life, maybe using it as an escape from your life.
When I asked LELO's Instagram audience about their masturbation practices, here's what they said:
Poll: Do you masturbate every day or almost every day? 51% said yes
Poll: Do you worry you're masturbating way too much? 15% said yes
Poll: Do you worry you're not masturbating enough? 35% said yes
Are there more health benefits to masturbating in the morning vs evening time?
I'm not familiar with any differences in health benefits between morning and evening, so you masturbate whenever the mood strikes and you have the time and luxury to enjoy some self-pleasure. Have fun!
Can using vibrators reduce the sensitivity of your clitoris?
This is probably the second most common question I get about masturbation. And the answer is no. Vibrators, even regular frequent use, do not create any permanent damage or reduction of sensitivity of the nerves themselves. If you only use vibrators to masturbate, the nerve endings kind of get used to that very high intensity and speed type vibration and so other forms of stimulation might not feel stimulating enough for you. This is not a problem if you're happy using your vibrator always. But if you want to expand the number of ways that get you off, then I would recommend switching it up – sometimes using a vibrator, sometimes using other forms of stimulation.
Poll: Do you typically use a vibrator when masturbating? 61% said yes
Puedo ser mejor la masturbacion que el sexo para un hombre? (Can masturbation be better than sex with a man?)
A bunch of you wanted to know if masturbation could feel better than sex itself. And the answer is absolutely, for some of us it does. LELO actually just did a survey of over 2,000 people and found that 60% of them said they preferred masturbation over sex. Perhaps even more surprisingly, results were similar for women (56%) and men (65%). Whaaat?
Poll: Generally speaking, what do you prefer masturbation or partnered sex? 29% said masturbation, 71% said sex with a partner. 
Is it okay to masturbate more than sex in a relationship?
So, is it okay to masturbate more than have sex with your partner? That really depends on your partner. There's nothing wrong with you wanting that, but if it's not enough sex for your partner, it might create a discrepancy that could turn problematic. Keeping both partners sexually satisfied is really important for longer-term relationship success…
How to tell my bf I often prefer solo masturbation than having sex?
Show him this set of stories, which could be a good way to start the conversation… Generally speaking, I would recommend putting a positive spin on it. Talk about how much you love and enjoy masturbation, and brainstorm some ideas that you can incorporate masturbation more in your partnered, coupled sex life. Like for example, you could masturbate in the same room while watching each other. You could masturbate in separate rooms at the same time, or you could do it over video chat. Or you can direct each other's masturbation sessions.
How to find my vaginal G spot? I've never found it so I never could have a vaginal orgasm alone or with a partner
Honestly, we don't know if all vagina-owners have the ability to have that internal vaginal orgasm, and many women don't have them. But that's ok, external clitoral orgasms are pretty amazing too. Of course, if you want to keep exploring, then keep trying different things, different implements, LELO has a bunch of g-spot stimulators.
Poll: For vagina-owners: have you ever had an internal vaginal (g-spot) orgasm? 47% said yes
What's the best way to pleasure your penis?
Well only you know what feels best for your penis, but, of course, you have your hands at your disposal, as well as a number of different masturbation sleeves and devices, including LELO's F1S, that's now on the market.
My masturbation technique has gotten more intense and quicker over time. Is this normal?
It's quite normal for masturbation practices to shift and change over the course of our lives. That's not a problem. Now, if you're not happy with your masturbation sessions and the routine you've gotten into then, by all means, switch it up!
I have a bad habit of masturbation for 6 years. How I can avoid it?
As I said earlier, there's nothing wrong with having a regular masturbation habit. If you're worried that it's taking up too much time or is unhealthy for you, go see a sex therapist. Just make sure they are sex-positive and are not going to judge you for being a highly sexual person.
I'm always scared my hands aren't clean enough or that I'm gonna hurt it, help?
I mean, definitely make sure you wash your hands before touching yourself. But other than that, you should be fine, you're not gonna hurt your genitals. They tend to be pretty darn resilient. Just go to town and have fun.
If you'd like to talk more about masturbation, join my masturbation conversation event on May 22 sponsored by LELO. It's open to anyone in the world, it's online, and it's pay what you can/donation-based. You can be as anonymous as you would like to be (or not) and it gives you an opportunity to learn new information, expand your horizons, destigmatize some of the shame around masturbation, and connect with like-minded folks all over the world. Get your tickets HERE.
Ok, folks, that is it for me today! I hope this was useful. If you want to connect with me some more, follow me on my own Instagram, lots of sex and relationship education and information on there. And I will see you here at LELO next month for more Q&A.