Maybe you've seen deep-throating in videos and want to try it for yourself, or perhaps you're looking to blow a partner's mind (among other things) with a new trick in your sexual arsenal. No matter what your motivation is for deep-throating, it's not something you can just jump into—it takes a bit of practice in order to do it safely and comfortably.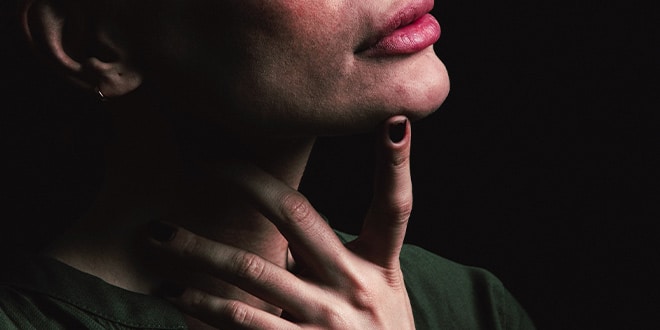 First of all, what is deep-throating? For those who are not in the know, deep throating is a type of blowjob in which the giver allows the penis to go deeper, beyond their mouth and into their throat. Some people enjoy being the deep-throater for the feeling of being dominated, or the feeling of being totally filled up or going beyond their limits. Deep-throatees claim that it's a tighter sensation and likewise may enjoy the dominating aspect. 
Whatever your reasons are for wanting to give a deep-throat blowjob, just know going in that not everyone can do it, especially without practise. While you're not born with the ability to stick a cock down your throat, with the proper training and patience, just about anyone can do it.
Deep Throat Training
Start out with your fingers. Try getting a finger as deep as you can into your mouth without gagging. When you eventually gag (and you will), stop for a moment before resuming. To get even deeper, try this with your toothbrush. The idea is to make your body more relaxed when something is in your gag area or even going past it. Do not ever try to practice deep-throating with food. I know that bananas and hot dogs look perfectly suited for this particular practice, but foods are much easier to break off and become lodged in your throat, so just don't. 
While you practice suppressing your gag reflex, make it a point of focus to always be breathing through your nose. If you keep getting a steady flow of air, it will help lessen your body's gagging response. Gagging is your body's way of trying to clear your air passage, after all.
Porn stars who make deep-throating part of their professional repertoire claim to advance their deep-throating training regimen with a sex toy like a suction cup dildo before moving on to the real thing. Affix the suction cup to the wall at a comfortable height and try getting its realistic girth down as far as you are able. This step of practice will be your main indicator of whether or not you eventually want to deep-throat a real penis with a flesh-and-blood partner attached to it.
If you do buy a suction cup dildo to do this type of deep-throating practice, make sure you spend the extra money to get one made from body-safe sex toy materials. Otherwise, you may be forcing harmful chemicals down your throat.
How To Deep Throat for the First Time
Before getting started, make it clear to your male partner that you'll be the one in control. That means that he cannot use his hands in case he tries forcing your head where it shouldn't be. He also has to agree not to thrust while his penis is in your mouth or going towards your throat. This is especially important when you're getting started with deep-throating. As you advance your skills these rules can be eased up a bit, but when that happens and to what extent is totally up to you.
Get into position. While being on your knees is the go-to blowjob position, try blowing him while in the 69 position instead. Giving a deep-throat blowjob in the 69 position is ideal because he cannot thrust upwards very easily, and his hands will be otherwise busy holding your hips. This puts you in total control of pace and depth, and if his penis naturally curves upward, it will more easily and comfortably slide down your throat.
After successfully completing your first deep-throating, you can move on to more advanced positions like laying on your back with your head hanging off the edge of the bed. This position gives a more or less straight angle from your mouth to your throat and can be more comfortable, but it puts the male partner completely in control. Only graduate to this deep-throat sex position if you've got complete trust in your partner.
Hopefully, this gets you started with experiencing the very unique sexual act of deep-throating. You're going to enjoy the satisfaction of pulling off one of the more advanced sexual techniques, and your partner is going to likewise enjoy the satisfaction of a truly mind-blowing climax.