Your favorite solo-sex toy has a sister. ENIGMA Cruise is the next-generation dual stimulator sonic massager that brings the same sexy shape yet double the pleasure. 
About ENIGMA Cruise
ENIGMA Cruise is a dual sonic vibrator that's designed to enhance your solo play with the dual stimulation of your clitoris and G-spot all at the same time. We all know blended orgasms are the best, and ENIGMA Cruise is here to deliver mind-blowing pleasure every single time. 
The ergonomic shape makes it easy to use for all bodies. The smooth silicone absorbs the sonic waves, providing gentle yet deep stimulation of your clit, while the inner sleeve mimics the stimulation of fingers over your G-spot.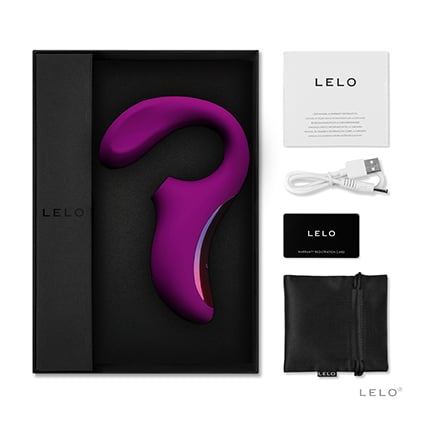 ENIGMA Cruise Specifications
Material: Body-safe silicone, ABS plastic 

Color: Deep Rose, Black 

User time: Up to 2 hours 

Standby time: Up to 90 days 

Size: 100 x 50 x 185 mm / 3.9 x 1.9 x 7.3 in 

Insertable length: 140 mm / 5.5 in 
How is ENIGMA Cruise Different From the Original ENIGMA?
The thing that separates these toys is the new Cruise Control technology that ensures consistent pleasure throughout your self-care session, from start to finish. Cruise Control preserves 20% of the toy's full power at the beginning and unleashes it later when the motor begins to drop power, so you don't feel the reduction in the intensity of stimulation. 
It's not an extra setting but an automatic mode making it a hassle-free experience. When you press the toy harder against your body, ENIGMA Cruise automatically increases the intensity of the stimulation for consistent, deeper pleasure. 
With this new technology at play, you'll be able to experience one blended orgasm after another, allowing you to get lost in pleasure for as long as you desire without having to lift a finger. 
Tips for Enjoying the New ENIGMA Cruise 
If you're interested in adding the new ENIGMA Cruise to your sex toy collection and exploring the new heights of pleasure, we want to share the best tips to help you do just that. 
Bring it to the Shower
ENIGMA Cruise is 100% waterproof making it the perfect toy to bring with you when you next have a shower or a bath. Play with your showerhead beforehand, stimulating your vulva with different intensities and settings. Then lift one leg, make sure you're standing securely (nobody wants to slip mid-orgasm), apply your favorite lube to the toy, and get lost in the pleasure. Quick, blended orgasms are guaranteed, and no clean-up after.
Go Hands-Free
When your arms get tired of holding the toy, you can easily use your legs to do the job so you can enjoy hands-free pleasure. With the toy inserted inside you, pull your thighs together to hold the toy in place. This allows you to use your hands to touch your breasts and play with your nipples while you ride your ENIGMA Cruise to the land of pleasure.
Get Your Partner Involved
While ENIGMA Cruise is designed for mind-blowing pleasure during solo sex, it doesn't mean you can't use it together with your partner. Bringing sex toys into the bedroom can help you spice up the routine and build a more intimate connection with your partner. 
Make them watch you masturbate using ENIGMA, ask them to use the toy on you, or do anything in between to explore new ways to enjoy sex together with your partner. 
How to Clean Your ENIGMA Cruise
Caring for your toy is super easy. Spray it with a toy cleaner or use warm water and antibacterial soap after each use. Then, dry it with a towel and store it in the satin bag that comes together with the toy. Avoid any sex toy cleaners with ingredients like acetone, alcohol, or petrol to avoid ruining the silicone. 
Register Your Toy
Every LELO toy comes with a 1-year manufacturer defect warranty. Take the LELO Authenticity Card that came together with your toy and go to LELO.COM/SUPPORT to register the number on the card and activate the warranty.