Finding good quality porn that goes well with your moral values and satisfies your sexual fantasies at the same time can be tough. Most mainstream porn is catered toward the male gaze, and from the stories of ex-porn stars like Mia Kalifa, we know that most mainstream porn is produced in a problematic and dangerous environment. 
The good news is that there is such thing as ethical porn. And while it's quite a new concept and might sound like a paradox, it's a great way to find good quality porn that doesn't compromise your values. 
What is Ethical Porn?
Ethical porn (otherwise known as feminist or independent porn) is the type of pornography produced in a consensual, respectful, and fair environment, caring for the performers' and filmmakers' wellbeing. Everyone working on the set is aware of what is happening, and they're all paid fairly for their work. 
It's also important to mention that independent porn is made with all people in mind, not only men. Usually, it features performers with diverse body types and queer relationships that are not fetishized, and it depicts sexual acts more realistically. Also, feminist porn focuses on both partners' pleasure, not only men. 
Why Does Ethical Porn Matter?
Ethical porn matters for a wide variety of reasons that are all extremely important: 
1. It Depicts Sex in a More Realistic Way
One of the ways that feminist porn is different from mainstream porn is that it focuses on showing the viewer the real pleasure of sex. Mainstream porn tends to be for men, most often completely ignoring the women and their pleasure. Because of this, mainstream porn is often unrealistic with how fast women orgasm and what it even takes for them to get there. 
In most porn videos, women performers don't even cum, with videos ending with the male orgasm. This tendency only further perpetuates the wrong stereotype that sex stops with the male orgasm. 
Ethical porn does things differently. It focuses on everyone's pleasure, especially people with vaginas, and it shows different sides of sex, from wild to messy to romantic, which is more diverse and realistic. 
2. It Stops Performers' Exploitation
Mia Kalifa is one of the best examples of how predatory and exploitive the mainstream porn industry is. She only worked in the porn industry for three months, yet she has been one of the most-watched pornstars to this day. However, the money she made from her porn videos was barely $12,000 because of the contracts she signed when she was getting started. 
And Mia's story is not the only one. Netflix documentary Hot Girls Wanted uncovers the tragic reality of the porn industry in Miami. The documentary follows young 18-19 years old girls who get into porn thinking that they will get a good deal but end up getting something they didn't expect. For example, they think they'll only do scenes with women and no rough sex but then have to change their minds and shoot porn they're not comfortable with just because they can't get a job otherwise.
Once again, ethical porn is trying to ensure that injustices like these are not a common practice anymore. As a result, all performers and filmmakers involved are where they want to be, in a safe and comfortable environment. And they all also get paid for their work fairly. 
3. It Promotes Consent
In most mainstream porn videos, consent is never established. And sometimes, from how it's filmed and the content that porn videos feature, it's hard to say whether all performers involved consent to the sexual activities depicted. 
Most people turn to porn to learn about sex at a young age, and then they continue watching it as they become adults because porn is one of the ways to spice up your sex life and find new ways to enjoy your partner. However, watching porn that lacks consent or makes it into something they need to question can translate into people's sex lives IRL (in real life) and make things problematic. 
Feminist porn is amazing when it comes to establishing consent and promoting it. All performers are comfortable and only perform scenes that they find pleasurable. So, when you choose to watch ethical porn, you're sure that you're watching people who have consented to be there. 
4. It Celebrates Diversity Across Different Bodies, Races, Sexualities, Ages
Mainstream porn tends to lack diversity when it comes to the way performers look. Porn stars are held to a certain standard when it comes to their looks, and while the popularity of homemade videos made mainstream porn more diverse, it's still lacking.
Ethical porn, on the other hand, aims to include everyone and show realistic bodies having sex. This is wonderful because the representation reminds them that people just liek them are enjoying the pleasure of sex. And it also helps with improving our relationships with our bodies.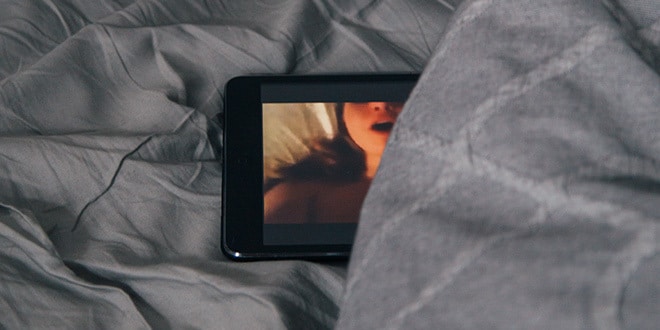 Where to Watch Feminist Porn Online
If you're ready to explore the world of independent porn, then you'll want to start by checking out these places to find something for your taste: 
Bellessa is one of the best-known ethical porn companies out there. Their website claims that "we believe that sexuality on the internet should depict women as we truly are- as subjects of pleasure, not objects of conquest," and their porn selection showcases their ideology perfectly.
You can find free porn videos to get the taste of feminist porn and see if there is anything that suits your taste. But that's not all. Bellessa also has a selection of erotica stories and a sex education section where they share useful articles about sex. 
Also, Bellessa is the Netflix of porn with their Bellesa Plus subscription service that gives you unlimited access to their large library of ethical porn for a monthly fee.
Erika Lust is the acclaimed adult filmmaker known for her plot-driven, erotic feminist porn. Lust Cinema is the ethical porn company that houses the videos directed by her and other acclaimed directors that focuses on telling a story that's filled with pleasure. 
What's interesting about Lust Cinema is that they have a special segment called XConfessions that you can get for an additional fee as a complimentary service for their primary porn streaming service. And XConfessions is a series of short indie movies directed by Erika Lust or other directors that feature the public's sexual fantasies. 
On their website, Bright Desire says that they "celebrate all that's good about sex – intimacy, pleasure, laughter, connection, fantasy, and fun." Bright Desire is an award-winning feminist porn company that offers a huge variety of porn for every taste. 
They launched in December 2012 and have over a decade of experience producing good quality, realistic and pleasurable porn that promotes consent and enjoyment for all parties involved. On their website, you can browse porn videos by subject or look at their creator library and choose what you want to watch this way. 
JoyBear is a British ethical porn company founded in 2003 to produce porn that focuses on female pleasure. And they do it to this day. Their library has a ton of different erotic movies that will cater to everyone's taste. 
You can either browse categories of porn or look at the creator library and watch a specific creator. And JoyBear offers either a monthly subscription to their service or you have a lifetime access option as well. 
Afterglow is a newer player in the feminist porn world, but they're doing amazing things. Their approach to porn is modern and clear, and their platform offers a lot of interesting things. Like guided masturbation resources for better orgasms. Or additional resources on intimacy and communication for couples to make sex better. 
Their library has a lot of different porn videos that will cater to different tastes and fetishes, so everyone can find something they like. And they offer a few different payment plans for different budgets, so you don't have to pay more than you can afford for your ethical porn. 
FrolicMe is one of the oldest feminist porn companies, and they were established to focus on women and couples and their pleasure. What sets FrolicMe apart from other ethical porn companies is that they offer porn movies, erotica stories, audio erotica, and even erotic photography. So, everyone can find something for their taste and preferred way of consuming content. 
Good Smut is a feminist porn company that focuses on creating erotica catered to a different audience not interested in pleasing the traditional male gaze. They also pay attention to the artists who create their erotica, ensuring that marginalized and diverse voices get opportunities to showcase their work.
Supporting Individual Creators
Social media and the rise of platforms like OnlyFans opened the door for independent porn creators to share their work with the world in a safe and controlled way. If none of the ethical porn websites seem good for you, or you're looking for a different way to find your porn, looking up individual creators on social media and supporting them by watching their porn and paying for it is a great option. 
There are tons of people creating porn and sharing their work on platforms like Reddit, Twitter, and TikTok. Research different creators. Most often, they'll have teasers and examples of their paid content. Surely you will find a creator whose content you enjoy and want to support.