The answer to "What is Feminist Porn" is a bit complicated. First, it depends on who you ask: men; women; lesbians; hetero; the viewer; the producer; the anti-porn crusader? Feminist porn is a very diverse topic, and so are the numerous views on what it is.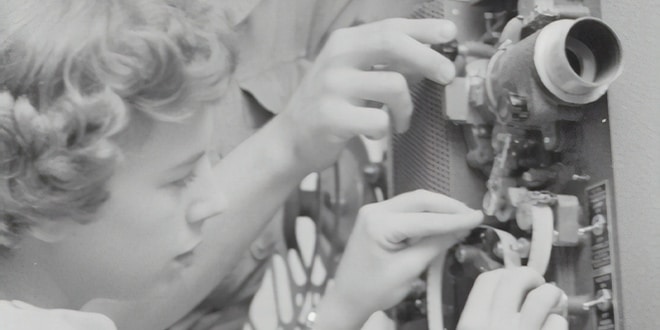 Then, there is a whole convoluted history that informs feminist porn: The Feminist Sex Wars and Anti-Porn Debates of the 70s and 80s, that still influence our view of what Feminist Porn is today and why it is even a thing at all.
Feminist Sex Wars and the Anti-Porn Debate
The Feminist Sex Wars began in the late 70s and early 80s and was a battle between opposing feminist groups (the anti-porn feminists and the sex-positive feminists) over pornography and sexual freedom which greatly divided the feminist movement.
Anti-porn feminists (spearheaded by radical feminists Andrea Dworkin, Robin Morgan, Gloria Steinhem and Catharine MacKinnon) blamed pornography for violence against women with their anti-porn rhetoric: "Pornography is the theory, rape is the practice". These "Women Against Pornography" argued that pornography was misogynous and degrading to women due to the consumption of porn by men which lead to sexual violence against women.
The Male Gaze and Film Criticism
In her essay, Visual Pleasure and Narrative Cinema (1975), Laura Mulvey stated that women were objects of desire and "the male gaze", because men were the producers in cinema controlling the camera (gaze) which focused on male pleasure from a male point of view.
Thus, cinema (and porn) is encoded with patriarchal views, where sexism becomes invisible, as it depicts women as sexual objects only, and always in a negative, misogynous or passive manner that does not allow them to become agents of their own sexuality and desires. 
The Rise of Feminist Porn
In the 1980s, a feminist response against the anti-porn feminists started the "Feminist Sex Wars" with sex-positive feminists speaking out against the censorship and regulation of pornography. Pro-sex feminists (including Ellen Willis, Gayle Rubin, Pat Califia, and the Lesbian Sex Mafia) responded to the anti-porn campaigns, saying they held "Puritan" beliefs that were a threat to free speech and ultimately women's rights. 
Supporters of sex-positive feminism promoted freedom of sexual expression, believing pornography could also be radically altered and used as a tool towards a feminist purpose.
Pioneered by Candida Royalle, feminist filmmakers began creating their own porn as a way to reclaim their sexual agency by reinventing traditional stereotypes as positive sexual role models—a radical idea back in 1984. Feminist pornography sought to break social taboos, portray women as positive subjects, empowering both the producers, actors and the viewers. It also served to engender new beneficial ideologies and iconographies that women could embrace as their own.
The sex-positive feminist movement brought together anti-censorship activists, LGBT activists, feminist scholars, sex radicals, producers of pornography and erotica such as Ellen Willis, Patrick Califia, Carol Queen, Nina Hartley, Susie Bright, Tristan Taormino and Betty Dodson.  
So, What IS Feminist Porn?
Producers and scholars who embrace feminist porn believe women-produced pornography gives women a healthy sexual outlet, in which they can embrace their own desires and fantasies, and safely experience and experiment with sexual diversity. It allows for the dissemination of sexual information and sex education, making it available to a wider audience which influences our social ideas about female sexuality.
Tristan Taormino—sex educator, feminist pornographer, and co-editor of The Feminist Porn Book—notes that feminist pornography's main mission is to promote gender equality, social justice, wage equality, consent, safety, and female autonomy within the production of porn.
Pornography also gives women producers a medium to reinvent traditional stereotypes in sex-positive and unconventional ways that liberate and empowers women. It questions ideologies about beauty and desire, female power and pleasure. Using pornography as a tool of sexual self-expression women can counteract sexist cultural views by opening up a dialogue about sexism in contemporary pornography and mass media. 
"Sex is the weapon; Porn is Power".
Women's Fantasies and Desires
According to a study in the magazine, Marie Clare (2015), 1/3 of women watch porn (90% watched internet porn as opposed to 40% who read erotic stories) and in a previous Anne Summers' study, over 85% of women said they used porn as a "fantasy escape."
What do women like to watch? According to Pornhub (2014), women's most popular searches included "lesbian", "threesome", "squirt", "gangbang", "for women", "eating pussy", "anal", "rough sex", and "bondage", among many other juicy topics.
These findings reflect what Nancy Friday first revealed back in 1973 in her ground-breaking book, My Secret Garden, that compiled women's private secret fantasies from hundreds of interviews to expose the sometimes-shocking landscape of female erotic desires that were just as hardcore and taboo as men's. 
Women's top secret fantasies according to Nancy Friday and other more recent sources are: sex with strangers, voyeurism and exhibitionism, the surrender of control (including gangbang and rape fantasies), dominance and submission, spanking, sapphic sex, and threesomes.
That's a lot of diversity in what women want when it comes to porn which leads us to, what type of feminist porn have women produced and are now creating?
Feminist Porn—Made by Women for Women
The year is 2021, and we've come a long way baby, since Candida Royalle's first hugely successful porn film "Femme" (1984) under her production company Femme Productions, whose goal was the creation of erotica from the perspective of female desire with "realistic" sex-positive scenes between couples that was not "goal-orientated" towards the almighty "cum shot". 
In 1989, Royalle joined forces with Veronica Vera and Annie Sprinkle, to co-create the Post Porn Modernist Manifesto which was a sex-positive art movement, that "celebrates sex as the nourishing, life-giving force." 
In the same year, Annie Sprinkle created the campy movie, "The Sluts & Goddesses Workshop— or How to Be a Sex Goddess in 101 Easy Steps" that challenged and embraced the word "slut" and demonstrated her infamous 5-minute orgasm. Sprinkle followed that with "Annie Sprinkle's Amazing World of Orgasm" (2007), featuring 26 sexperts who all challenged the notion of what an orgasm is to redefine it as an "expanded" form of "consciousness."
Since then, numerous feminist porn creators have had their own take on creating their version of feminist porn—including Tristan Taormino, Nina Hartley, Erika Lust (Lust Productions), Angie Rowntree (Sssh.com), Shine Louise Houston (Pink and White Productions), Louise Lush (Ms. Naughty and ForTheGirls.com), Courtney Trouble (TROUBLEfilms), and many other—all of whom won numerous awards at the Feminist Porn Awards (2006-2017) in Toronto, sponsored by a local feminist sex toy business, Good for Her.
The awards were held annually, whose goal was to: support women-made films and filmmakers producing porn that depicted female pleasure; as well as expand the "boundaries of sexual representation on film and challenges stereotypes that are often found in mainstream porn."
The awards bred wider awareness of female-produced feminist porn, as well as fans, which has stoked the growth of a new wave of "feminist" porn creators.
Since then, feminist porn has expanded to become more than just "porn for women, made by women" (or erotica) with softcore fluffy romantic scenes, to portray a greater more realistic representation of people, genders, races, classes, sexualities and desires, showcasing a diverse range of bodies, performer-driven sexual acts, roles and gender expressions. Many feminist porn sites produce audio porn and amateur porn: real people having real sex and expressing their real desires and fantasies. And, feminist porn has also branched out into community-based alternative, indie and queer porn genres as well, with numerous sex-positive sites that produce female-identified porn.
Top 10 Picks of the Best Feminist Porn Creators and Sites
It has been almost 40 years of feminist porn production, which today is still going strong. It is hard to narrow down the "best" of the best, given the multitude of female-identified porn producers. This list contains some of my personal favorites and hopes to showcase the most diverse range of styles, sexualities, genders, and sexual subject matter. I think it is also important to mention the trailblazers in these genres, as well as the most interesting newcomers to the industry.
Shine Louise Houston (Pink and White Productions)

Shine Louise Houston is a film school graduate, Queer WOC, and the creator of Crash Pad Series, producing and directing her own award-winning lesbian erotic films since 2004. She is one of the pioneers of indie queer porn, and her films are raw, authentic, hot and alternative, showcasing queer women and trans folk (real dyke porn, femme on femme, bois, genderqueer and trans-masculine performers) in all shapes, flavors and sizes. Her site houses numerous sex-positive indie studios and classic feminist porn filmmakers (pretty well everyone on this list!) as well as her own films. 
Erika Lust (ErikaLust.com)
Erika Lust is a Swedish-born now Barcelona-based filmmaker who created her first porn film in 2004 while finishing film school (read interviews with her here and here). She creates sex-positive, indie adult cinema that "portrays sexually intelligent narratives, relatable characters and realistic hot sex". She has several sites including LustCinema (her own films as well as other producers), XConfessions (crowd-sourced indie porn featuring guest directors based on the public's anonymous sexual fantasies), Else Cinema (sensual and erotic movies with less explicit content), and her store (a selection of curated feminist porn worldwide). And, if you are an aspiring erotic filmmaker, LustCinema has an open call to guest directors which provides support and funding. 
Courtney Trouble (Trouble Films)
Courtney Trouble (Trouble Films, Queer Porn TV, IndiePornRevolution, No Fauxxx, and RealQueerPorn), is a self-proclaimed "fat femme queer feminist pornographer" one of the first trailblazers of queer indie porn, launching her first site in 2002. Her films showcase a diverse range of queer-identifying performers, embracing different body types, races, sexualities, kinks and genders in non-stereotypical roles. Her site features Courtney's films and many other producers. 
Maria Beatty (Bleu Productions)
Lesbian BDSM auteur Maria Beatty is one of my favorite feminist porn filmmakers. I love her avant-garde "erotic noir" style that is inspired by German expressionism, French surrealism, and American film noir. Beatty has been creating erotic films since 1995, often with a BDSM fetish stylistic aesthetic while "working with themes of feminism, subversion, abjection, body politics and the agency of womens desire over a career spanning more than two decades". Her most famous film, The Black Glove, is a cult classic. 
MakeLoveNotPorn.tv
MakeLoveNotPorn.tv is the world's first community-based, user-generated "real world" sex filesharing site created by Cindy Gallop who wanted to showcase real sex among real people. Anyone can make and submit their film to the site (as long as it's real and exclusive to the site) and receive a revenue share. It has a diverse selection of genres, sexual identities, genders and relationship styles.
Vex Ashley (A Four Chambered Heart)
A Four Chambered Heart is an artistic erotica site headed by performer and self-taught video artists, Vex Ashley, that explores the aesthetic quality and "conceptual potential of pornography as a medium for ideas." The site is a collaborative "art" project and features "new wave of creators making contemporary pornographic work from a new perspective." Themes explored include alternative symbolism, mythology, alchemy, technology, horror, magic, religion, archetypes, the abject, poetry and more.
Jacky St. James (Bellesa Films)
Bellesa Films, helmed by creative lead and acclaimed director Jacky St. James, is not 'porn for women', rather, it's porn ​by women—a site with real sex and no fake orgasms—ever. Bellesa Films ​prioritizes real pleasure and emphasizes genuine intimacy with storylines inspired by real-life fantasies from community members. It features several categories including Sensual, Passionate and Rough, as well as girl-on-girl, hot guys, eating out, threesomes, squirt, guy on guy and bondage. It is a platform for women's desires, erotic stories, sexuality articles, a sex toy shop and a community. 
Lilly Sparks (XOAfterglow)
The newest site on the list is XOafterglow—"porn where women's pleasure comes first"— a universe offering a unique blending of porn videos, sexual wellness articles, audios and sex ed with diverse performers created by Lilly Sparks. Afterglow funded the films with a crowdfunding campaign raising 20K+. While they only have a few films created so far, their productions look promising. With film titles like, "Lip Service" and "Pussy Worship", the films are made with women's fantasies, true pleasure, intimacy and connection, in mind. 
Lucie Blush (CommonSensual.com)
CommonSensual.com and CouplesCinema.com are two sites by Director Lucie Blush that explore real sex without the bullshit. The two sites feature real people who "take their masks off" and "let us peek into who they really are". The twin sites now feature a collective of the best erotic film producers from all around the globe, and over 453 erotic films including hetero, lesbian, couples and solo sex scenes. 
Angie Rowntree (Sssh.com)
Finally, last but not least, Sssh.com, founded by renowned director/producer, Angie Rowntree, is an award-winning website (and one of the oldest feminist porn sites still on the web), with "ethically produced, sex-positive indie adult cinema" with "porn for women" and couple's porn. Their films are crowd-sourced fantasies shared by their members, by world-class producers and directors, featuring virtual reality, sensual narratives, erotic audios, photo galleries, and short films from naughty to explicit.
Conclusion
Feminist Porn would have never been a "thing" if the pro-sex feminists and female porn producers of the 80's had never stood against the censorship and regulation of pornography. Today, we have these pioneering women to thank for creating a new genre of female-centered porn that empowers women by allowing us to reclaim our sexual agency, reinvent traditional female sexual stereotypes, and portray women as positive subjects, while embracing our own authentic desires and fantasies. Feminist and sex-positive women-made porn, gives us an outlet for producing, viewing and consuming erotic materials that is distinctly our own.