Merry Christmas, friends! As you find yourself surrounded by towers of boxes, balled-up wrapping paper and empty, lipstick-rimmed wine glasses, do yourself a favor and don't let the anxiety of returns-to-come squander your holiday spirit. LELO is here to keep the festivities alive!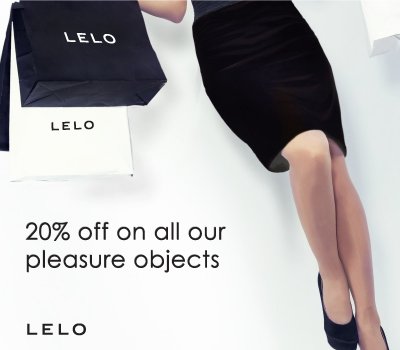 To keep your holiday high going, we're offering LELO customers on Facebook a way to avoid long return lines and holiday traffic while taking advantage of exclusive promotions for LELO products. Not to mention our Sussurra Classics Fall/Winter Sale continues with 50% selected designs.
So here's what you have to do: Followers on the LELO Facebook page are invited to 'Share' the announcement post on their profiles, and if it reaches 200 Shares by Thursday midnight PST, we'll unveil a promo code for some big savings on LELO.com!
Why all the great savings? Because we're overjoyed to have great customers like you!
Once activated, the promotion will run until Tuesday, January 1st at 11:59pm PST and is open to everyone, everywhere – so what are you waiting for? Go to Facebook, hit 'Share,' and start saving!
**UPDATE**
We got the 200 shares we were after, so let the savings begin! You can now take advantage of a 20% discount on all of your LELO.com orders until 11:59pm (PST) on Tuesday, January 1st! This discount applies to all LELO products — massagers, massage candles, massage oils, bedroom accessories, and Sussurra lingerie which, in addition to this discount, is currently on sale for 50% off — meaning you can take advantage of 70% off luxurious silk intimate eveningwear!
So how does it work?
Simply head to LELO.com, fill up your shopping bag, go to the check out and select 'I have a promotion code'. Then simply enter the code XMAS12, and then click the white check mark to see your savings — then sit back and wait for a parcel of pleasure to arrive at your door.Disclaimer; This promotion cannot be used in conjunction with LELO's current 'Free Holiday Shipping' offer.