Donna's Note: This is actually an account written by a good friend of mine, who has allowed me to share it here. I thought it was a great read, and I hope you all enjoy it as much as I did!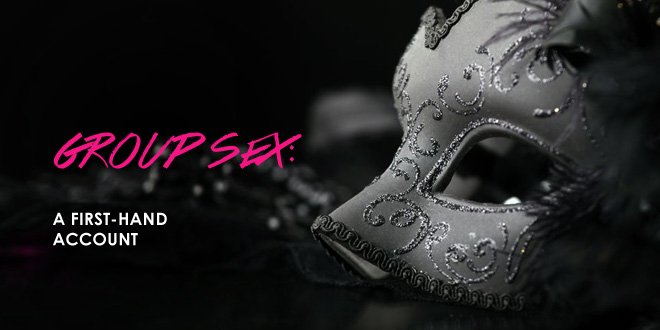 The word 'orgy' can conjure up different things for different people, particularly if you've never experienced one.
Some people might imagine a seedy gropefest in a darkened room. Others might picture an opulent and indulgent Greco-Roman affair, with grapes and wine spilling lasciviously over writhing bodies. In practice, a modern orgy is neither of these things – though there are certainly elements of both.
Let me explain.
It was a few years ago that I, for a birthday treat, was invited by my partner to an incredibly exclusive event in an intimidatingly expensive part of London; a female-focused, female-organized sex party for young professionals.
I found myself nervous when I arrived at the modern, glass-fronted lobby; it wasn't my first such event, but it was certainly the most exclusive and as such I was keen to make a good impression, as much for my partner's sake as for my own.
Respect is key at such an event. Good manners matter, and there are strict rules that must be obeyed to make sure everyone is safe, responsible and having fun. That is, after all, the entire point of an event like this.
The rules are generally agreed beforehand, and at this one it was forbidden for a man to approach or start a conversation with any woman apart from his partner.  If one of the women is interested, they would approach you – never the other way round.
My partner and I slipped into the Stainless Steel lift and ascended from the lobby to the top floor. We kissed and soothed each other as it climbed towards the top of the building, and when the doors eventually pinged open a plush, purple and chrome room was revealed to us.
It was impeccable; the purple velour stretched from the carpet halfway up the walls, where it was met by mirrors that reached the rest of the way up to the ceiling. The lighting was soft and some quiet music flowed around us. It felt more like a wine bar than a venue for an orgy.
We were quickly met by a woman who took our names and checked them off a list, then took our coats and, as she quietly and politely laid down the ground rules, escorted us through some double doors into a kind of lounge area, in which around 30 men and women, all smartly dressed and some in masquerade masks, sipped cocktails and chatted.
Some were already reclining on the wide, plush sofas, getting closer to each other. The women outnumbered the men about two to one. This was definitely their night, their event. This was for them, and I was only too happy to be a part of it.
After my partner and I had acquired a glass of champagne each, we were soon approached by a beautiful young woman in a black satin dress that wasn't quite long enough to conceal the lace around the tops of her stockings.
After some small talk, I was led to the sofa by my tie, very aware of the warmth of other bodies around us. I could hear flirtatious laughter all around, alongside kissing, moaning, sighing, and the rustle of hands over clothes. Other couples sat around the edges, observing and enjoying each other, watching the scene play out.
Soon, there were more hands on me, and my own hands strayed onto others. It was just enough to see and just dark enough to be mysterious. My fingers would register the waistband of a suspender belt one moment, and the warm skin of a thigh the next, even as my own skin was moistened with others' lips.
Afterwards, no one was in a rush to leave. We had all got to know each other and we simply sat, in various states of undress, and chatted, with charming flashes of embarrassment, about what we had just been a part of.
Suddenly, it was no longer an orgy, it was simply a collection of very similar minded people enjoying each other's company. And that's the real appeal of a modern orgy.