Whether from St. Vincent's casual description of an ordinary day that happens to include female masturbation ('Take out the garbage, masturbate') or Nicki Minaj's planned 'play with [her] pussy day,' songs and self-loving go together like, well, sex and rock'n'roll.
In fact, there are way too many to cover, even if we eliminate the ones exclusively about male masturbation. We've listed a few of what we consider to be the best songs about ladies doing their own thing, and we promise they won't get stuck in your head quite as easily as Divynals "I Touch Myself."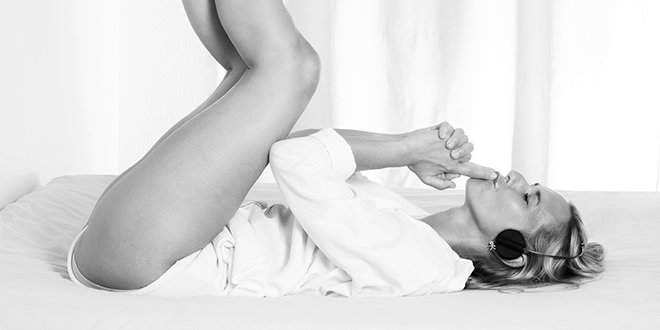 1.Cyndi Lauper – She Bop
Do I wanna go out with a lion's roar
Huh, yea, I wanna go south'n' get me some more
Hey, they say that a stitch in time saves nine
They say I better stop – or I'll go blind
Oop – she bop – she bop
Well, could you expect any less from a singer whose biggest hit informed the world that "Girls Just Wanna Have Fun"? This single, recorded in 1984, landed itself on the Parents Music Resource Center's Filthy Fifteen list with the like of Madonna and Prince due to its subject matter (this same list led to the creation of the Parental Advisory sticker.) The video is about as 80s-tastic as it gets, including her steaming up her car solo with a Beefcake magazine, a rumbling motorcycle that offers some 'good vibrations' and poor Cyndi with a white cane and glasses.
2.Tweet – Oops, Oh My
You woulda thought I needed help from this feeling that I felt
So shook I had to catch my breath
Oops, there goes my shirt up over my head
Oh my
Oops, there goes my skirt droppin' to my feet
Oh my
Ooh, some kinda touch caressing my legs
Oh my
Ooh I'm turning red
Sometimes a night out will bring a sexy new encounter, and sometimes, like Tweet in her 2002 hit, it's   us that are making us 'need to catch our breath.' The tune peaked at #7 on the Billboard charts, and while the featured Missy Elliot makes it clear it's about a woman 'feeling so good [she] had to touch [her]self' some remixed verses by male artists make us wonder if they were listening to the same song we were. Oh well, Jay-Z got it; in his 2003 song "Wake Up" he says he wants to feel himself 'like Tweet.'
3. Lady Gaga – Sexxx Dreams
When I lay in bed I touch myself and think of you
This track technically deals with quite a few things; masturbation, infidelity, and the titular sex dreams, but we think we can all agree that the best thing about dreaming of a crush 'doing really nasty things' is thinking about it again later. While the song is quite open about her fantasy, the line where she admits 'I can't believe I'm telling you this, but I've had a couple drinks ' takes us back to a girl feeling a little shy and silly (but definitely sexy) about sharing her sex dream.
4. Pink –Fingers
I bite my tongue because I wanna scream
I'm almost there then you turn and look at me
When it's late at night and you're fast asleep
I let my fingers do the walking
A shamefully overlooked track from the 2007 album I'm Not Dead, "Fingers" uses Pink's throaty vocals to advantage as it describes how she's 'starving for some attention' and needs more than her partner is going to give. What's her solution? To let her fingers do the walking, of course. Those same fingers stop to hit record, so her partner can 'rewind and see' why she's so happy in the morning. Oh, and if you're looking for a toy that's extra discreet (hey, sometimes we want to let our partner sleep), then may we recommend the tiny but powerful MIA™ 2?
5. FKA Twigs – Kicks
When I'm alone/I don't need you
I love my touch/ Know just what to do
So I tell myself
It's cool to get my kicks like you
Just like you
I just touch myself
And say, I'll make my own damn way
We could not sing enough praises for this London-based performer's first full-length album LP1. FKA Twigs blends dark, slow beats with her breathless and magnetic vocals to create something that is totally new, and incredible sexy. The album explores various themes surrounding sex and relationships, and "Kicks" is a trippy, ethereal look at a woman asking herself, 'what do I do when you're not here?' Well, baby, it's clear.
6. Selena Gomez – Hands to Myself
Can't keep my hands to myself
My hands to myself
Can't keep my hands to myself
My hands to myself
The doctors say you're no good
But people say what they wanna say
And you should know if I could
While the lyrics of this song are ostensibly about wanting to put your hands on another person, the video not only depicts Selena Gomez breaking into a house to wear her intended's clothing and caress her own body, it's also dealing with the idea that female desires (and satisfying it through masturbation) is transgressive; the singer is driven to criminal behavior that is quite literally 'policed' as officers arrest her and have her 'have her hands where they can see them.'
7. Hailee Steinfeld – Love Myself
When I get chills at night
I feel it deep inside without you, yeah
Know how to satisfy
Keeping that tempo right without you, yeah
Pictures in my mind on replay
I'm gonna touch the pain away
I know how to scream my own name
Scream my name
Steinfeld is quoted as saying"I think for me the song just has a really strong self-empowerment message, and whether you take that as something physical or not, it basically means the same thing … It's about being able to provide for yourself and knowing how much power there is in that," and while that may come off as non-committal  in regards to the masturbation message, her 'self service' shirt in the video may speak for itself!
Conclusion
These sex-positive ladies aren't mincing many words when it comes to their self pleasure, though they may not be explicitly stating what instrument they use to get there (you can check out Missy Elliots "Toyz" for that; it's practically a jingle for sex toys.) If you're looking for new inspirations for bumping to the beat, check out our bestsellers page.