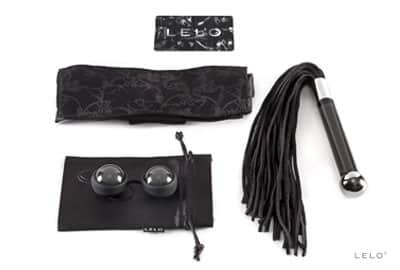 With the gift-giving season coming up fast, we're here to point out a perfect present that's as nice to give as it is to receive.
We're talking about the Dare Me Pleasure Set; it's a selection of premium LELO items that have been hand-picked for their and combined for their ability to turn a routine romantic encounter into an exemplary erotic experience.
If you're seeking to add a bit of light bondage to your relationship, then this is the perfect introductory set that leads you through an entire evening of increased intimacy. Begin by toying with the idea of playful restraint with the Etherea Silk Cuffs, and submit to – or demonstrate – an all-new level of control over the proceedings. When things get underway, use the Sensua Suede Whip to apply a soft or firm touch, and delight in the risqué power play that follows. All the while, you can keep a sensual secret all to yourself by wearing Luna™ Beads Noir, our discreet pleasure beads that vibrate as you move, and set the stage for the pleasures that are guaranteed to come.
In its gorgeous gift sleeve, it's ideal for presenting to a partner, as you see their eyes light up at the possibility of the intimate experiences that lie in store. Even better than this? It's a gift that you will enjoy too!