Sure, you know that pelvic floor exercises are important, but does it sometimes feel like you wish your workouts had a personal training making sure you're doing them properly? LELO Smart Bead has your back! It uses unique internal pressure sensors to judge exactly how strong your squeezing as you go through your work out, and will adjust for your next one!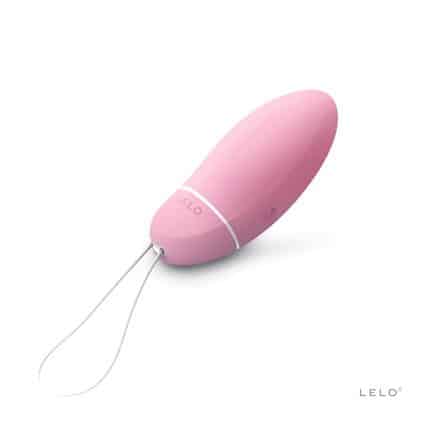 LELO Smart Bead
"The Smart Bead is super easy to insert the small bead is slender and petite so it is so easy to insert! The three quick vibes tell you it is on and then you squeeze through each vibration and relax when the vibe stops and follow this sequence until your exercise is complete. The vibes where really easy to feel and I found that my body felt them really strong and I was able to do my pelvic floor exercises with barely any effort.
When I felt the vibrations change to 3 quick vibrations I knew the exercise cycle was finished and took the smart bead out of me. I then pressed the button and a continuous pleasure mode came on this is sort of a reward for your work out once it's done you get to have the continuous vibrations."
Read more of KINKYKITTEN's review!
LELO Smart Bead
"I feel that the item would be a great way to encourage anyone who has trouble finding motivation to do their kegels. I also think that the vibrations combined with the sensor touch technology is a great way for you to learn how you use your pelvic floor muscles, leading to you becoming more aware of how your body works, and hopefully resulting in better awareness of the pelvic throbs produced during orgasm."
Read more of NYMPHOMANIACNESS's review!
LELO SMART BEAD – KEGEL TONER PRODUCT REVIEW
"I did actually like the LELO Smart Bead. It's a fun item, that makes those 'boring' exercises we women are told to do a bit more fun and interesting.
This toy is great for beginners and those who want a bit more guidance on strengthening their pelvic floor muscles."
Read more of HORNYGEEKGIRL's review!
LELO Smart Bead Review
"I think the Smart Bead will help to encourage people like me, who tend to give up when they have no way of tracking improvement. The Smart Bead gives you this indication of your progress. It would also be great for women who have no idea how to train their PC muscles and would prefer to be guided throughout. I like that it sets out a clear path to follow, similar to going to the gym. Of course, it is also a confidence boost when you see signs of improvement, such as moving up a level."
Read more of THEGRITTYWOMAN's review!
REVIEW: LELO SMART BEAD
"It would be a great routine to use in the shower, or, as I did, while doing chores. This just shows how someone with a hectic lifestyle can fit in such an un-complicated exercise routine, with the aim of improving sexual health and well-being. It's considered healthy to exercise other muscles, so why not pelvic floor!?"
Read more of XTRACURRICULAR's review!
Customer Reviews
Check out more Bazaarvoice authenticated LELO reviews, supported by anti-fraud technology and human analysis.
effective and easy to use ★★★★
bought on a whim, but loving how much stronger my orgasms have gotten
Posted by: quietone
It's working!! ★★★★★
Bought this a couple months ago and although I forget to use every day I do feel like it has helped strengthen my pelvic floor!
Posted by: CalMom
Lelo is Amazingly powerful ★★★★★
amazing vibration. I ended up buying 6 lelo models. This one is great with the other products in combination. VERY comfortable
Posted by: Ktttt
How To Use LELO Smart Bead