It all started out with an interview with my boss about proposed office layoffs. My husband and I both worked for a large legal firm. He was a partner and I was EA to the Managing partner Rick. The company was successful but to further entrench their strong performance they were about to undertake a significant restructure. In my position I was aware of what was about to happen but had no idea that it could impact Steve, my husband of 12 years and I.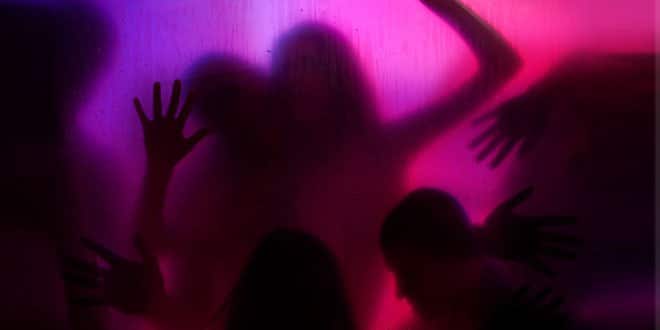 A bit about myself. My name is Lisa and I live in Melbourne, Australia. I met my husband Steve after a pretty wild time in my early 20's. I was aware that I had a high libido and fought to contain it. I didn't want to be known as a slut. Apart from normal sexual encounters I met a guy called Mark when I was 23 years old. He was different from the rest. Mark was a very strong handsome man who realising my sexuality gradually brought out my submissive side. Yes, despite my university degree and a blossoming career, behind closed doors I found that I loved being controlled sexually. Mark brought it out in me.
I am aware that I am a good-looking woman who turns heads wherever she goes. I have a great body and love to tease men by dressing in an appropriate manner, sexy but classy. It drives men wild to see my long legs and a bit of cleavage. Mark was aware of it and he encouraged me to dress in a way that drove men wild – short dresses and skirts, killer heels and low cut to give a glimpse of my assets.
After a night out watching men trying to hit on me Mark would take me home and we would play out fantasies of me being fucked by strangers. He knew how wet it always made me. He loved tying me up and fucking me up the arse telling me to imagine that I was being taken by a bunch of strangers. I would come over and over as he did it. 
He would make me flash myself in the car to truckies, suck his cock while driving alongside a truck, not letting me stop until the driver honked his horn. I always fantasised while doing this how he would take me to the truck stop following the driver and let him have his way with me, really satisfying his horn. I couldn't stop playing with myself while I was doing it. He would spank my arse when we got home telling me what a naughty slut I was. He had me suck a dildo whilst he spanked me and fucked my arse, telling me to imagine it was the truckdriver's cock I was sucking. It was amazing how it turned me on. 
As our relationship heated up he brought up the prospect of me really having sex with another man. I pushed back until one night he took me over his knee and spanked me relentlessly as I protested. He put his fingers between my legs and said, 'don't deny it, your wet pussy gives you away'. 'I know you want to be a slut for me' he said. I orgasmed as the words left his mouth. As I orgasmed I said 'yes, yes, I want to be used by another man'. Mark then set up the night.
He organised a hotel in the city and we waited downstairs at the bar as I plucked up some Dutch courage. I told him that I would let the man have me but that he was not to get involved as I didn't want to be fucked like a slut with a cock in my mouth and pussy at the same time. How I was to forget that. As we were sitting there a handsome couple in their late 20's walked towards us. Yes, a couple. Mark had found them on the internet. They were couple's escorts. 
The woman, who was beautiful and oh so classy said, 'I assume you are Mark and Lisa'. I was gobsmacked. I had consumed more than a few glasses of wine to relieve my tensions and the mere sight of the woman made me wet. I had never been with another woman but like most women I had fantasised about it. The guy was well built and very handsome and had a gentle tone in his voice as he introduced himself.
Their names were Greg and Paula. Paula commented on how beautiful I was and placed a hand on my thigh just above my knee. It sent electricity through my entire body. I had on a short dress black stockings and high heeled black stilettos. What they didn't know is that underneath I had on a jewelled g-string that Mark had purchased for me. We had a drink and made casual conversation before Paula suggested we go upstairs.
What followed was something I will never forget. I remember how sexy I felt when I took off my dress and Greg and Paula saw me in my jewelled g-string. 'That is so sexy' she said. That night I made love to a woman for the first time – how I loved kissing her; her smell and softness was like nothing I had ever experienced. She licked me to orgasm and at Mark's instruction I did the same for her.
I will never forget the moment Paula told Greg that I was ready for him. He stripped off and walked over to me lying on my back legs apart with Paula between my legs licking my wet, open cunt. As his cock was next to my face I looked at Mark and saw the look of rapture on his face. I took it in my hand and then wrapped my lips around it and began sucking for all I was worth. I remember coming so powerfully at that moment with a woman doing me and a strange man's cock in my mouth. I was feeling very slutty. All my inhibitions had gone.
They stayed for about two hours. Greg fucked me three times, once on top as I spread my legs and wrapped them around him dragging him deeply inside me, once from behind and once on top. 
A few things to add. 
Before fucking me the first time on my back Greg got on top of me in a 69 position and licked my pussy while I sucked his big cock. 'She's got a beautiful pussy Paula' he said. 'She sure has' she responded. I felt so sexy and appreciated at that moment. Mark walked next to the bed to get a good view of me fellating Greg's cock as he was on top of me. That turned me on so much. I was loving being a slut for him.
At one stage I was on my back with Greg licking my pussy after fucking me and I told Mark to get undressed and come and join us. I then sucked his cock as Greg licked my wet, open cunt. I felt like such a slut and was in sexual heaven. So much for my instructions to Mark before the night. Greg then flicked me on to my hands and knees on the edge of the bed and fucked me from behind. Yes, I continued to suck Mark's cock. Greg and I came, and we decided to take a break. We had a balcony and Greg and I went outside for a cigarette. 
When we came back in Greg dropped my robe and kissed me deeply. I felt so turned on again. It was sort of crossing a line I thought to be intimate with another man in front of my boyfriend. I was crossing one line after another and loving every minute of it.
Greg than laid down on the bed and told me to suck him back to erection. I got on my hands and knees and took him into my mouth. 'She loves being spanked whilst sucking cock' Mark said. 'It makes her suck it even better'. Greg then started spanking my arse and sure enough my mouth became wetter and I took him deeper and deeper. Paula then came up behind me and also spanked my arse. I was in heaven.
I needed fucking again and Greg's cock was ready. I hopped on top and mounted him. As I was riding his cock he asked Mark if he wanted to be part of a DP. It was something I had never done but by then anything went in my mind. I felt some lubrication and then Mark's cock slide into my back passage. There was no pain, just immense pleasure. They fucked me until they both came inside me. Greg had a condom on, but I felt Mark's semen flood my open anal passage. I had another orgasm.
After the guys were finished with me I lay on the bed like a slut with my legs open, my cunt open and on full display. Mark, Greg and Paula were having a glass of wine standing at the end of the bed taking me in. I don't know why I was being so immodest, but I just lay there hoping it wasn't all over. The slut in me had been awakened. Paula said that they had to leave. Before going she looked at my open pussy and poured her glass of wine over and into it. She then finished me off with another good tongue licking, bringing on my umpteenth orgasm of the night.
I lay there exhausted as Mark paid them. Just before they left, Paula was sitting on a stool putting her heels back on. I couldn't help myself. I got off the bed, walked over to her, spread her legs and had a last taste of that beautiful pussy. I thanked her, and they left.
Mark and I snuggled and had a great night's sleep. I regretted nothing. Something had been awoken in me. I loved being used like a slut, I loved the tenderness of a woman, and I loved putting on a show for my partner. We tried it another time with another escort couple and while it was good it wasn't the same as the first time. I think that was because Mark and I had started to drift apart. It wasn't the same without having that intense desire to please him. After a two-year relationship we split up and shortly after I met my husband.
Those events with Mark slipped into my past as Steve and I built our careers. There were no children as we were focussed on our work. Sex was good between us and I loved him, but there was something missing.