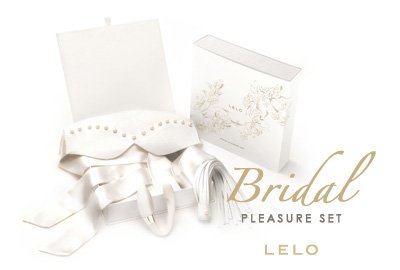 Now arriving at thousands of retail stores worldwide is the LELO Bridal Pleasure Set, an all-in-one romantic kit featuring a wedding theme for this year's bridal season.
It's the time of year where if your weekend plans aren't attending one of many bachelorette parties (or hen do's, for our UK and Australian readers), then you'll no doubt be at a bridal shower or wedding reception celebrating someone's betrothal.
And if you're after that perfect bridal shower gift that's sure to stand out, look no further than our new Bridal Pleasure Set. Inside a gorgeous white gift box, the lucky couple will find everything they need for a happier honeymoon as well as countless nights to come. The Bridal Pleasure Set combines exclusive new LELO accessories like a teaser whip ring of soft suede for a firm touch, after discovering how love truly is blind with a pearl-studded silk blindfold.
When the excitement reaches its breaking point, couples can then enhance their pleasure with Noa™, the bestselling massager for women to wear during lovemaking for even more fantastic sensations.
The set and all the items within are offered in a stylish white, in keeping with the wedding theme and can be yours absolutely free of charge by getting involved in our new Pinterest contest to give away to the bride and groom – or keep all to yourself.