October is National Movie Month, and while we've already shared out sexiest cinematic obsessions with movies that get us all hot and bothered, we thought we'd focus instead on our favorite cameos by vibrators and sex toys.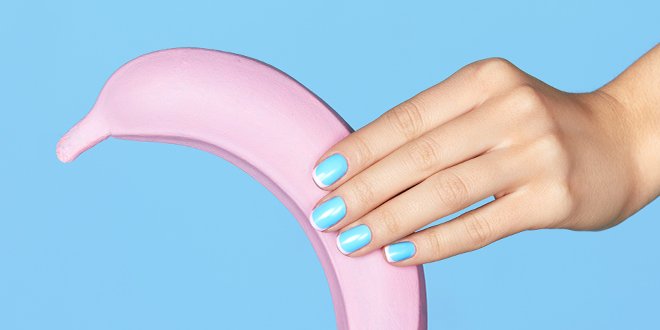 We diligently took on the task of watching dozens of frisky comedy flicks to bring to you the all-time top five comedy scenes starring a vibrator (think of them as foreplay before watching some of the sexiest movie scenes there are).
And…action!
5. Lock, Stock and Two Smoking Barrels (1998)—The Wrath of Hatchet Harry
When Soap proposes boycotting an upcoming payment to Hatchet Harry, Bacon makes him think otherwise—recalling the story of Smithy Robinson, a man who once stiffed Hatchet Harry and was subsequently battered to death with the closest thing at hand—a 15 inch rubber vibrator. The moral of the story: "Hatchet Harry is a man you pay if you owe."
4. Me, Myself, and Irene (2000)—Ol' Hanky Panky
Getting confrontational, Charlie childishly accuses Irene of using a dildo in replace of his own manhood, mocking her and dangling the floppy phallus around in front of his bandaged face. When Irene calmly informs him that it was not her, but his very own split personality, Hank, that bought the massive dildo so he could use it on himself, Charlie cowers is shocked. It might be played for laughs, but if it made you intrigued about pegging, just check out our guide!
3. EuroTrip (2004)—Club VanderSexxx
Enticed by a flyer for Amsterdam's red-light district's hottest sex club, Cooper rolls solo to Club VanderSexxx ready for a romp with Europe's hottest madams. However, after being hopelessly shackled to a lofty steel rack, the topless tricks are replaced by two hooded brutes wielding a massive three-pronged vibrator gun equipped with a laser aimer pointed right at Cooper's milky white butt cheeks.
2. Baseketball (1998)—Brittany's Mom's Vibrator
During the opening credits, Doug and Joe believe they've found Brittany the bombshell's vibrator whilst snooping in her room. Doug starts kissing and licking the vibrator (after drinking from the bathroom's bidet, mind you) expressing his envy of it. Seconds later, Brittany enters, explaining that the vibrator is her mother's, as are the XXXXXXXXXL panties Joe unfolds. [And while we hope your boyfriend is nothing like Joe, his reaction to your vibrator speaks volumes about his personality.]
1. Not Another Teen Movie (2001)—Happy Birthday to Ewwwwww!!!
In this epic intro scene, Jenny unsheathes her vibrator while in bed watching a romantic scene starring Freddy—her teen idol. But just as she busts out her vibrator, in busts a string of loved ones—her father, brother, grandparents, priest and (oh the agony) children she volunteers for—all wishing her a happy birthday. While the absurdly awkward scene is an utter nightmare for Jenny, the laughs it induces are every comedy moviegoer's dream.
[related_article id="10820″ size="full" target="_blank"]