How we meet our sexual and romantic partners has changed drastically throughout generations. Recent studies show that more and more people turn to online dating to meet potential partners. 
These findings make sense when you take the rise of social media into account, with 76% of people spending more hours scrolling on their phones. We also can't forget the global pandemic, which forced many people into lockdown, unable to meet partners IRL (in real life). 
Despite the ease online dating provides, it doesn't make falling in love any easier. Most people find themselves stuck in a never-ending circle of meaningless chit-chat, ghosting, and mediocre dates with zero or very little chemistry in the best-case scenario. 
That's where meeting a partner through your circle of friends comes in handy. In the most recent LELO study, we looked into how people are having sex in the post-pandemic world. 
In the LELO SEX CENSUS REPORT 2022, we asked 4,000 UK participants to answer questions about their sex habits, attitudes, and lifestyles. From the data collected on how people meet sexual partners in 2022, most participants said through friends of friends.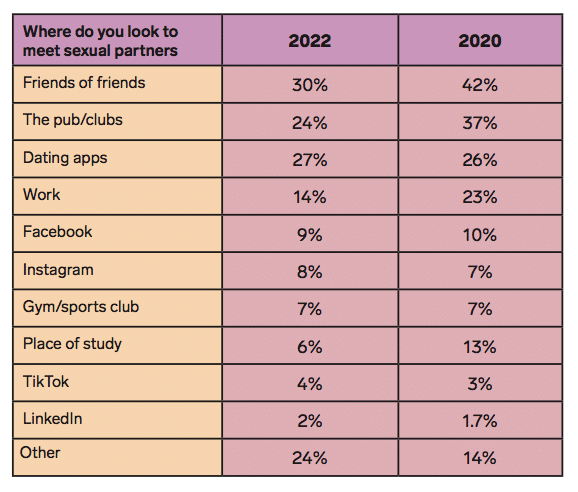 Even 30% of participants use this way to meet sexual partners, and while the number is down from 42% compared with 2020, it's still the main avenue to find new sexual partners. 
While there is always a chance that things might turn out awkward when you go out with a friend of a friend, it is easier to vet the right partner. 
First, they'll already be vetted by your friends, which minimizes the chances of the person not being the right match. And second, it's easier to see if there is chemistry between you in person than through text messages or even a video call. 
Dating apps come in the second place, with 27% of respondents relying on them to meet new potential sexual partners. The number hasn't changed much since 2020, with only a one percent increase.
Facebook and Instagram seem to be the sexiest apps to look for love, with TikTok and LinkedIn (we understand–business suits are sexy) being a bit further down the list. 
The study also reveals that there has been a significant dip in people trying to meet sexual partners in clubs and pubs. 
In 2020, 37% of people reported using this avenue, while in 2022, only 24% of people reported doing the same. It's a natural shift influenced by the lockdowns and people avoiding crowded places. 
Another noticeable shift is with meeting sexual partners at work and in a place of study. In 2020, 23% of people met sexual partners at work (compared with 14% in 2022), and 13% of respondents said place of study (compared with only 6% in 2022). 
As many workspaces and universities moved to virtual work and learning during the lockdown, there are not as many chances to interact with people and build connections as there used to be before. 
Interestingly, 24% of respondents said they use "other" methods for finding sexual partners in 2022, compared to 14% in 2020. 
Other methods could include things like hooking up with exes, which is understandable as it offers the ease of having good sex without leaving the comfort zone. 
However, other avenues might include IRL dating events or meeting people through hobbies.
There is no doubt that the way we find partners and have sex has changed in the last few years. However, while two in ten people say that it's harder to find a sexual partner post-lockdown, eight in ten people report having had a one-night-stand recently.