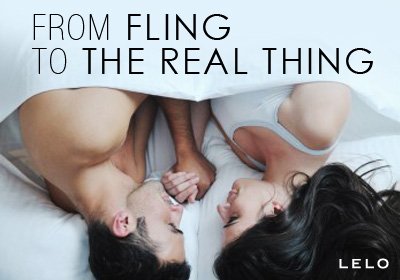 Many of us have enjoyed a whirlwind romance at one time or another. A no strings attached confidence boost that sends you springing down the street with a big, fat smile on your face!
But not so fast, your plan has backfired, a couple of months have gone by and you're starting to think that this one might just be a keeper. So what are the best ways to ensure your now not-so-casual fling doesn't end up being the one that got away?
Play a Cool Hand
So you've met someone you like, and you're pretty sure the feeling is mutual. Now comes the age-old question; what are the two of you going to do about it?
Well at some point you're going to have to talk about it and we reckon honesty is the best policy all round. Don't mention the marriage and babies part yet, but laying your cards on the table lets the other person know how you're feeling and will encourage them to do the same. Just be sure to keep a few aces up your sleeve to keep things interesting later on.
Make a Plan Together
If you've gotten yourself into one of those sticky situations where the two of you live at opposite ends of the country – or planet – but you're determined nonetheless to give things a go, set a time together that you will meet again, preferably before you say your first goodbye.
Organizing a concrete date to reunite gives you both something to look forward to and makes the romance feel more real, which will make it easier to survive the long-distance relationship. Not arranging something makes it all too easy for procrastinations – like work, family or the fact that your goldfish just died – to get in the way, and the whole thing runs the risk of fizzling out.
Don't Over-think It
Remember, your hopefully soon-to-blossom romance is still just a seedling at this stage, so don't put too much pressure on yourself. The next time you arrange to meet up, be it the following day or two months down the line, try to do something fun and memorable but don't try to plan every tiny detail. Relax and let nature take its course.
A 'whatever happens, happens' approach – while perhaps both counterintuitive and easier said than done – will soften the disappointment if things don't go exactly according to plan, while your chilled out, happy-go-lucky attitude will keep the other person guessing.
Some Like it Hot
Depending on how far the relationship went during your original fling, you might want to consider a little sexting to add a naughty twist to things, while those of you who find yourselves slightly further apart could try turning your hand to Skype sex.
Besides being a bit of raunchy fun, Skype sex and sexting show the other person that you are thinking of them, you're attracted to them and you're looking forward to the time when you can ditch the screens and get down to a different kind of face time.