Keep it safe, keep it informal, but when it comes to casual sex, just don't expect it to be without its own precise – and at times puzzling – protocol. As social media takes on the hookup scene with gusto, here's a guide to navigating our brave new digital sexscape…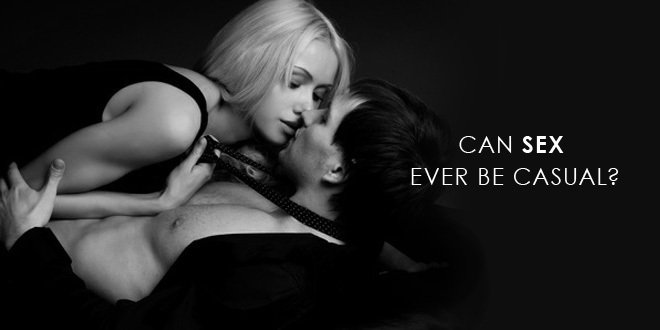 Online: The New Normal
A recent survey found that a whopping one-third of couples tying the knot in the US between 2005 and 2012 met online. Whilst it's a statistic that should be taken with a hefty pinch of salt – research was carried out eHarmony.com – it nonetheless confirms pretty much everything we already knew. In today's romantic climate, onscreen intros aren't just common, they're standard.
Now, we're not ones to knock a good old-fashioned romance – wherever it plays out – but we're also realistic. Fact is, most of us have to kiss a lot of frogs before we find our prince/ss, so why not have a little fun along the way? For others, the idea of 'the one' is downright off-putting, wing-clipping and just not right – now or ever. Happily, there's a whole world of social media out there catering to precisely these scenarios: casual hookups, sans strings, expectations and, for the most part, judgment.
Two adults, one shared pursuit of physical pleasure… sounds straightforward enough, no? Well, not exactly. After reading our lowdown on casual sex pitfalls and paradoxes, we're sure you'll agree that fun as it can be, there's nothing casual about it!
Casual Sex: A History
Between them, the internet and mobile technologies have transformed the casual hookup from a clumsy, imprecise fumble into a science that's slick, sophisticated and most of all, targeted.
Before the opening of the Pandora's Box of online opportunism we enjoy today, and without countless onscreen options to satiate sexual appetites, encounters panned out rather differently. Think teasingly sparse personal ads in newspapers, inviting coy responses to an unnervingly anonymous PO Box. There were face-to-face alternatives, too, generally involving cringe-inducing chat-up lines in smoky bars, buoyed by sufficient alcohol to numb any lurking inhibitions; or else the titillating thrill of an office romance.
Clearly, the analogue age enjoyed a lot of casual sex, but without the online arsenal of today, it was arguably less instant, less surefire and perhaps less safe. Nonetheless, one thing's for sure: before the arrival of apps, online profiles and swipe-to-like, things were certainly much more straightforward!
Navigating a Very Social Kind of Media
An ever-increasing number of apps and websites ostensibly aimed at one-time encounters open as many opportunities as they do bodies. To be clear, we're not talking about so-called matchmaking sites here – be it OKCupid, eHarmony or even SugarDaddies.com – rather, these are more, ahem, instant fixes. But which to choose?
Popular hookup apps include the likes of Tinder, Pure and Down, as well as bastion of the casual sex scene, AdultFriendFinder. Those first three differ from traditional dating sites in so much as they require reciprocal 'likes' for actual exchange. Less spam, essentially. Many also work with your mobile device's GPS, meaning your yearnsome matches are likely a mere taxi-ride away. That's great for a big city; less so for a quiet village.
Others are more specific still: there's AshleyMadison, aimed at wedded folk seeking an extramarital affair; for threesomes you've got 3ender; and for sex with coworkers, BangWithProfessionals. The gay community is well catered too, with big names including Grindr, BoyAhoy and SCRUFF.
Frankly, the sheer range is overwhelming. Suddenly those now all-too rare face-face chat-up lines of old seem really rather appealing…
First Impressions Matter
Identifying your hookup site of choice is just the tip of the iceberg. Ever fickle creatures, first appearances matter: the dreaded profile picture. Something of a minefield, OKCupid's recent (and apparently sneaky) research into the matter raised a veritable hotbed of issues. Their findings are definitely worth a read, but perhaps less relevant for the more recreational ravisher.
Broadly speaking, selfies are good – not least because they present unlimited opportunities to perfect that pout, angle or pose. But beyond that, what 'look' to go for? Wistful and brooding; pouty and provocative; or smiling and satisfied? Or something more anonymous – a pair of handcuffed wrists, perhaps?
More than anything, context is key and nothing smashes desire like a selfie in a toothpaste-spattered bathroom mirror. Ditto: props. Approach cocktails, cats and fancy cars with caution, or risk being dismissed as just another trophy-seeking, boozed-up cat person. And I think we can all agree that the internet has more than enough of those already.
Lost for Words…
The next challenge facing online thrill-seekers is the dreaded personal profile. Approach with caution, reader: writing about yourself is notoriously difficult. App developers know this, and to paraphrase a time-tested adage, a few carefully-selected selfies can paint a thousand words.
For that reason – as well as the undeniable truth that we do judge books by covers – many of today's hookup tools don't actually require a written description, although some allow for a optional 'tagline' Our advice: avoid movie quotes (spotted: "I don't normally do this, but I felt compelled to tell you something. You have an absolutely breath-taking… heiney. I mean, that thing's good. I wanna be friends with it"), avoid clichés (I mean, does anyone not "love to laugh"?) and above all, keep it simple.
Incidentally, should you feel drawn to an app or site that requires an altogether wordier outline of what makes you tick, then all of the above still applies. More so, infact. Oh, and easy on the acronyms, HNG (horny net geek), PA (pleasing appendage) or no! WLTM DTE M or F w/ GSOH F2F for some TLC, PDAs and maybe a spot of BDSM. Errrmmm?
Sigh, suddenly those sparse newspaper personal ads of yesteryear seem a pretty welcome alternative…
Beyond the Final Frontier
Of course, after the often baffling subtleties of actually creating a profile awaits a whole world of etiquette. Who should initiate conversation? Emojicons: creepy or cute? And should you ever send a naked selfie?
Is it just us, or with all these caveats, pitfalls and unspoken criteria, does casual sex suddenly feel rather less, well, casual than it used to?
[related_article id="501″ size="full" target="_blank"]