PROS: Delivers otherworldly G-spot orgasms
CONS: Not suitable for living with parents
What makes it unique: Wave technology offers direct combination stimulation of clitoris and G-spot
Details below on the full SORAYA Wave review!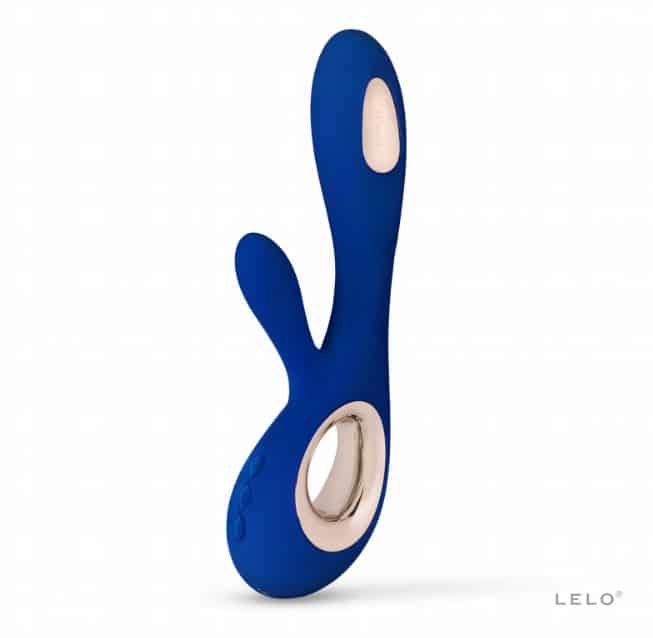 PROS
This goes down in personal history for my top 3 orgasms of all time. I was unfamiliar with the wave (pinching) technology of this toy and discovered it did the trick for my G-spot stimulation preference. It's also really diverse and a solid go-to for any type of stimulation (vaginal, clitoral, anal, nipple, really ANY erogenous zones). 
CONS
Like with any sex toy, it's not one-size-fits-all. If your top priority is to have a silent vibrator, there are other discreet sex toys to choose from. But if your main priority is insane G-spot pleasure, this is my new favorite. I'm a big fan of rabbit vibrators since, like a lot of people, I prefer a combination orgasm. The wave technology delivers for me time and time again.
My Experience Using It
Compared to my old vibrator, this is… science fiction. That's the only way I can describe it. Even taking the toy out of the packaging is a luxurious experience. It feels like quality, and more importantly, delivers the big O's. The SORAYA Wave comes with 8 different vibration patterns, ranging from alternating vibrations on the arm to waves of vibrations coming to and fro. On a full charge the manual says it has a 2-hour usage time and I have not had to charge mine yet.
My Experience Using It with My Husband
So far, I've tried it 3 times with my husband. It's GREAT. The quietest setting is the one where only the clitoral arm is vibrating, which I have to say is a nice change up from the 'come hither' settings. My husband said he's jealous that he doesn't own a sex toy that makes him feel this way. When we're using it together, all he has to do is hold it inside of me and it brings me to orgasm. Introducing sex toys into the bedroom was one of the best things for our relationships (and my orgasm frequency). We even used it during a morning quickie in the shower and we can confirm it's 100% waterproof.
Product Specifications
Materials: Body-Safe Silicone, ABS

Size: 218 x 72 x 46 mm / 8.58 x 2.83 x 1.81 in

Weight: 185 g / 0.40 lb

Insertable Length: 110 mm / 4.3 in

Charging Time: 2 hours

User Time: 2 hours

Standby: Up to 90 days