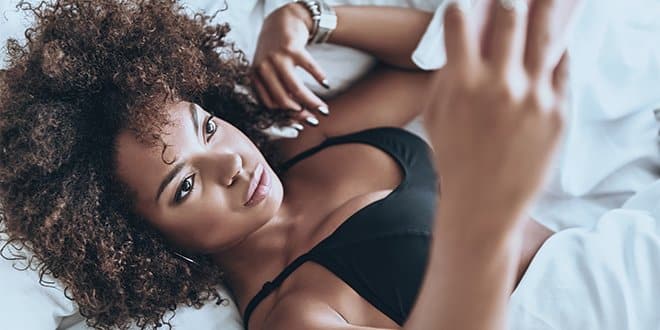 How safe is your private data? I'm not talking about your PINs, email passwords and credit card information – I'm talking about your very private data, or data directly relating to your privates.
It might be a sexy snap you've sent to a long-distance lover, or a huge backlog of your entire sexting history; even though you trust your partner not to be spreading your content, huge data breaches are still a common occurrence, with millions of people having their data accessed, stolen and in some cases shared.
There are a few simple ways to keep yourself safe at the most basic level, you'll be even safer with end-to-end encryption from some apps that we'll cover a little further down.
The Basic Tips
Don't believe just any old promise. If you don't 100% trust the person you're sending your content to, then definitely don't do it, d'oy. Even if trust isn't the issue, then does the recipient at least take the minimal precautions to protect their data? Like for instance…
Set a passcode! Still surprising how many people don't follow this simple safety tip, but set a darn passcode on your phone and your devices that will keep people out of it. Have your partner do the same. So basic, yet so effective.
Don't show your face in pictures. Context-free nudes (unless you've got a unique piercing, tattoo or are wearing a name tag) can't be traced back to you, and at least are deniable. So snap only your sexy parts, not the whole package.
Excellent Encryption Apps
1. Privates!
It's a lot like Snapchat, but with way more security features. Afraid of someone taking a cheeky screen shot of your latest piece of erotic content? Privates! has additional safeguards that you can set yourself.
One of the biggest differences between Privates! and Snapchat is total end-to-end encryption. Snapchat can internally access your content, and in some cases will hand it over to authorities. However with Privates!, your data can only be accessed by you and the person you send it to. It even allows you to delete and recall unopened messages.
2. Protonmail
Like Privates! is to Snapchat, Protonmail is to Gmail. It looks and works like Google's email service, but offers encryption on both ends to allow for safe sexy selfie sending. Their servers are also located in Switzerland where they are protected by Swiss privacy laws, meaning not even an NSA snoop will be seeing your 'fresh out the shower' selfie.
While your emails sent over Gmail are encrypted and generally safe, Google keeps the decryption keys – meaning that if they wanted to view your messages, they could. Heck, Google even has automated systems that scan your emails for the purpose of targeted advertising. Protonmail on the other hand provides what they call 'zero-access encryption', meaning no person or automated system will be reading your messages.
3. Signal
iMessage may be convenient and generally safe, but by default, it backs up all your old messages and pictures to iCloud. Signal however allows you to text and share pictures, as well as make voice and video calls while keeping as little data as possible on their servers. Also, it won't save the pictures you take on the app to your phone's camera roll, meaning no surprises when you hand your photo album to a friend to scroll through.