Are you looking for BDSM for beginners guide that would help you navigate the world of BDSM when you have no experience but want to explore new, exciting things? Well, then, you've come to the right place! 
Let us guide you through all the BDSM basics, some beginner-friendly toys and accessories, and how to bring a little bit of kink into your bedroom hassle-free. 
Trusts us – it's easier than it might look at first!
BDSM for Beginners: Everything You Need To Know
What Is BDSM?
BDSM is an acronym for Bondage & Discipline, Dominance & Submission, Sadism & Masochism. It's an erotic practice that involves a variety of activities composed of one, a few, or sometimes all of these elements. 
For some people, BDSM is a lifestyle, while for others, it's only a small part of their sexuality that they sometimes dabble in. Interested to learn more? Let's look at all the elements closer:
Bondage and Discipline
Bondage is a form of sex play involving a power exchange where one partner submits to the other by being restrained. Various tools can be used for that – handcuffs, bondage tape, and rope if you're engaging in more advanced play like Shibari. 
Discipline is a form of sex play that involves training the submissive partner to obey and follow the rules. It's the key element of dom/sub relationships. 
Dominance and Submission
Dominance and submission are BDSM practices of taking and surrendering control. One person in the relationship is usually in control, the Dominant, and the other is submissive. Sometimes, people can be both, and they're called a switch. 
This dynamic can be physical, mental, or both. It can be sexual and play out with sexual acts, but it can also be practiced outside the bedroom through acts of service. 
Sadism and Masochism
Sadism and masochism or sadomasochism are the parts of BDSM that might feel most advanced for beginners. These elements include seeking pleasure through pain.
Some people find pleasure in inflicting pain, while others enjoy receiving pain. It's important to note that pain-inducing activities don't need to include knives or whips. A simple act of biting your lover's skin or pulling their hair is part of sadism and masochism in BDSM. 
Beginner's BDSM and Safety: There Are Rules!
Sometimes, BDSM is framed to be perfect for trust-building for couples. However, due to the intensity of the activities involved, it's best to only participate in BDSM with someone you 100% trust emotionally and physically. 
Consent
The BDSM community is incredibly good at understanding and practicing sexual consent. All parties involved should consent to activities, and the consent should be re-established throughout the scene, not only at the very start of it. 
In the community, all activities are labeled under two acronyms that outline the safety rules: 
SSC:

Safe, sane consensual

RACK:

Risk, aware, consensual, kink
Due to consent being key in BDSM, it's advised to only participate in the BDSM scene if you and your partner are both sober and aware of what's happening. 
Safe Words
Before engaging in any BDSM activity, you should discuss a safe word with your partner. Usually, a safe word is a word that's not related to anything sexual, and the purpose of it is to be used during the scene to indicate to your partner that you're not OK with something. 
While usually, the word "no" should be enough for sex to stop, some BDSM scenes might involve one or both partners using the word without meaning it. That's why a safe word like "pineapple" or "New York" is better. 
Check-ins with safe words between a submissive and a dominant are needed during the scene. If you're a dominant partner and want to add an activity or intensify things, always check in with your submissive partner about it. 
Example: "I'm about to punish you with this paddle for being a bad boy. Ten spanks this time. Do you remember your safe word? Use it if the punishment is too much for you."
There is another safety tool in place, which is called the "traffic light" system. Instead of using a safe word, you can use the red/yellow/green system, which allows easy communication during the scene.
As in the previous example, let's say your partner wants to punish you with a spanking. As you get spanked, they might pause and ask you how you're doing. If you're OK, you say "green" so they know they can keep up the pace of the scene. If you want them to slow down but not stop, then you say "yellow." And if you want them to stop, you say "red."
BDSM Contracts
In 50 Shades of Grey, Christian and Anastasia signed a contract before starting their heavily BDSM-inspired, very *toxic* relationship. That part of the movie is actually something that might be useful to do IRL if you're venturing out into the world of BDSM.
Having a BDSM contract with your partner allows you to discuss all the things and fantasies you'd like to explore. You can freely write down all of your boundaries and hard limits. 
When you have everything in written form, you and your partner will always have somewhere to refer to so you don't forget or get confused about certain things you discussed. 
You might be thinking that signing a contract for sex doesn't sound erotic… However, signing the contract can also be a part of roleplay that adds to the sexual tension!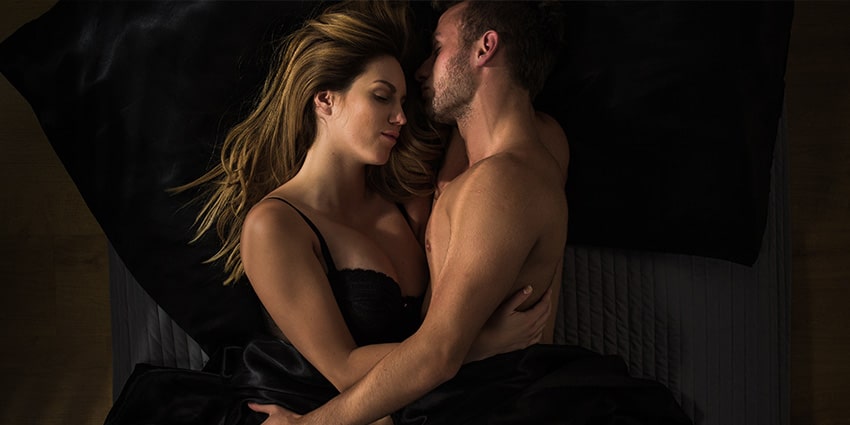 Aftercare
Aftercare is a crucial part of every BDSM activity. Due to the adrenaline spikes during the scenes, some people experience an intense drop after the scene is over, which can feel uncomfortable. 
Also, if the scene involves more hardcore activities like knife play, there might be a need for physical aftercare where you need to bandage the wounds or apply healing cream. 
Aftercare is also a perfect time to communicate with your partner about how they felt and what they didn't like during the scene. 
You might take some time to unwind and process your experiences before reflecting, or you might feel comfortable doing it right after while you both cuddle in bed. 
Everyone will have different needs to help them rewind, but some of the most common aftercare activities are: 
Cuddling

Taking a shower

Going for a walk 

Drinking a cup of tea

Journaling
BDSM Ideas for Beginners
Restraint
Restraint play involves tying your partner up and restricting their movements. You can use bondage tape (best for beginners) or soft leather cuffs. 
If you or your partner is hesitant about being restrained, you might start with mental bondage to get comfortable and familiar with the practice. 
You can try giving/taking orders, for example: "Place your hands on the headboard and keep them there until I tell you so." 
Another thing to try is taking an object, like a pencil or a scarf, if you want something sexier and asking the submissive partner to hold onto it until they're allowed to let go. 
These practices are great for beginners because they still implement powerplay and restraint but leave room for an easy escape if someone has anxieties about being restrained. 
Now, what do you do with one partner restrained? Well, the sky is the limit here – let your imagination run wild. 
Power Exchange
Another BDSM activity, and the most well-known probably, is the submissive/dominant relationship. One partner takes control and chooses the role of the Dominant, and the other acts as their submissive. 
You can go as formal as you want with the dom/sub relationship. But a good place for beginners to start is for the dominant partner to give soft commands to their submissive partner. 
For example: "I want you on your knees, hands behind your back. And look me in the eye while I talk to you."
Another way to bring in some dom/sub dynamic is to incorporate official titles. In this case, the submissive partner would address the dominant partner as "Sir," "Madam," or "Master."
The submissive partner can submit easily to their Dominant. Or, they can choose to be "brats" and refuse the orders, arguing back and working up "punishments."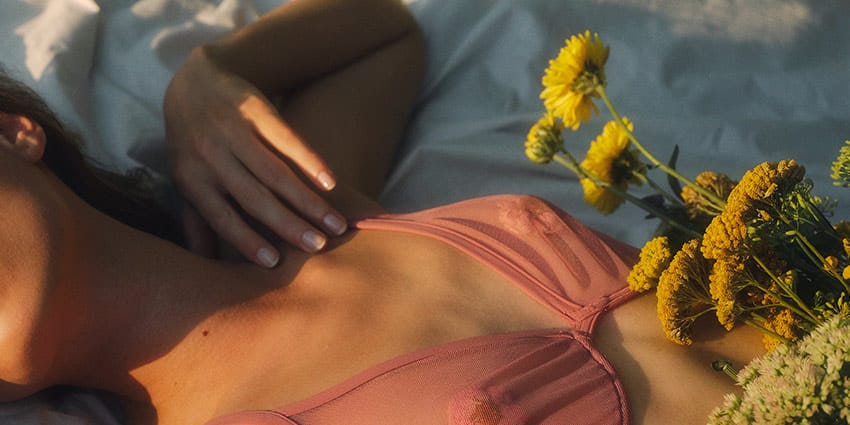 Sensory Play
Sensory play is the ultimate beginner's BDSM activity to try. It involves sensory deprivation or overstimulation, temperature play, and experimenting with finding pleasure in various sensations caused by tools like pinwheels and ticklers. 
There is a wide range of activities to choose from. 
The easiest place to start is sensory deprivation with a blindfold. Get a tie and use it on you or your partner next time. It will enhance all the other sensations they experience. 
If you want something more impactful, then temperature play might be up your alley. Use ice cubes on your partner's body to stimulate all the sensitive areas. 
Sensory play works very well when combined with other BDSM activities like bondage or orgasm denial. Blindfold your partner, tie them up and tease them with ice cubes, your mouth and fingers until they're begging you to let them orgasm. 
Impact Play
For sadomasochism fans, impact play will be the way to go. It involves all forms of spanking, either with a hand or tools like floggers and whips. 
While it might sound painful and harsh, it doesn't have to be hardcore. You can explore impact play by asking your partner to spank you gently. Use the traffic light system to tell them how hard you want it. 
Chastity Play 
How does the idea of depriving your partner of self-pleasure sound like to you? Maybe, you find it arousing to be forbidden from touching yourself. 
If you answered yes to one or both of these questions, then chastity play might be the perfect beginner's BDSM activity to try with your partner. 
Collaring
In the BDSM community, wearing a collar indicates that a submissive belongs to a Dominant. If you're a beginner, wearing a collar might be a gentle way of experimenting with BDSM and power dynamics. 
Praising
Praise kink is enjoying and having a sexual response to being praised during sexual activities. Usually, it's the submissive partner that gets the praise. But Dominant partners can also enjoy and get off on being praised by their sub. 
When you have sex with your partner, try using phrases like: 
"That's my good girl/boy."

"You're taking my cock so well. Keep going."

"Yes, just like that. Keep being good for me."

"What pretty lips you have. Open them for me, will you?"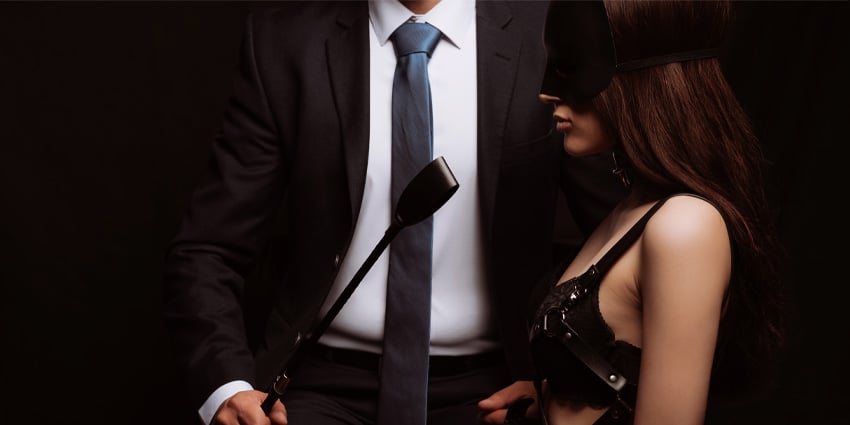 Degrading
On the other spectrum is a degradation kink. Degradation can be verbal or physical, and some people find pleasure in degrading while others find it arousing to be degraded. 
For beginners, a great place to start with degradation kink is dirty talk. Use your words to degrade your partner and give them the sense of humiliation they're craving. For example: "You dirty slut, you like that?"
Activities like spitting on your partner (in their mouth), choking, and hair pulling can also be part of humiliation play. 
Orgasm Denial
Orgasm denial is all about denying one partner their orgasm. It's a form of power play and can be a great way to start with BDSM for beginners. 
Edge your partner close to orgasm multiple times, but don't allow them to orgasm. Completely stop stimulation or change it up, so the arousal levels remain high, torturing them a little. 
In the end, you might allow them to cum, or you might not – it's up to you. 
Orgasm Torture
Now, orgasm torture leans more towards sadomasochism. Most people are overly sensitive after they orgasm. With orgasm torture, you keep going instead of stopping the stimulation after the orgasm.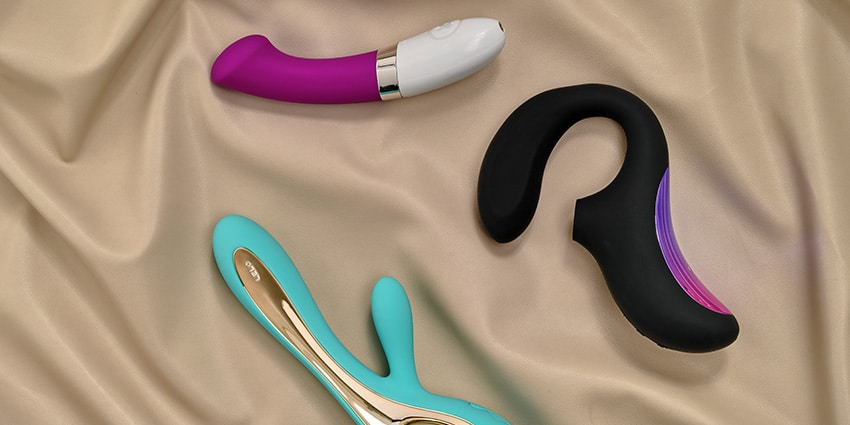 BDSM Toys for Beginners
Let's talk about some of the best BDSM toys for beginners that can help you spice things up in the bedroom without being too intimidating.
Bondage Tape 
BDSM beginners' best friend! Bondage tape is perfect for restraint play and is the safest option for first-time users. 
Many guides recommend beginners start with scarves or use ties to tie one partner up; however, there are downfalls to that. 
Silk and satin materials can cut into the skin when pulled, which might leave marks and even cuts. While seeing a mark your partner left on your body after a sexy night is a turn-on for some people, it might not be for some. 
Bondage tape doesn't stick to body hair either, and it's easy to cut through it once you're done or if things go wrong. 
Leather/Polyester Handcuffs
When you think about BDSM, handcuffs are probably the thing that comes to mind first. It's a very popular restrain tool, and it's great if you want something more sophisticated for your playtime. 
Metal handcuffs should be left alone if you're a beginner. They might be too much, but leather ones and polyester, which have wider cuffs, are great. 
You can find ones that restrain your partner's hands and legs at the same time. Or ones that can be fitted to furniture like bed, for easy and creative use. 
Spreader Bar
A spreader bar is a staple in a BDSM toy box, and it's a fairly easy tool to use for beginners. Multiple variations are available, but you can often find a spreader bar for legs, arms, or both. 
When in use, a spreader bar prevents the person from moving their arms or legs. For example, if you have a spreader bar on your ankles, you won't be able to close your legs unless your partner wants or allows you to.
The ultimate tool for edging, orgasm denial, and torture. 
Nipple Clams
Nipple clams are tiny toys usually fitted on your nipples and provide a pinching sensation. They can be metal, leather, or plastic, and most offer different intensities of pinching. 
The best option for beginners is adjustable nipple clams, where you can choose how wide or narrow you want the pinching ends to be. Not only will it allow choosing the right intensity for pain, but it also better accommodates different sizes and shapes of nipples. 
Nipple Suckers
Nipple suckers are small silicone cones used on the nipples to create a sucking sensation. Usually, you fit them over the nipples with the open end and then use the closed-off end to pump it and create suction.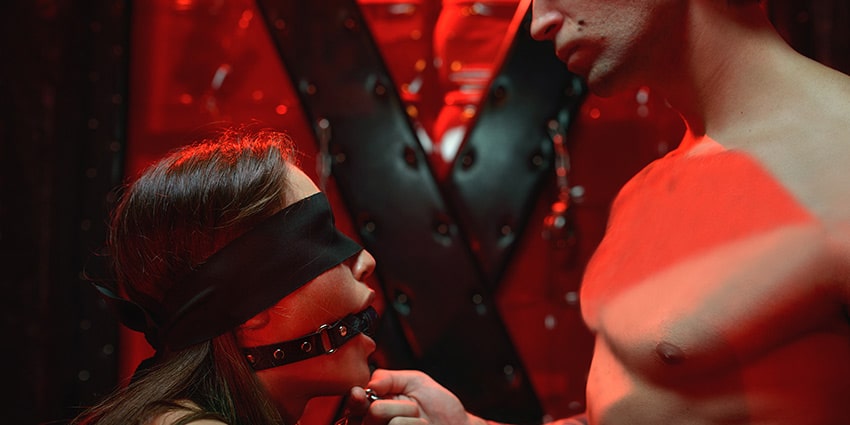 Gag 
Gags are usually worn by the submissive partner and are part of the restraint play. You can find gag balls in different sizes, often with a leather strap fitted around the head. 
Some gags are not shaped like balls but bars that fit horizontally in the mouth. Depending on what you like, this option might be more comfortable. 
Paddle
The paddle is a device that's used for impact play in BDSM. It's a soft version of a flogger or a whip that can be used to whip a submissive partner. 
You can find leather, wood, or silicone paddles, and we recommend starting with silicone for beginners as it might be gentler over the skin. 
Blindfold
Blindfold is used for sensory play to deprive one partner of their sight. You can find satin, silk, and even leather blindfolds. But this one might be easiest to find in your home – use a tie or a scarf when in a pinch!
Tickler 
At first glance, it might remind you of a toy you use to play with your cat, but a tickler is so much more! Usually, a tickler is used for sensory play. 
Wax Candle
Wax play is a popular BDSM technique, and it can be a fun activity for beginners. There are different candles available – massage oil, hot wax, and low-temperature wax. 
Each offers different sensations and experiences and can be used for different aspects of BDSM. For example, if you're looking for pain for pleasure, then choosing a low-temperature wax candle won't work for you as these tend to be too low in temperature to sting when the wax drips over the skin. 
Cock Cage
Cock rings are used for chastity play and come in different sizes, shapes, and materials. It's worn on a flaccid penis and prevents the penis-owner from touching themselves. Steel and plastic ones have locks on them, and the dominant partner is the one to keep the ring. 
For beginners, it's best to choose softer, silicone cock cages to prevent injuries. You can upgrade to more advanced options when you get used to it and gain more experience. 
Collar 
A submissive partner usually wears a collar, and in the BDSM community, it's often viewed as a serious vow from the submissive to their Dominant. 
The reason it's a great beginner's tool is that it's more mental aspect of BDSM than a physical one. So if you want to dabble in the powerplay with your partner, then using a collar might be a great place to start establishing soft sub/dom dynamics. 
Pinwheel 
A pinwheel is an ultimate tool for sensory play. While it might look intimidating, it's not meant to induce pain as the needles are often dull enough not to pierce the skin and cause too much pain. 
But, on the skin, a pinwheel can feel amazing, especially on more sensitive areas like nipples, neck, and inner thighs. 
You can find plastic or stainless-steel pinwheels online. Both options are great, but one drawback with metal ones is that they can be noisier than plastic ones. 
Magic Wand 
If we had to pick the perfect beginner-friendly sex toy for BDSM play, it would be a magic wand. 
These external vibrators are powerful, easy to use, and offer many different ways to use them. You can use it for a full-body massage, edging, orgasm denial, and torture. In addition, it's versatile enough for penis and vulva owners. 
And, unlike other BDSM toys like fucking machines, the magic wand is small enough to be discreetly stored in your drawer until you're ready to play.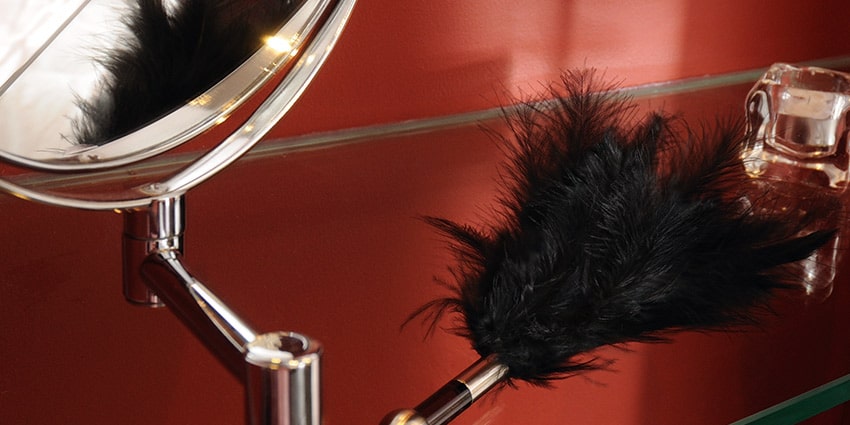 Fun Idea: BDSM Beginners Kit
You can find a lot of beginner-friendly BDSM sex toy kits that include various items a couple can use to explore their kinks. While it's an easy way to get a taste of BDSM, it can also be overwhelming – which kit are you supposed to choose?! 
So, a great idea for couples interested in BDSM for beginners is to create your own BDSM beginners kit. It will be a fun way to learn more about the kink and spend time with your partner trying to figure it out. 
In the end, you'll surely have a list of things you know you'll want to try with your partner. Also, while you're at it, you might want to take a BDSM test with your partner. 
It will help you discover and understand your kinks better, and you both will be able to create a more well-rounded BDSM kit. The key here is to have something that fulfills your sexual needs perfectly. 
Now, not sure where to start? Here are our recommendations for your BDSM beginners kit: 
Bondage tape (+scissors):

bondage tape is perfect for beginners who want to explore restraint play. It won't cut into your skin, you won't lose a key, and you can easily remove it with scissors if something goes south. 

Adjustable nipple clams:

for sensory and pain play, adjustable nipple clams are the perfect tool. You can adjust the strength of the pinch to cater to different pain tolerance levels, and you can even use it on a clit if you want to get even kinkier. 

Blindfold:

it's a versatile BDSM tool to enhance sexual experience in many ways. Deprive your senses by removing sight during sex, use it for mutual masturbation if you're shy about your partner watching you, or combine it with bondage tape for a more intense yet beginner-friendly scene. 

Magic wand:

if you want to add a sex toy to your BDSM kit, then the magic wand is the perfect option. It's powerful and works for both vulva and penis owners.

Pinwheel:

it might look intimidating, but it's a fun tool perfect for beginner-friendly sensory play.