LELO has proudly released LILY™2, an updated version of our very first revolutionary massager that is not only stronger than the original, and now waterproof, it is also the first ever intimate massager to be lightly scented with aphrodisiac aromas.
The response to our updated version of this much-beloved LELO has already been overwhelming, to say the least. To satisfy the curiosity of our fans, we'd like to offer an inside look at the process behind our iconic products, from the first creative concept to the technologies that make a LELO stand out from the crowd.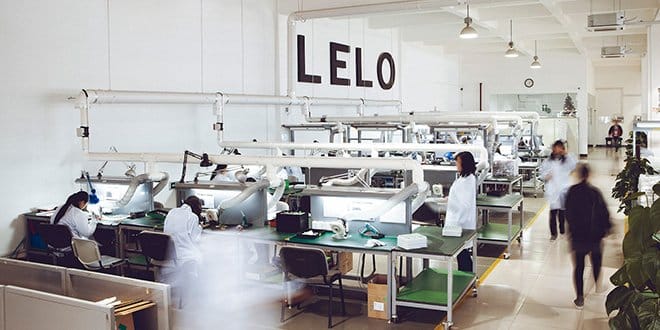 Scents of Inspiration
In developing products that facilitate expression and exploration of pleasure, we look at all aspects of sensuality. We've created products that look sleek and sophisticated, that are covered with the softest and most luxurious silicone; and yet, we kept returning to one thing that serves to induce amorous feelings more than touch or sight: our sense of smell.
Of all our senses, smell is the one most closely tied to our memories. The faintest whiff of a certain scent is capable of triggering a flood of forgotten feelings and emotions unbidden. We create many of these associations unconsciously, and yet there are some that are much more purposeful; we wear certain colognes or perfumes we know our partner associates with us, we light scented candles to help set a more intimate mood, so why not create such an association with your favorite personal massager?
LILY™ 2 comes in three different aromas: Lavender and Manuka Honey, Rose and Wisteria and Bordeaux and Chocolat. These aromas were selected because their scents have aphrodisiac properties. For example, did you know that smelling lavender actually increases blood flow to the clitoris and penis, increasing arousal? Of course the LILY™ 2 is in no way designed to alter the taste of a woman (we think that tastes pretty amazing just as it is) but is designed to heighten the mood before, during and after sex.
Aside from offering a new element to setting the mood before partnered or solo sex, our hope is that this innovation in sex toys will add an extra element to the experience of selecting your intimate products. Why be limited to just color when choosing an intimate massager when you can also select it based on your favorite aphrodisiac scent.

The Sensual Side of Science
When we created the world's first scented sex toy, we knew we had to share the amazing innovations that made it possible with the world. It wasn't a straightforward process of adding scent to the surface of LILY™ 2; scent is infused inside the actual plastic of LILY™ 2 using a process of heating and freezing to create a light yet lasting, completely body-safe aromatic massager.
Of course, there were a number of challenges that needed to be overcome to get the balance just right, and maintain the standards our customers expect. We had our brilliant engineering team break down the process for us in detail to share exactly how we prepare one of our bestselling Pleasure Objects.
Fragrant from the Start
The life of the new LILY™2 begins in the form of FDA-Approved raw plastic pellets mixed with scented pellets in a tumbling machine that resembles an air dryer. The mixed pellets are then injected under intense pressure into a mold at a core temperature of 140°C for 80 seconds.
The mold housing them then opens, and the newly-formed LILY™2 is removed by automated robots. This ensures no human interaction with LILY™2 during this crucial step in the process. The top and bottom of LILY™2 is then carried to an inspection station, in a Class 100,000 Cleanroom (ensuring there is no contamination from dust or any other particles). All parts are inspected before moving to the next process.
More than Just a Soft Touch

One of the trademark qualities of LILY™2, is the smooth matte finish every product has. Following a thorough inspection, the top and bottom parts of LILY™2 are heated to a core temperature of 60°C to prepare the plastics for their soft touch coating. This is again conducted in a Class 100,000 Cleanroom environment, to ensure there are no aesthetic defects or issues with bonding the two parts later on in the production process.
It's Roasted, Don't You Know
To ensure LILY™2 is coated 100%, the products are handled by precision sterilized jigs, and then cured in a calibrated industrial chamber, at a temperature of 80°C, for a period of 40 minutes. This temperature treatment also serves to guarantee the top and bottom parts are able to bond fully with the soft-touch coating.
Signed, Sealed and Delivered
After being signed off once more by LELO's quality control team, a final step is applied to ensure LILY™2 is 100% sealed and sterilized. This involves a final UV process to cure and seal the plastics, before final inspection and transportation to our assembly team, who add all the components (motors, PCBA, buttons etc) that make LILY™2 such a powerful little companion in pleasure.
Tried and True
Then we come to the most important step in the LELO process: testing. Each LELO product undergoes rigorous external testing and certification to guarantee it is body-safe before we begin distribution, but we would be remiss to ignore of the most crucial steps to providing pleasure products of consistently high quality.
Our human product testers are selected from our Global Survey Participants and provide the sort of feedback that can't be given in a lab. They let us know whether our vibrations are strong enough, whether the controls are intuitive, and even if they dislike the color. It's a tough job, but we (and they) like to think it's a labor of love!
If you're interested in becoming a product tester, you can take the Global Survey for a chance to participate in the product development process!
[related_article id="12113″ size="full" target="_blank"]