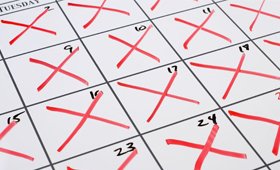 Do you plan on giving up smoking? Well start your campaign to quit on a Friday, say scientists who state that willpower is highest on weekends. List your house for sale while you're at it, because according to real estate market analysts, that's the day that yields the greatest success rate for sellers.
Economics and science state there are a number of reasons why there's no time like the present, because there's a perfect day for everything – including having sex!
When it comes to getting intimate, pencil pleasure into your schedule on Thursday morning.
Researchers at the London School of Economics say this is the best time for sex due to men's and women's levels of cortisol – which stimulates our sex hormones – being highest at this time of the week.
But please everyone – before we see a rash of people arriving late for work on Thursday, can we suggest simply setting your alarm clock a bit earlier?
After your rousing romantic romp, you might be a bit peckish – but wait for Tuesday before heading out for a bite. Most restaurants don't receive food deliveries until late in the week, but they'll be more likely to be fully stocked with fresh meat and veg by Tuesday.
That's no problem however, because you can stock up on your own fresh foods (don't forget to pick up some libido-boosting foodstuffs) with no fuss on Wednesday, which statistically finds fewer people in the supermarket.
Take it from us, and schedule your time according to the experts for a sexier, stress-free week!