While being newly single can feel like a weight it lifted off your shoulders, it's also terrifying, especially if you've invested years into a long-term relationship. Putting yourself out there is not easy, and there's no guide on how to do it, when to do it, or whom to do it with. If only.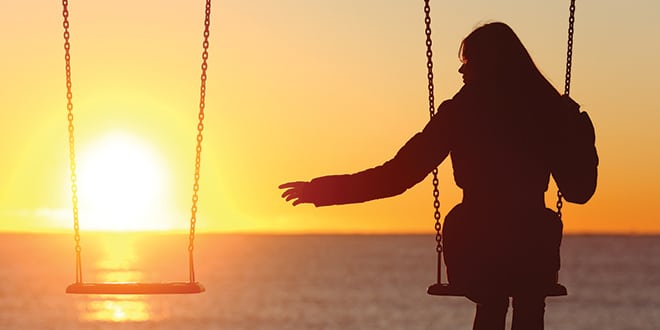 The thought of even going out to meet new people can feel overwhelming, especially if you're just getting over your last relationship. Don't panic. When you start to feel ready with getting your feet wet in the dating pool again, remember we've all been there, especially in terms of those post-break thought patterns. Here are some of the most common fears we have after that long-term relationship to newly single dating transition.
1. Am I Ready for This?
You certainly don't want to rush things, but you also can't wait around forever. It's kinda like that quote,"The key to success is to start before you're ready." The truth is, there's no defining moment to tell you that you're ready. Life is a whole lot of trial and error no matter how you slice the pie. Although it can be hard to start to move on, it will help you in the long run. It's healthy to give yourself time to heal after a break-up, but only you can decide when you're ready to get back into the swing of things.
2. Will I Make the Same Mistakes?
It's easy to let what happened in your last relationship set the foundation for what may happen in your future relationships, but it's a destructive way of thinking. Your "next" is not your "ex," and I'm sure you wouldn't like to be constantly compared to theirs. As long as you've learned from your past relationships, understanding why it crumbled and taking blame if you were wrong, you should be aware of any familiar bad patterns that could be developing. Remember, you have the power to change. This is a chance for a new start, to actually build something you want. Everyone in your life is either a blessing or a lesson. Having that perspective will get you far in life, even outside of your romantic relationships.
3. I'm Not Good Enough
You are. You may not feel like it, but you are. Even if you were in the wrong in your last relationship, you deserve the best if you're willing to give it. This thought can cloud your mind for weeks after a break-up. A break-up makes you question your self-worth and how lovable you are. Put those negative thoughts to the side. You are worthy of love and a relationship and no one can take that away from you.
4. 'You Were Always on My Mind'
Your ex was deeply ingrained into your everyday life, and most likely was your best friend at some point, so it's perfectly normal for them to be on your mind – a lot. A certain song, restaurant, or even crack in the wall might trigger a memory for you. You are mourning a loss, and it's a process. Just don't let these feelings consume you because there are so many more memories you will be creating.
5. Will I Ever Meet the Right Person?
It's normal to question if you'll ever find love again, and it will take some time for you to feel 100% yourself again. Imagining yourself in another relationship and building something from scratch is scary, but also a great opportunity to explore what the "right" person for you really means. Part of your growth will be realizing what you want and don't want out of your future relationships. Maybe you want someone who is more ambitious, less intense, and certainly not another backseat driver. Reevaluate your deal-breakers and focus on meeting someone who makes you a better version of yourself.
6. Do I Date the Same Version of the Person?
It's normal to question the choices you made in your previous relationship – a major one being the person you dated. Sometimes you may even wonder if you date the same person. If you think there may be something to do that, try to evaluate it, and see if there is really a pattern. If you think there may be, talk it out with friends who know you and have witnessed the relationship pretty intimately. If you think its a bigger issue, there's no shame in seeking professional help from a professional therapist or psychologist who can help give you tips to break the habit. Sometimes it's easier talking to strangers. 
7. How Can I Start to Take Better Care of Myself?
First of all, be nice to yourself. Take some time for introspection, get your thoughts and fears out whichever way is best for you: venting to friends, writing it down, using your emotions as a creative boost, hell – even texting yourself in your phone can help. It can be easy to live in sweats, have that extra slice of pizza, and stay in bed and hide from the world. Which you shouldn't beat yourself up about! But do try and set small goals to live healthier and get things done on your to-do list that you've been putting off. You should even encourage yourself to masturbate more. If you start acknowledging all the small wins in your day, like making your bed, it will spark a chain reaction to do more good for yourself.
8. How do I Start Making the 'Right' Choices for Myself?
Breakups can put you through the ringer emotionally and mentally. They can also make you question everything around you and take a physical toll on you if you're not taking care of yourself properly. It's important to eat right, get enough rest, exercise, and surround yourself with supportive people. 
9. What are my Deal Breakers?
As previously mentioned, it's time to reevaluate your deal breakers! Which is actually a positive outcome of enduring bad breakups. Maybe you have strong religious or political views, aren't a drinker or smoker, are okay with open relationships, or are not. Things like these can be the root of issues in future relationships, so if you are clear about your deal breakers, you can clearly communicate your expectations in a relationship and save yourself a lot of hassle and time. Different strokes for different folks, and that's okay.
10. What do I Want Next?
When you start feeling ready to go out and meet new people, what you want next will be another thing to keep in mind. Jumping from one relationship to the next is never a great idea. It's good to give yourself space to recoup and find out who you are again as a single person, it can help you rediscover things about who you are, and this can also help you get a clearer idea of what you want moving forward. Change accompanies progress, and remember that you are always evolving.