Even in the 21st century, men and women worldwide are being told (and believe) that self-love (aka, masturbation) is wrong or even a sin. 
For religious, moral or other reasons, these individuals grow up and live with the notion that sexual activity is acceptable within the confinements of their marital bed. Now isn't that the saddest thing you've ever heard?
Today, we're going to look at all the reasons why you should be masturbating—be it with your hand(s), finger(s), with or without the presence of a partner. 
More specifically, we're going to look at why you should be masturbating with a vibrator. All of your buzzing questions, answered right here.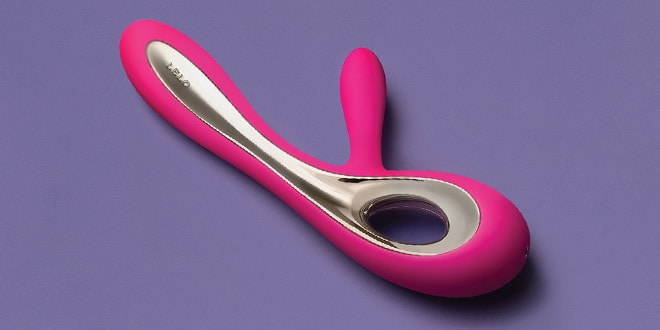 What is Masturbation?
Masturbation is the act of stimulating one's own genitals in order to experience sexual arousal and satisfaction. Masturbating, for both men and women, oftentimes leads to orgasm, and can be done using one's hands, fingers, toys, or other objects.
There are various kinds of masturbation for women and men, respectively, and both genders can masturbate via stimulation or via penetration of the vagina or anus.
Interestingly, the practice of masturbation has been noted in art since prehistoric times, making it something that's been enjoyed by many for centuries and centuries. 
Additionally, and for one's own peace of mind, masturbation has no causal link to any form of mental or physical disorder.
What is a Vibrator?
A vibrator is a sex toy that can be used on both men and women. It's a nifty little toy that causes arousal and sexual stimulation to various parts of the body, such as the clitoris, penis, anus, vagina or other, and helps one achieve orgasm. Some vibrators offer dual stimulation, such as a device for the clitoris and the vagina, for example. 
Vibrators come in a variety of designs, shapes and sizes, some with varying degrees of vibration frequencies, making it a unique and tailored solo party, or a nice treat with a partner.
Fun fact: the electric vibrator was invented in the late 19th century and was used in doctor's offices as a means to calm down women experiencing hysteria. 
Boy, what a long way we've cum (pun intended) since then.
Different Kinds of Vibrators
While many believe that a vibrator is a sex toy only for her, this is actually false. There are several kinds of vibrators for her, him, and for couples. Let's indulge…
Vibrators & Massagers for Him
Men have the luxury of experiencing an enhanced, and sometimes hands-free, experience too. 
Devices such as a wearable vibrator is a real thing, and works by either stimulating the head and the underside of the penis, the perineum, the anus, or the testicles. In fact, when pressure and vibration is experienced on the perineum, one can receive an intense prostate orgasm. 
Another benefit of these kinds of vibrators, especially when placed on the underside of the penis, is that it can enhance blood flow, causing harder and longer erections. 
Men can also use a device that's made solely for prostate stimulation such as the BILLY and LOKI sex toy. Why would anyone want to try one or both of these devices? Because an orgasm via the prostate has been said to be one of the most powerful and enjoyable orgasms for men, that's why! 
For some real next-level stimulation, the F1S is a kind of male masturbation sleeve with dual motors using sonic waves to create pleasure. 
Vibrators & Massagers for Her
When it comes to vibrators and massagers for her, the choices are seemingly endless. Looking to scratch an itch? Love clitoral, vaginal, anal, or g-spot stimulation? There's a toy for that… 
Vibrators & Massagers for Couples
For those who enjoy adventurous play with their partner, here are a couple of cheeky toys for him and her:
And now that we've gone through the different kinds of vibrators and toys for both men and women, let's dive deeper into the ins and outs of how a woman can use a vibrator for the first time. 
Ladies, Here's How to Use a Vibrator for the First Time
In order to avoid confusion and feelings of being overwhelmed, for this we will guide you on how to use a simple yet effective vibrator. One without the bells and whistles but rather a phallic-shaped toy with a gentle buzz (you know, the kind you picture when you think of a vibrator).
Step One: Play with the Settings
If you're unfamiliar with a vibrator, give it a feel. Turn on the vibration, whether it is a simple one-pattern vibrator or a toy with several patterns, and see how it feels in your hand and against your skin. 
Step Two: Take it Down Town
Once you feel comfortable with the device, start using it down town. For most women, a vibrator is used on the clitoris, as it is easier for them to orgasm this way. Gently place the toy on either your labia for indirect clitoral stimulation, or on the clitoris for direct stimulation, and see how it feels. 
Start off slow with light pressure to find the position that feels good. If you prefer to try your new toy over your underwear, that is totally fine. Remember to relax, and take your time. A preoccupied mind often causes women not to orgasm, and that would simply be a tragedy.
Once you're ready and have found a comfortable position, you can move the toy in such a way that it gives you the most pleasure. This could be clockwise or anti-clockwise circles, up and down motions, or whatever else tickles your fancy. 
Check this out: What Does a Vibrator Actually Feel Like?
And for those who enjoy and would like to try inserting their vibrator, we suggest using lube to ensure comfortability and easiness. We also recommend slowly stimulating the surrounding areas first, such as the clitoris, as there are more nerve-endings on the outside of the vagina than the inside. 
When you decide to place the vibrator inside the vagina, you could experiment with the motor turned off at first to get used to the sensation. Once ready, you can use the various vibration patterns and move the vibrator in and out, going as deep as is desired.
Step Three: Sexual Bliss
When you're hitting the right spot, you'll know it. Continue as such or even turn up the speed if you'd like. The aim is to create as much sexual pleasure as possible, and when your body is ready, you'll experience a different kind of orgasm that may be more intense than usual. This is a good thing! 
But even if you don't reach an orgasm in the first or more times, don't worry! The journey is all about exploring and getting comfortable with your body and your new toy.
Step Four: Practice Makes Perfect
After you've used your vibrator a few times, you can start experimenting with the different speeds and different positions to get more out of your solo play time. The fun has only just begun…
Step Five: After Care
When you're fully satisfied, you can put your vibrator in a safe place. It's recommended to wash it first though, and this can be done by reading the instructions. Each vibrator is different, so finding out the best way to clean your new toy is important. 
6 Health Benefits of Masturbation
Now that you've got the whole vibrator thing down, here's a little pep talk on the health benefits of masturbation. 
It increases self-love: when you start to explore and appreciate your own body, you become more self-aware and empowered

. You'll be able to be more in-tune with your body and your mind, making you happier, more self-confident, and mindful.

It aids in better sex with your partner:

when you know what you like, you're able to convey it to your sexual partner. In this way, you'll be able to experience better and more fulfilling sex.

It aids in better vaginal health: when you orgasm, it strengthens the pelvic floor, which reduces the risk of getting a UTI. It can also help relieve period cramps, and aid in making your period shorter, as when you orgasm, your uterus contracts expelling blood and tissue faster.
It helps you sleep:

The magic of an orgasm is seemingly never-ending, as it even has the ability to help you sleep better. This is because, during sex and orgasm, a slew of endorphines are released, which promotes deeper sleep.

It's heart-healthy:

When you

masturbate

, there is a rush of blood to the genitals. This increase in blood flow, in turn, helps keep your heart healthy. 

It reduces stress:

Sex and orgasm can give off a natural high feeling and calmness. This is because of the wonderful hormones that are released during the activity. 
And if these benefits are not convincing enough, here are 10 female masturbation and orgasm facts that may peak your interest…
10 Female Masturbation & Orgasm Facts
Women in their late 20's masturbate the most, according to a survey at Indiana University.

20 percent of women have never masturbated.

Female masturbation

is more accepted today than ever before (look at TV show such as

Jane the Virgin

and

Sex and the City

).

Masturbation is the quickest way in which to enjoy an orgasm, with some even reaching climax within two minutes of solo play.

Four out of 10 women prefer orgasming from masturbation as opposed to sex.

The average female orgasm lasts around 10 seconds.

Women with higher levels of testosterone are more prone to masturbation.

Women can climax via the clitoris and the vagina, or both.

Not all masturbation sessions end in orgasm, and that's completely normal.

About 90 percent of women prefer using a sex toy as opposed to their

fingers.
So, ladies… are you ready to rock your first (or next) vibrator? So many choices and so many sleek and lovely designs that can cause immense pleasure! Where will you start?