There's a reason GIGI 2 is one of our most popular products of all time – as one of the best G-spot vibrators ever made, it opened up a world of G-spot orgasms to many and looked great while doing it.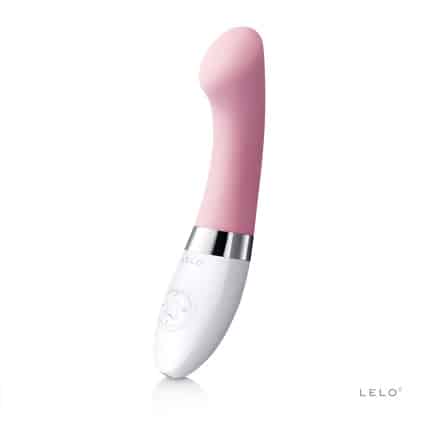 If you're wondering how to go about actually using GIGI 2, well, then you're in for a treat because GIGI 2 is definitely not just a one-trick pony! We have quite a few sexy tips to help you find the best pleasure with your GIGI 2.
Let's Talk About G-Spot Stimulation
So, before we dive into the tips on how to use G-spot toys, we have to talk about the G-spot in general.
What is a G-Spot?
A G-spot is one of the many pleasure points inside the vaginal canal. It's often described as a spongy-like texture spot (or area) located one to three inches inside the vaginal canal, on the upper wall of the vagina.
It's a controversial spot because researchers debate its existence to this day. Some believe it might be a pleasure spot, while others argue that it doesn't exist and it's just a part of the sensitive area inside the vagina.
Some of the more recent research suggests that the G-spot is not an isolated pleasure spot but rather a component of the hidden parts of the clitoris that reach deeper inside the vaginal canal.
Despite the debate, many people report enjoying G-spot stimulation and experiencing mind-blowing G-spot orgasms with the help of toys like Lelo GIGI 2.
How To Locate Your G-Spot
If you've never located your G-spot before, the easiest way to do it is by laying down on your back and exploring your vagina with a finger first. Spread your legs wide, apply lube and insert them.
To find this pleasure spot, curl your fingers up towards the upper wall of the vagina, and you should find a small area that has a spongy textured feel to it and feels good when stimulated. That's your G-spot!
About G-Spot Orgasm
Many people describe a G-spot orgasm to feel quite a lot different from the clitoral orgasm. It's supposed to be more intense and deeper, feeling like an explosion from inside your core that spreads all over your body.
Stimulating this particular spot is also known to be the most reliable way to female ejaculation and squirting.
Different G-Spot Vibrators
There are so many different G-spot toys for G-spot stimulation to choose from. Many toys LELO offers can be used to stimulate your G-spot. If you want dual G-spot and clitoral stimulation, then you'll love a dual-vibrator like ENIGMA. It has an insertable sleeve for internal stimulation as well as a clitoral massager on the outside.
If you're more of a classic sex toys lover, then a rabbit vibrator will be your favorite choice. INA WAVE 2 is a sleek and modern option that provides inner and outer stimulation for amazing blended orgasms.
When it comes to using a toy with your partner, couples' massagers are great for added G-spot stimulation during penetration. TIANI 3 has two sleeves, one insertable for G-spot stimulation and another to rest over your clit while your partner penetrates you. And the best part is that you and your partner both get enhanced pleasure inside and out.
And then there are the dedicated G-spot vibrators like GIGI 2. It's shaped perfectly to hit your G-spot while you're using it and offers many different vibration settings to ensure that everyone can find just the right amount of stimulation.
How To Use a G-Spot Vibrator for Mindblowing Orgasms
The opportunities for mind-blowing pleasure with GIGI 2 are endless.
Using GIGI 2 as a Clitoral Vibe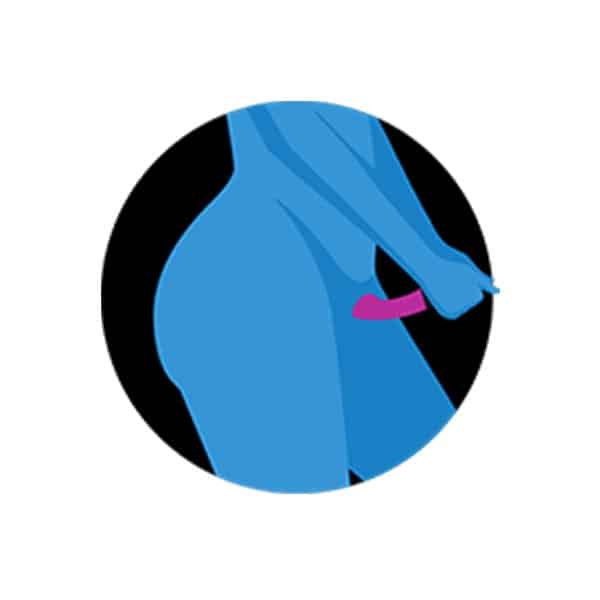 Yes, if you're one of the many, many people who just can't reach climax from G-spot stimulation alone (or want a little foreplay before you do), then GIGI 2 is the versatile little vibe for you. Its gentle curve makes it great for offering targeted (if broad) external stimulation to your clitoris and the rest of your vulva – our favorite technique is to start at the bottom of where the labia meet and slowly bring it up to the clitoris, then back.
Use Your Fingers
While you're holding the sex toy against your clitoris, applying steady pressure, insert two fingers inside yourself and locate your G-spot. Gently stimulate the pleasure spot at the same time as you experience the intensity of the vibes over your clitoris.
Mixing up different types of stimulation from the sex toy and your hands will give a varying sensation of pleasure and will be so much more fun.
Combine Sex Toys
One benefit of the GIGI 2 G-spot vibrator is how easy it is to use in combination with other sex toys. If you enjoy using dildos or other penetrative toys, you can easily combine them with GIGI 2.
Hold the G-spot toy over your clit, and apply direct pressure. Play with different vibe settings and find out how much pressure over your clit you like the most. At the same time, insert the dildo, stimulating all the right spots from the inside.
Find a New Favorite Erogenous Zone 
Use the G-spot toy and its different vibration settings to explore other pleasure zones, not only your vulva area. You can use the soft rounded head of the GIGI 2 to caress your neck, breasts and nipples, lower belly, and inner thighs with different vibrations.
Start your solo session with the exploration of your body and find new heights of pleasure.
Involve Your Partner
Experiment with your favorite vibrator by bringing your partner into the mix. You can use the vibrator on yourself and ask your partner to watch you masturbate. It's a common fantasy for many couples and can be a great way to spice up your regular foreplay routine.
Another way to experiment with GIGI 2 and your partner is by asking them to use the toy on you. Give your partner the permission to use the vibrator to stimulate all the spots you love and feel amazing. And enjoy the sensation of the good vibrations all over your body.
Using GIGI 2 as a G-Spot Massager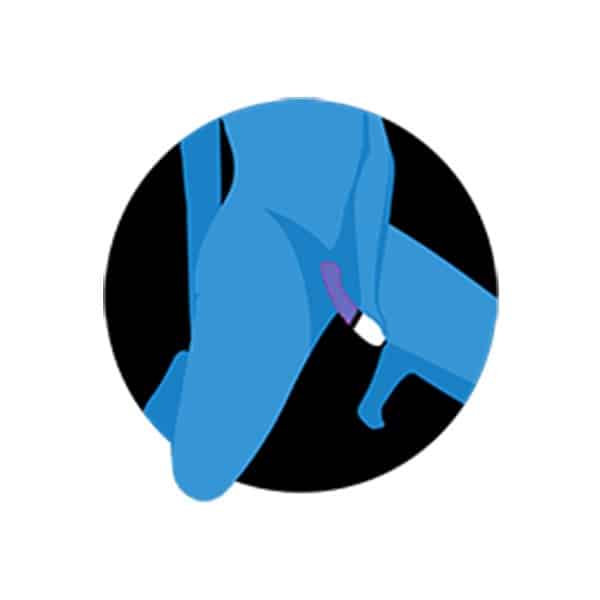 If you're using a G-spot sex toy for the first time, you may assume that you just need to thrust it in and out. If that feels good – great! However, if you're looking to truly target your G-spot, you can use GIGI 2's gentle curves to complement your anatomy.
The G-spot is an area approximately the size of an American nickel (about 2 cm in diameter) located one to three inches (5 to 7 cm) inside the vagina on the anterior – frontal – wall from the vaginal opening. Thus, it's a lot more effective to find your 'sweet spot' by angling the handle of GIGI 2 downward as you enter yourself; the flattened head will move along the front wall of your vagina with vibrations that will make you 100% sure when you've found it.
From there, you can continue moving back and forth along your G-spot, try rocking GIGI 2 like a teeter-totter to apply more direct pressure, or simply hold it against your G-spot while using one of several different vibration patterns!
Switch Up Positions
What's your favorite position to masturbate in? If you're usually laying on your back with your legs spread wide, try switching things up and get on your knees and into a doggy-style position.
If you want the sensation of grinding your clitoris against something, place a pillow on the bed and lay on it with the G-spot sex toy inserted inside of you, and ride the pillow.
Different positions will allow you to find the right angle to stimulate your G-spot for the best pleasure. The possibilities are endless!
Combine with Oral Pleasure
Imagine your partner pleasuring you with their mouth and using GIGI 2 to stimulate your G-spot at the same time? It screams toe-curling, mind-going-blank type of pleasure, right?
Receiving oral sex while using a G-spot toy can be a great way to add a little bit more spice to your routine and explore different sensations during partnered sex.
Using GIGI 2 in the Bath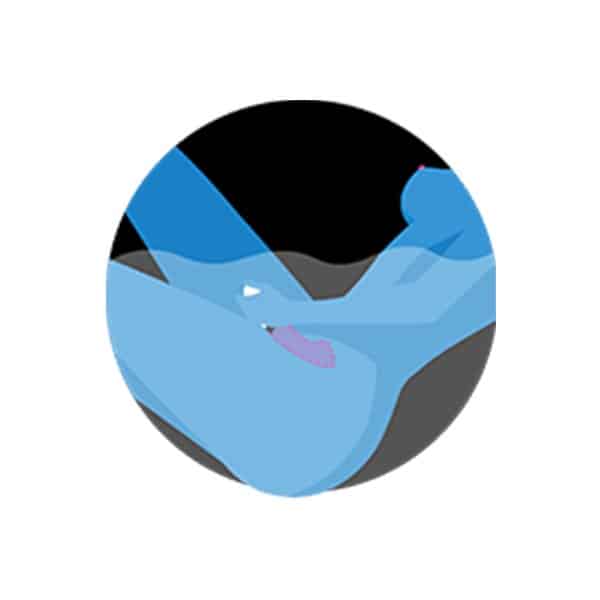 It may be because we have sex toys all over our desks, but we can vouch personally for how good GIGI 2 feels used like an actual massager – it really focuses on those trouble spots on your neck and shoulders!
And, of course, what better time for an all-over massage than a bath? As with nearly all LELO products, GIGI 2 is fully waterproof, meaning you can use it in a relaxing hot bath – or even a steamy partnered shower!
Tips to Make Your Masturbation Session Better
Because who doesn't want better, more intense, mind-blowing orgasms?
Charge Your Toys in Advance
When you get any new toy from LELO, it's recommended to charge it for 2 hours before its very first use. Always make sure you follow the recommendation and charge your sex toy in advance because nobody likes to have to stop halfway to orgasm and have to go charge their toy.
With LELO GIGI 2, you'll have up to 4 hours of playtime, so once it's charged, you can lay back and relax, enjoying the buzzy vibes and amazing sensation they bring to your hearts' content.
Use Lube 
Sexy time with your partner or yourself is always more fun with lube. Especially if you're using toys. So, always have your favorite lube on hand and use plenty of it during your solo play sessions.
If you are using silicone toys like LELO GIGI 2, then you want to always go for water-based lube to prevent the silicone from becoming permanently sticky. After all, you want your favorite toys to be in perfect shape for as long as possible.
Once you get comfortable and ready to play, apply the lube on your G-spot vibrator, then add a drop or two on your vulva and clit to help make the stimulation more pleasurable and enjoy yourself fully.
Pamper Yourself Before
Masturbation is a form of self-care. It's good for your body, mind, and soul, so when you want to spend some quality time with your G-spot vibrator, make it more special by pampering yourself before getting started.
Have a long shower or a bubble bath to help you relax and get in the mood. Do a face mask, put lotion on, or do any other activities you usually do when you're pampering yourself. Small things like that will help you appreciate your body, and it encourages self-love, which we're all about.
Set the Mood
Quick and dirty masturbation sessions are amazing to get yourself off after a long day when you just want an orgasm. But on days when you feel like taking your time, set the mood for yourself and treat your solo play session as a date.
Light some candles, dim the lights and lock the doors so that nobody walks in on you mid-session. Put your phone on airplane mode and put on some music to get you in a sexy mood.
Don't Skip Foreplay
Just as you'd not skip foreplay during partnered sex, you shouldn't skip it when you're playing with yourself alone. Being aroused will make a huge difference in the quality of your pleasure, so take the time to get turned on.
You can watch porn (we recommend choosing ethical porn) before if you enjoy it. Or, you can choose to read erotica or listen to erotica on audio (check out Dipsea for that). If you are not in the mood for consuming content, then your own imagination works great as well.
Sexual fantasies are the best way to explore your sexuality and your turn-ons, so close your eyes and get to daydreaming.
G-Spot Toys for the Win
Of course, these aren't the only ways to use GIGI 2. After all, everyone's masturbation preferences will be different – that's the beauty of human sexuality.
But these tips are great to get you started with your new favorite G-spot toys, and finding out the rest for yourself is half the fun!