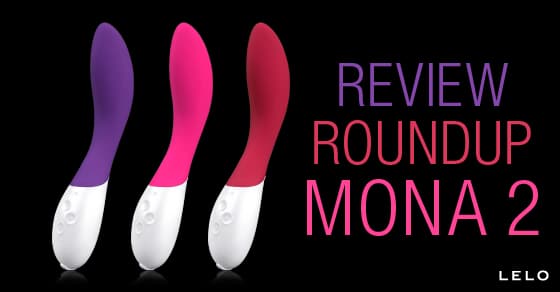 Elegant and beautifully contoured to deliver intensely satisfying G-spot stimulation, MONA 2 is the sensationally upgraded version of our popular full-feeling vibrator.
But it looks like we're not the only ones impressed by the 100% increase in power, full waterproof versatility and sleek, ergonomic design.
Let's see what the world has to say about why this revamped beauty is causing such a buzz.
(Note: Some links may be considered NSFW!)

Heyepiphora – Review: Mona 2"It is so rare for a toy be just as good internally as it is externally. That a toy be so truly versatile, yet not have some ridiculous quirk that ruins all my positive feelings. This may be the first time in history I wish I owned two of the same toy… That, right there — yes, that is love."
Full Mona 2 review on heyepiphora.com>>

Unbound Box – Have You Met Mona 2?"The form lines up effortlessly with my G-spot, barely requiring any adjustment. This isn't the kind of vibrator that's going to make you injure your wrist trying to make it work for you–it's incredibly ergonomic."
Full Mona 2 review on unboundbox.com>>

Sex.com/news reviews LELO Mona 2"If your special lady friend has a birthday coming up or if you and your partner are looking to accessorize your sex life this summer, you got to try the Mona 2."
Full Mona 2 review on sex.com/news>>

Shannakatz – Toy Review: LELO Mona 2 "Like most of the Lelo line, this toy packs power, and has a variety of power levels, as well as types of settings. Whether you are newer to toys, or want something that has more of a hardcore power level, this toy has all of the options."
Full Mona 2 review on shannakatz.com>>